President Obama Awards 2014 National Humanities Medal
Ten distinguished humanities recipients receive honor on Sept 10 in East Room ceremony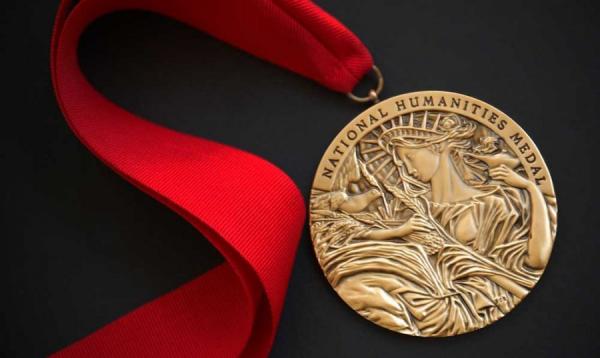 The White House yesterday awarded ten distinguished recipients the 2014 National Humanities Medal. The awardees include historians, writers, a philosopher, scholar, preservationist, food activist and an education course. President Barack Obama conferred the medal in a September 10 ceremony in the East Room. The First Lady also attended.
The National Humanities Medal honors an individual or organization whose work has deepened the nation's understanding of the human experience, broadened citizens' engagement with history and literature or helped preserve and expand Americans' access to cultural resources.
The National Endowment for the Humanities (NEH) manages the nominations process for the National Humanities Medal on behalf of the White House. Each year NEH invites nominations from individuals and organizations across the country. The National Council on the Humanities, NEH's presidentially-appointed and Senate-confirmed advisory body, reviews the nominations and provides recommendations to the President, who selects the recipients.
Created as an independent federal agency in 1965, NEH awards grants that support research, education, preservation, and public programs in the humanities that have resulted in thousands of museums exhibits, scholarly books, films, and radio programs. NEH is celebrating its 50th anniversary beginning Sept 29.
 "The National Endowment for the Humanities is proud to join President Obama in celebrating the achievements of these distinguished medalists," said NEH Chairman William Adams. "The recipients of this medal have sparked our imaginations, ignited our passions, and transformed our cultural understanding. They embody how the humanities can serve a common good."
Here are the 10 recipients of the 2014 National Humanities Medal. Click on the name below to read more background.   
The first National Humanities Medal was awarded in 1996. Since then, 175 have been bestowed — to 163 individuals and 12 organizations — inclusive of this year's recipients. A complete list of previous honorees is available at this link.
The humanities medal, first awarded as the Charles Frankel Prize in 1989, was presented along with the 2014 National Medal of Arts.
Hashtag: #ArtsHumanitiesMedal