Jhumpa Lahiri
National Humanities Medal
2014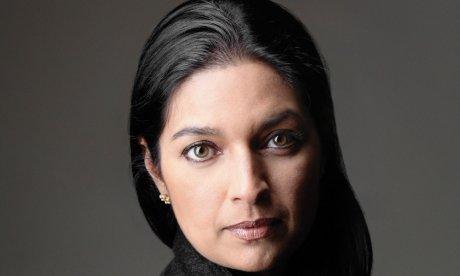 WHITE HOUSE CITATION
Jhumpa Lahiri, for enlarging the human story. In her works of fiction, Dr. Lahiri has illuminated the Indian-American experience in beautifully wrought narratives of estrangement and belonging.
Jhumpa Lahiri was shy as a child. At a young age, she began reading and writing, and a new connection to the world opened up through the words she found and placed on the page. But it wasn't always so easy, or straightforward. As she got older, she no longer wrote. Out of fear, or out of insecurity. When describing herself as a young adult, she says, "I felt so lost. I was just searching for that thing, that place, that kept me sane and kept me whole."
How did she start writing again?
"I just had no choice. I was so afraid to open up that box again, and go inside there, and yet I knew that it was the one place where I had to be in order to survive, to live this life. We are animals, and we're built to survive. And I knew that my survival as a person, as a human being, depended on writing."
She attended Boston University for her MFA, and then received a seven-month fellowship from the Fine Arts Work Center at Provincetown. Through "wonderful teachers" and the encouragement of peers, her confidence grew again.
She has published two novels and two collections of short stories in English, and her fifth and most recent book is a collection of essays she wrote in Italian while living in Rome, titled In Altre Parole (In Other Words). She received the Pulitzer Prize and the PEN/Hemingway Award for her first book, Interpreter of Maladies, at the age of 32. She has been a finalist for both the Booker Prize and the National Book Award. President Obama appointed her as a member of the President's Committee on the Arts and the Humanities in 2010. Literary critics have characterized her as one of the foremost contemporary writers on the immigrant experience in America. This fall, she will join Princeton's creative writing faculty. It is no stretch to say she is one of the most influential writers at work today.
Lahiri was born in London to Indian parents from West Bengal. When her father was studying at the London School of Economics, MIT offered him a job as a university librarian. Her parents came to the Unites States. "not from necessity, but from choice, from curiosity." Lahiri was two years old. They planned to stay for a few years. They've lived in Rhode Island for over 40 years now.
Bengali was "the first language of [her] life," the language she spoke at home with her parents. But English was what she spoke outside of home, in school, with friends, and the language in which she read and wrote. But she says that though she has a "technical full mastery of English, I never felt it was fully mine. It was the language in which I built a life away and apart from my mother and father, which was always emphasizing the distance between us."
Her family traveled back to Calcutta often to visit relatives. Seeing her parents so emotionally connected to their point of origin raised many questions in her own mind. She wondered what her emotional point of origin was; she didn't feel the same connection to India as her parents did, nor did she feel genuinely linked to America. "At many times in my life, I wished I could be like any other American . . . feel really a part of it, really woven into it. I couldn't. I just couldn't do it. And all of my writing has come out of that."
However, Lahiri has recently found a place where she's "never felt as at home." She has been living for the past three years with her husband and two children in Rome. For years, she studied Italian. The impetus to do so came from instinct: Over twenty years ago, she traveled to Italy for a weeklong trip, and within a day or two of arriving, she had "a very intense reaction to the language," which made her feel the need to begin learning Italian.
She's now fluent. For several years, she has read only in Italian. And a week after moving to Rome, she began writing solely in Italian. In Altre Parole is a reflection on the experience of turning her life toward another language. Through discovering a third language, it seems she has found herself. She has built her life and career by following instincts. When describing what she continually strives for in her work, she says what interests her is "moving forward, and moving on to unexplored territory."