The Clemente Course in the Humanities
National Humanities Medal
2014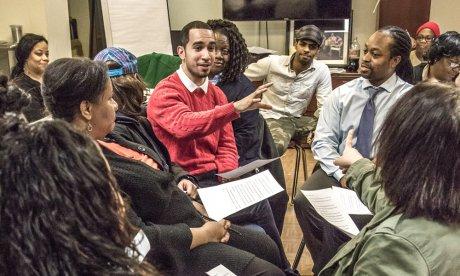 WHITE HOUSE CITATION
The Clemente Course in the Humanities, for improving the lives of disadvantaged adults. The Clemente Course has brought free humanities education to thousands of men and women, enriching their lives and broadening their horizons.
In a culture where vocational training can seem like the one and only answer to poverty and unemployment, the Clemente Course in the Humanities marches to the beat of a different drummer. Its founder, the late Earl Shorris, argued that low-income adults could benefit just as much as Ivy League freshmen from learning about the humanities—and that they should have the same access to them. The humanities "give people a sense of self, to see the world and themselves differently," he said. "People who know the humanities become good citizens, become active, not acted upon."
Shorris, who was a writer, invented the Clemente Course 20 years ago as he interviewed prison inmates and others mired in deep economic distress for his book New American Blues: A Journey Through Poverty to Democracy. In 1995, he organized the first course at lower Manhattan's Roberto Clemente Family Guidance Center, for which the Clemente Course is named. Students had to be at least 18, have an income of less than 150 percent of the federal poverty line, and be able to read a tabloid newspaper—much the same requirements as today, except that at the beginning there was a maximum age as well. Highly qualified faculty members taught the five classes that still make up the Clemente Course: philosophy, literature, art history, American history, and critical thinking and writing.
The experience was so powerful that the 1995–96 course soon inspired many more. Shorris helped develop independently run Clemente Courses around the United States and in other countries, and received a National Humanities Medal for his efforts. Since 1996, New York's Bard College has administered the Clemente Course, granting academic credit to successful students and providing critical support through professional development, outreach, academic oversight, and fundraising. 
Although Shorris died of cancer in 2012, the courses—a number of which are sponsored by state humanities councils—continue to expand and thrive. "It's grown immensely," says Marina van Zuylen, academic director of the Bard Clemente Course for the Humanities and professor of French and comparative literature at Bard College. More than 10,000 adult students have attended Clemente Courses, which take place over an academic year, usually four hours a week from September to May. This fall, students will begin 30 Clemente Courses nationwide.
Those who enroll pay no tuition and receive the assigned books for free. They also receive transportation vouchers for themselves and their children and free child care during class, removing crucial barriers to attendance. Although the work is challenging, more than half of enrollees complete the Clemente Course, for which they can receive college credits.
"A large number of people have continued and have gone on to college," van Zuylen says, but "I never think of 'Clemente success' as going on to college." Instead, she says, it means a student who "is now solidly ready to participate" in democracy and the community and engaging with the world in a new way. "Doing something for yourself, not anyone else, reflecting on something, learning—that opens up a space inside of you."
In one survey, Clemente graduates reported that improvements in communication skills and confidence make it easier to communicate with those in authority: teachers, counselors, principals, bosses, supervisors, college professors, and law enforcement. Another study of Clemente graduates from Massachusetts found a wealth of other positive effects, including more confidence speaking in groups and more encouragement of children and other family members to pursue education. Of the Massachusetts Clemente graduates, seven out of ten went on to different kinds of coursework, including college.
Van Zuylen also teaches literature in a Clemente Course, where she finds that fictional characters are often a way to mediate difficult issues. "When we talked about Antigone, daughter of incest, suddenly this theme of abuse came up in the class," she recalls. "Although everyone had the respect to keep talking about it through the text."
Clemente Courses include a Spanish-language course and courses focused on the language and culture of a particular Native American people. There are also Clemente Courses outside the United States. In 2017, the Clemente Course will pilot a new initiative aimed at struggling veterans, one a partnership with Antioch University in Seattle and the other a partnership with Veterans First in Phoenix.
The most telling accounts of the Clemente Course are in the voices of graduates. One Clemente graduate wrote in the Massachusetts survey: "Everything that I'm doing right now and everything that I will be doing in the future has to do with the Clemente program. Clemente was the starter. It was kind of like [turning] on the engine." Wrote another, in describing the course's impact: "Poetry awakens something in my mind. It's my medication: healthy for your mind and healthy for your soul."