American Tapestry: Weaving Together Past, Present, and Future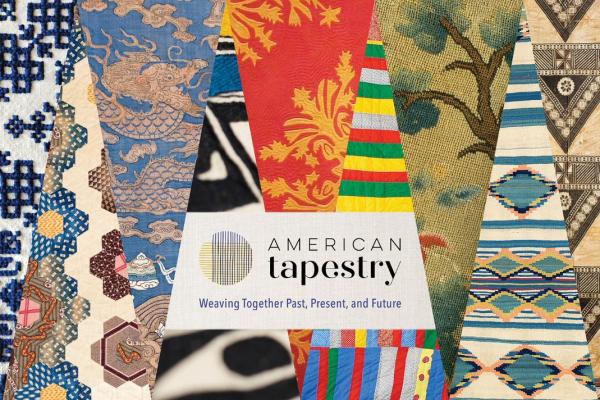 American Tapestry: Weaving Together Past, Present, and Future is a wide-ranging special initiative at the National Endowment for the Humanities (NEH) that leverages the humanities to strengthen our democracy, advance equity for all, and address our changing climate.
Today we face some of our greatest challenges as a nation: among them, sustaining our democratic institutions, building a more just and equitable society, and protecting our cultural inheritance from the effects of climate change. In response to these challenges, the National Endowment for the Humanities (NEH) is launching a new special initiative, American Tapestry: Weaving Together Past, Present, and Future, that leverages the humanities to strengthen our democracy, advance equity for all, and address our changing climate.
NEH's American Tapestry initiative takes its inspiration from the agency's 1965 founding legislation and the goals it sets forth for NEH: "a better understanding of the past, a better analysis of the present, and a better view of the future." NEH is the only federal agency dedicated to funding the humanities, which include history, philosophy, literature, language, culture, government, and the humanistic social sciences. Core to NEH's mission are programs that support the fundamental building blocks of American civil society, helping us to strengthen civic engagement, examine the human condition, preserve our cultural heritage, and foster mutual respect for diverse beliefs and cultures.
"As Americans we are the inheritors of a uniquely rich and vibrant history, a magnificent tapestry of diverse cultures, beliefs, experiences, and intellectual movements, bound together by the warp and weft of American ideals of progress and opportunity," said NEH Chair Shelly C. Lowe (Navajo). "NEH's new agency-wide initiative, American Tapestry, draws upon the insights of the humanities to help us connect the American future with the American past, and cherish this inheritance for future generations by providing funding for humanities-based programs that foster a thriving democracy, expand opportunity and access for all Americans, and help us understand our relationship to the natural world."
Through new funding opportunities at NEH, American Tapestry will encourage projects that elevate the role of civics in schools and public programs, promote media literacy, and use robust humanities research to examine threats to our democracy. American Tapestry will build capacity at museums, libraries, archives, historic sites, cultural centers, and colleges and universities, benefitting more communities while amplifying the untold stories of historically underrepresented groups. This will further NEH's longstanding commitment to support Tribal Nations, community colleges, Historically Black Colleges and Universities (HBCUs), Hispanic Serving Institutions (HSIs), Tribal Colleges and Universities (TCUs), and other minority-serving institutions, as outlined in NEH's Equity Action Plan. Finally, American Tapestry will promote climate resilience in the cultural and educational sectors and encourage humanities research into the human toll of climate change, exploring its historical roots and cultural effects. By supporting humanities projects that align with these priorities, American Tapestry will elevate our country's history in all its complexity and diversity.
Strengthening Our Democracy
"Here in the United States, we know as well as anyone that renewing our democracy and strengthening our democratic institutions requires constant effort. American democracy is an ongoing struggle to live up to our highest ideals and to heal our divisions; to recommit ourselves to the founding idea of our nation captured in our Declaration of Independence."

Remarks by President Joseph R. Biden
December 9, 2021
As stated in NEH's founding legislation, "Democracy demands wisdom and vision in its citizens." Since its founding, NEH has supported projects that make the history of the United States available to all Americans.  For example, NEH supports scholarly editions, many of them now available electronically, of such iconic figures in American history as George Washington, Abraham Lincoln, Jane Addams, and Martin Luther King, Jr.  Through the National Digital Newspaper Program, NEH has made millions of pages of historic newspapers from every state in the union available to students, teachers, and the public. NEH has also supported professional development programs for K-12 teachers on such topics as the Underground Railroad and the U.S. Constitution as well as documentary films on the Civil Rights movement and humanities discussion programs on African American poetry. NEH's state affiliates, the 56 state and jurisdictional humanities councils, engage audiences of all ages in reflection and discussion on the nation's founding and its complex history; the core principles of a constitutional government; and the rights and responsibilities of citizens in a democracy.
NEH's American Tapestry initiative will continue to invest in these humanities projects as well as new programs that support civics education, foster civic engagement, increase media and information literacy, and examine threats to America's democracy. These programs include the following:
Dangers & Opportunities of Technology: Perspectives from the Humanities
This new NEH grant program supports humanistic research that examines the relationship between technology and society.  Now, more than ever, technology affects how we work, communicate, learn, and live.  Many of today's global challenges, such as climate change, pandemics, wealth inequality, and artificial intelligence, are driven in part by the complex relationship between rapidly evolving technology and the people and institutions it affects. This program asks researchers to tackle these key societal challenges through the lens of the humanities to help gain a better understanding of not only the promises of technology, but its dangers as well.  
NEH's A More Perfect Union initiative supports the 250th anniversary of the signing of the Declaration of Independence in 2026 by funding projects that enhance our understanding of the country's founding period. These projects make documents and historical records from this period more accessible, promote a deeper understanding of early American history, and advance knowledge of our core principles of government. The initiative helps students, teachers, and the public better understand America's constitutional democracy and how the country's founding ideals have been met over time.
Advancing Equity for All
The humanities are for everyone. Since its founding, NEH has sought to fund programming that reaches all Americans. NEH grants have supported large-scale papers projects that preserve the legacy of major African American thinkers such as Frederick Douglass and W.E.B. DuBois; documentary films such as Latino Americans, a six-hour documentary broadcast on PBS in 2013, and Asian Americans, a five-hour documentary that debuted in 2020; archival projects supporting the historical memory of LGBTQ+ communities; digitization tools such as Mukurtu, an online platform for curating Native American collections in cooperation with Native American communities; Native American language preservation projects, such as a $2.1 million challenge grant to the First Nations Development Institute to promote language revitalization in a network of Native American communities through language-immersion courses; and newer academic fields such as disability studies. NEH has developed several grant programs to benefit scholars and initiatives at HBCUs, HSIs, and TCUs. The agency's national network of partners, the 56 state and jurisdictional humanities councils, do critical work supporting local humanities programs, organizations, and events. Most recently, as the 2022 Jefferson Lecturer in the Humanities, Andrew Delbanco, the Alexander Hamilton Professor of American Studies at Columbia University and President of the Teagle Foundation, spoke on the horrors of American slavery and the question of reparations, using history, philosophy, and literature to examine a wide range of perspectives on the debate.
Through American Tapestry, NEH will further strengthen its statutory mission to support humanities programs that reflect "our diverse heritage, traditions, and history," including the following:
Spotlight on Humanities in Higher Education
This new NEH grant program is specifically tailored to the needs of historically underserved educational institutions, especially Native American and Indigenous institutions, minority-serving institutions, community colleges, rural colleges and universities, schools that have a majority-minority undergraduate enrollment, and those serving significant numbers of first-generation and nontraditional students. Spotlight on Humanities in Higher Education supports the exploration and development of small projects that benefit underserved populations through the teaching and study of the humanities. Eligible applicants include small to medium two- and four-year institutions and nonprofit organizations whose work advances the humanities at these institutions and among their faculty and students. 
Public Impact Projects at Smaller Organizations
This new NEH grant program supports small and mid-size cultural organizations that are working on humanities interpretation and public programming for their communities. This program is designed to increase the accessibility of NEH funds to small organizations, particularly those from underserved communities. Across the United States, these organizations serve their communities as keepers of history and culture, sources of informal education, and gathering places for their community. To assist them in expanding the impact, reach, and excellence of their public programs, these awards support a variety of activities that focus on either strengthening interpretive approaches for future programming or enhancing community engagement with public programs. 
Addressing Our Changing Climate
The Biden-Harris administration has implemented a whole-of-government approach to responding to the damaging effects of climate change. NEH and the 56 state and jurisdictional humanities partners have long provided technical assistance and support for cultural and educational institutions to protect and sustain humanities collections and programs in the wake of severe weather events such as hurricanes, floods, and wildfires. Through NEH's American Tapestry initiative, NEH will develop and implement programs that incorporate climate resilience in the nation's cultural and educational sectors and promote robust humanities research into the cultural and historical roots of the climate crisis and its impact on human language, culture, and society. These programs include the following:
Cultural and Community Resilience Program
This new NEH program builds cultural and community resilience in the face of climate change as well as challenges posed by the COVID-19 pandemic. The program supports efforts to mitigate the impact of climate change and the pandemic on communities while safeguarding their cultural resources, especially among disadvantaged communities, as outlined in the Biden-Harris administration's Justice40 initiative. 
Climate Smart Humanities Organizations
This new NEH program enables cultural organizations, such as museums, libraries, archives, and humanities centers, to develop strategic climate action plans. Although cultural organizations cite climate change as one of the greatest threats to their holdings and operations, many lack the resources to plan for and respond to such existential threats. This program enables America's cultural stewards to study how their facilities may be at risk from climate change and make plans to build resilience to these threats.