NEH Pledges $1.7 Million for Pilot Civics Education Programs in Elementary Schools
NEH and iCivics celebrate Civic Learning Week with new cooperative agreement to extend the Educating for American Democracy initiative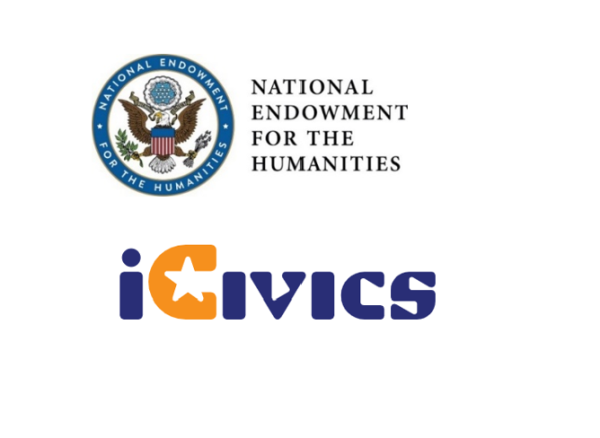 WASHINGTON, D.C. —As students and educators gather in Washington, D.C., and online to celebrate the first national Civic Learning Week, the National Endowment for the Humanities (NEH) is pleased to announce a new cooperative agreement with the nonprofit iCivics to improve teaching of civics and history for K–12 students.
As part of NEH's American Tapestry: Weaving Together Past, Present & Future initiative, which leverages the humanities to strengthen our democracy, advance equity for all, and address our changing climate, NEH has committed $1.7 million toward the creation of pilot programs at elementary schools serving urban, rural, and tribal communities based on the Educating for American Democracy Roadmap.
This two-year cooperative agreement is an extension of the Educating for American Democracy initiative, funded by NEH and the U.S. Department of Education, which, through a partnership between iCivics and research centers and schools at Harvard, Arizona State, and Tufts universities, led a task force of educators, scholars, and policymakers in developing the Roadmap to Educating for American Democracy. The EAD Roadmap offers a framework for an inquiry-based model of teaching civics and history education, designed to support a diversity of curricula, materials, lessons, and assessments and to work across a variety of state social studies standards. Since the release of EAD Roadmap in March 2021, the Roadmap has reached tens of thousands of educators, with school districts in multiple states, including Arizona, Colorado, Massachusetts, New Mexico, and Oklahoma, creating pilot programs based on the framework.
New NEH funding will support the implementation of the EAD Roadmap in pilot programs at elementary schools in underserved communities. The implementation project includes the creation of an advisory team of museums, historical sites, and other informal educational organizations to provide teacher training and assist schools in developing curricula that align with state standards, and the establishment of a task force to evaluate the pilot programs' progress and identify best practices that can guide other educators in adapting the Roadmap's recommendations to their own school systems. This new funding from NEH will support the widespread adoption of high quality, inquiry-based K-12 civic and history education, with the goal of reaching 60 million students and 1 million teachers by 2030.
Funding for the Educating for American Democracy implementation project is provided under NEH's new American Tapestry initiative. Through new funding opportunities at NEH, American Tapestry encourages projects that elevate the role of civics in schools and public programs, promote media literacy, and use robust humanities research to examine threats to our democracy.
"The National Endowment for the Humanities (NEH) is honored to be part of this national movement to educate and engage students in our nation's democratic processes and principles," said NEH Chair Shelly C. Lowe (Navajo). "NEH funding to implement the Educating for American Democracy Roadmap will help transform the teaching of history and civics to meet the needs of twenty-first-century students. Programs like these are an investment in our nation's future, and in a flourishing, inclusive democracy that reflects the concerns and values of all Americans."
NEH Chair Lowe will deliver brief remarks on NEH's funding for K-5 EAD Roadmap pilot projects on March 7 at the Civic Learning Week opening forum at the National Archives in Washington, D.C. Cosponsored by the Farvue Foundation, iCivics, Microsoft, the National Archives Foundation, the National Council for the Social Studies, and the SN Charitable Foundation, the National Archives and Archives Foundation, Civic Learning Week will bring together educators and students for virtual and in-person events from March 6 to 10—hosted by more than 100 organizations, states, and educators across the country—that highlight the role civics learning plays in strengthening constitutional democracy in the United States.
"This new round of funding from NEH shows an enormous vote of confidence in the work already being done to build upon and implement the EAD Roadmap," said iCivics Executive Director Louise Dubé. "This funding is a tremendous boost to help ensure students across our country have the opportunity to acquire the necessary knowledge, skills, and dispositions to participate as informed and engaged members of our self-governing society."
A request for proposals for elementary schools seeking to participate in the EAD pilot program will go out this spring. Harvard University, through the Edmond & Lily Safra Center for Ethics and Project Zero at the Graduate School of Education, will lead a competitive grant process to allocate funding for EAD pilot projects in elementary schools with a special focus on underserved communities and collaborative work with local cultural institutions–libraries, museums, historic sites–to broaden access to the project. Grant funding will also support professional development for elementary school educators, and the development of materials and approaches for teaching civics and history education in the lower grades.
Media Contacts:
NEH: Paula Wasley, @email 
iCivics: Jacob Berkman, @email
National Endowment for the Humanities: Created in 1965 as an independent federal agency, the National Endowment for the Humanities supports research and learning in history, literature, philosophy, and other areas of the humanities by funding selected, peer-reviewed proposals from around the nation. Additional information about the National Endowment for the Humanities and its grant programs is available at neh.gov.
 iCivics: iCivics was founded in 2009 by U.S. Supreme Court Justice Sandra Day O'Connor to transform civic education and rebuild civic strength through digital games and lesson plans. iCivics is the country's largest provider of civic education content and is currently used by up to 145,000 educators and 9 million students annually. All of its resources are free, nonpartisan, and available online at icivics.org.