United We Stand: Connecting Through Culture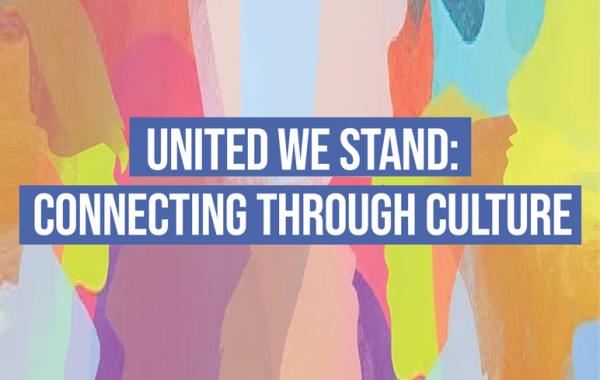 Hate must have no safe harbor in America—especially when that hate fuels the kind of violence we've seen from Oak Creek to Pittsburgh, from El Paso to Poway, and from Atlanta to Buffalo. When ordinary Americans cannot participate in the basic activities of everyday life—such as shopping at the grocery store or praying at their house of worship—without the fear of being targeted and killed for who they are, our security as well as democracy are at risk.
The arts and humanities help us develop the skills needed to find connection, common purpose, and recognition of our shared humanity. They strengthen mutual understanding and remind us of the norms and agreements that we rely on to care for one another. In coordination with the White House United We Stand Summit in September 2022, the National Endowment for the Humanities (NEH) launched a joint initiative with the National Endowment for the Arts (NEA) titled United We Stand: Connecting Through Culture that leverages the arts and humanities to combat hate-motivated violence. This initiative will include funding opportunities for partners in every state, the District of Columbia, and all U.S. jurisdictions for programming promoting civic engagement, social cohesion, and cross-cultural understanding. The initiative will also include resources and capacity building to protect cultural institutions targeted by ongoing domestic extremism and hate-based violence.
In keeping with the goals of United We Stand, NEH has provided special funding to the agency's Texas affiliate, Humanities Texas, to partner with Uvalde's El Progreso Memorial Library to establish an archive at the library preserving community and national responses to the tragic shooting that took place at Robb Elementary School on May 24, 2022. This funding will help the library, a vital center of community following the horrific killing of nineteen children and two adults, archive the thousands of items sent from across the world to express mourning and sympathy with the people of Uvalde, and develop an oral history program.
About United We Stand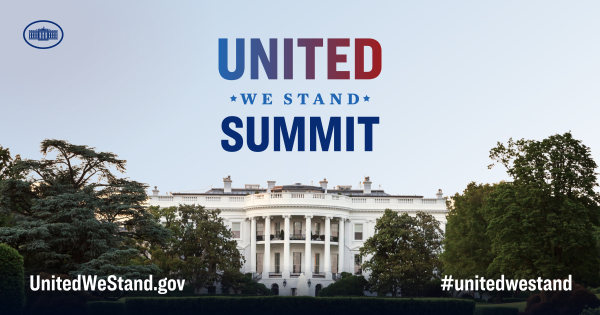 In September 2022, President Biden hosted the United We Stand Summit at the White House to counter the destructive effects of hate-fueled violence on our democracy and public safety, mobilize diverse sectors of society and communities across the country to these dangers, and put forward a shared, inclusive, bipartisan vision for a more united America. Americans of all backgrounds, beliefs, and political affiliations remain overwhelmingly united in their opposition to hate-fueled violence. The United We Stand Summit brought together uniters from across America who are leading work in their communities to build bridges and address hate and division, including survivors of hate-fueled violence. 
NEA Chair Maria Rosario Jackson, PhD and NEH Chair Shelly C. Lowe (Navajo) participated in the summit, which included bipartisan federal, state, and local officials, civil rights groups, faith and community leaders, technology and business leaders, law enforcement officials, former members of violent extremist groups who now work to prevent violence, gun violence prevention leaders, media representatives, and cultural figures. The summit featured a national address from President Biden as well as bipartisan panels and conversations on countering hate-fueled violence, preventing mobilization to violence, and fostering unity. NEH Chair Lowe spoke on behalf of the NEH and NEA as part of the panel Federal Initiatives to Address Hate-Fueled Violence (2:27:45) where she introduced the United We Stand: Connecting Through Culture joint initiative. Read more about these efforts in the United We Stand fact sheet. 
Watch the full United We Stand Summit
"The arts and humanities have always been an avenue for acknowledging and expressing pain, coming to terms with that pain, and building support networks for survivors. In moments of loss and tragedy, we come together to both create and turn to art, poetry, music, literature for solace and healing. And to the lessons of history for understanding, and to religion and philosophy for acceptance. Combating hate not only requires us to identify the root causes of that hate but also to identify our inherent capacity for love, acceptance, empathy, and belonging." –NEH Chair Shelly C. Lowe
United We Stand Funding for Humanities Councils 
In September 2023—one year after the White House summit—NEH announced approximately $2.8 million in United We Stand: Connecting Through Culture funding for its national network of state and jurisdictional humanities councils to support local programming that helps communities counter the destructive effects of hate-fueled violence on our democracy and public safety. 
Each of the state and jurisdictional humanities councils and interim partners were invited to apply for up to $50,000 in supplemental funding to support the United We Stand: Connecting Through Culture initiative by developing or expanding local humanities programming that fosters cross-cultural understanding, empathy, and community resilience; educates the public on the history of domestic extremism and hate-based violence and promotes civic engagement, information literacy, and social cohesion through strategic partnerships, community-building, and ongoing public engagement; and/or deepens public understanding of and contextualizes community, state, and national history. 
Read about the wide range of humanities council-led United We Stand: Connecting Through Culture programs being planned across the country. 
Projects Supported by NEH: 
Other Arts and Humanities Stories: