NEH and Native Americans
Nation-to-Nation consultation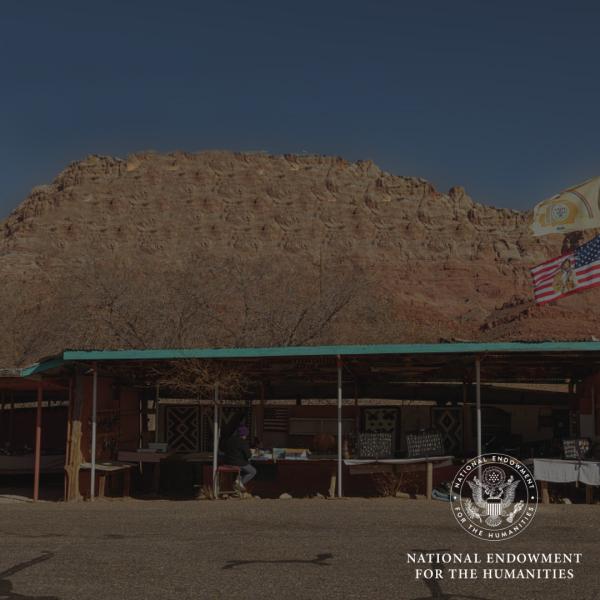 The National Endowment for the Humanities (NEH), in accordance with President Biden's Memorandum on Tribal Consultation and Strengthening Nation-to-Nation Relationships, is engaging with Tribal leaders to discuss their needs and concerns related to NEH's resources and grant programs.
On April 23, 2021, NEH submitted a Plan of Action to the Office of Management and Budget (OMB), and on July 1, 2021, the agency held its first Tribal consultation. 
A recording of the July 1 Tribal consultation meeting is available and may be requested at @email
Grant Programs for Native American Audiences
Federally recognized tribes, as well as any 501(c)3 organization—including Tribal cultural centers, libraries, museums, and archives—may apply to any of NEH's grant programs.
Below are several grant programs the agency administers that specifically serve Tribal Nations and Native communities.
The Awards for Faculty at Tribal Colleges and Universities program seeks to strengthen the humanities at Tribal Colleges and Universities by encouraging and expanding humanities research opportunities for individual faculty and staff members. Awards support individuals pursuing humanities research that is of value to scholars, students, and general audiences. The program especially encourages projects related to Indigenous knowledge that sustain and strengthen Tribal languages.
The Humanities Initiatives at Tribal Colleges and Universities program strengthens the teaching and study of the humanities at Tribal Colleges and Universities by developing new humanities programs, resources (including those in digital format), and courses, and by enhancing existing ones. Projects address a core topic or set of themes drawn from such areas of study in the humanities as history, philosophy, religion, literature, and composition and writing skills.
Many other NEH programs, while not exclusively targeted to Tribal Nations and Native communities, specifically encourage individuals and organizations that serve Native communities to participate and routinely fund projects with connections to Tribal Nations. For instance, the two Documenting Endangered Languages programs, Senior Research Grants and Fellowships—which NEH administers in cooperation with the National Science Foundation—have made numerous awards to projects that document and preserve Native languages.
The Preservation Assistance Grants for Smaller Institutions program helps small and medium-sized institutions to preserve and care for their humanities collections. Awards support preservation assessments, purchase of preservation supplies, and education and training for museum, library, and archives staff. The program encourages applications from Tribal colleges and universities, Native American tribes, and Tribal cultural centers, and Alaska Native and Native Hawaiian organizations.
From 2017 through 2021, NEH has supported the Native Language Immersion Initiative program through a cooperative agreement with the First Nations Development Institute, based in Longmont, Colorado. The program has awarded over 45 grants to Native-led nonprofit organizations in support of Native language immersion programs across the country.
In addition, across its programs, NEH especially encourages projects that include Native American organizations and communities as lead applicants and project partners.
Resources
NEH Virtual Workshop: Native Communities, Institutions, and Tribal Colleges and Universities is available here.
Handouts
Grant Program Contacts - Winter 2021
Directory of State Humanities Councils
The Native Arts & Culture: Resilience, Reclamation, and Relevance convening in February 2020 brought together representatives from more than 40 tribal nations and the heads of several federal agencies. Participants discussed how to revitalize Native communities through language, arts, and historic preservation. The Native Arts & Cultures Foundation produced a report on the convening in March 2021. The full report includes a summary of the proceedings and recommendations to strengthen the Native arts, cultures, and humanities fields; the executive summary highlights the findings.
NEH collaborated with the National Endowment for the Arts and other federal agencies to produce the Federal Resources for Native Arts & Cultural Activities, a free online resource guide for supporting Native arts and cultural activities. The Federal Resources for Native Arts & Cultural Activities publication is regularly updated and free for download.
First Nations Development Institute received a $2.1 million matching Challenge Grant to support Native language immersion projects developed by Tribal organizations to support curriculum development, technology access, and teacher development. The impact report focuses on outcomes from the first two years of the initiative.
Read about NEH-funded projects focusing on Native American language, history and culture
A fact sheet on NEH grants for Native arts and culture
The Institute of American Indian Arts
Documenting endangered languages with the help of Native students
The California Language Archive

"Away From Home: American Indian Boarding School Stories": an exhibit

Preserving Ojibwe
Pawnee Nation receives NEH grant
A film about restorative justice in Native American courts
Language revitalization in Wyoming