NEH Awards More Than 2,000 Grants to Preserve Historical Collections at Small Institutions
Join NEH online for its monthlong #PAG2000 celebration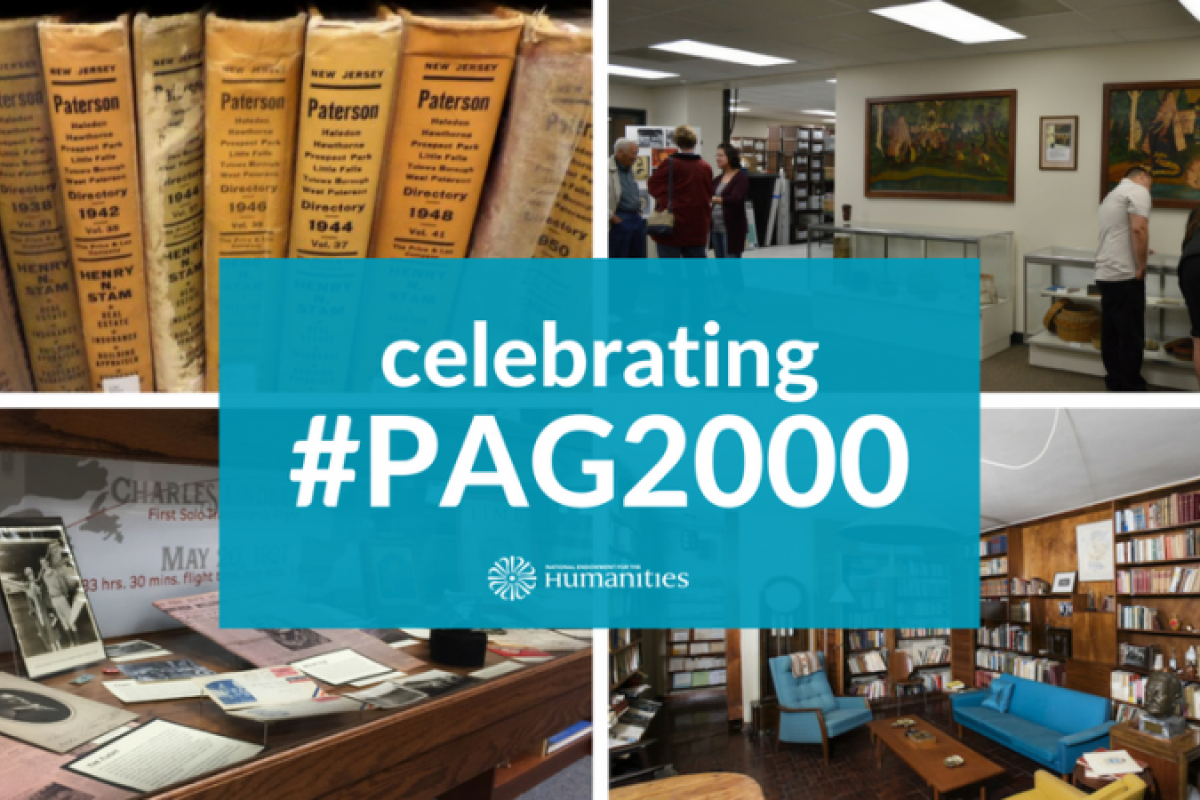 This month the National Endowment for the Humanities (NEH) celebrates a milestone in one of its signature grant programs, Preservation Assistance Grants for Smaller Institutions—or PAG—which recently surpassed 2,000 grants awarded.
Created in 2000, the NEH Preservation Assistance Grants program helps small and mid-sized institutions such as libraries, museums, historical societies, and other cultural institutions improve their ability to preserve and care for significant humanities collections. PAG grants provide funding for organizations to consult with preservation professionals to develop long-term plans for collections care, address specific conservation needs, purchase preservation supplies and equipment, or provide training for staff in best practices for collections management and disaster response. For many small institutions the preservation activities supported by NEH PAG grants are necessary first steps toward more effective use of their collections for exhibitions, education and public programs, or digitization initiatives.
"Over the past eighteen years, NEH's Preservation Assistance Grants have played a truly catalytic role in safeguarding our nation's cultural heritage and helping small institutions build the infrastructure needed to preserve and showcase collections that document the histories of communities around the country," said NEH Senior Deputy Chairman Jon Parrish Peede. 
NEH PAG grants allowed the Katirvik Cultural Center in Nome, Alaska, to purchase environmental monitoring supplies to preserve cultural materials documenting the histories of the Yupik and Inupiat peoples of the Bering Strait. They helped the Harriet Beecher Stowe Center in Hartford, Connecticut, upgrade its lighting and storage systems to safeguard archives that tell the story of Harriet Beecher Stowe's life and legacy as a writer. A PAG grant to the Yellowstone Gateway Museum in Livingston, Montana, supported the rehousing of 19th- and 20th-century photographs, scrapbooks, business ledgers, and artwork from homesteaders, ranchers, and railroad workers in temperature- and humidity-controlled storage facilities to protect these fragile records of the early history of southern Montana. And the Birthplace of Country Music Museum in Bristol, Tennessee, used a PAG grant to hire a conservation consultant to advise on the long-term care of a recently acquired collection of 1,500 studio master recordings of country, bluegrass, old-time, and gospel music in audio formats prone to rapid decay. Read about other PAG projects across the country at NEH's "50 States of Preservation" series.
To mark the awarding of more than 2,000 PAG grants, NEH invited grantees to submit videos highlighting objects that these grants have helped preserve. Head to NEH's Medium account or check out the #PAG2000 hashtag on Twitter to learn about a Civil War military discharge record decorated with a drawing of an execution of a prisoner-of-war at the Franklin County Historical Society in Kansas; diaries at the Washington, D.C., Heurich House Museum describing the daily life of a German-American brewing family during both world wars; a Victorian wreath made of human hair from two prominent families at the L.C. Bates Museum in Maine, the site of a 19th-century trade school for orphans; and many other fascinating artifacts.  
Join NEH as we celebrate a "month of PAG" from now until mid-February on our social media channels with #PAG2000. Past and current PAG grantees are invited to submit their own #PAG2000 videos. Or become an NEH grantee by applying for a Preservation Assistance Grant.
The next deadline for NEH Preservation Assistance Grants is May 1, 2018. Updated guidelines will be posted two months in advance of the deadline. First-time applicants are encouraged to contact program staff in NEH's Division of Preservation and Access at 202-606-8570 or @email to discuss proposed projects and questions about the application process.