Blog
50 States of Preservation: Harriet Beecher Stowe Center in Hartford, Connecticut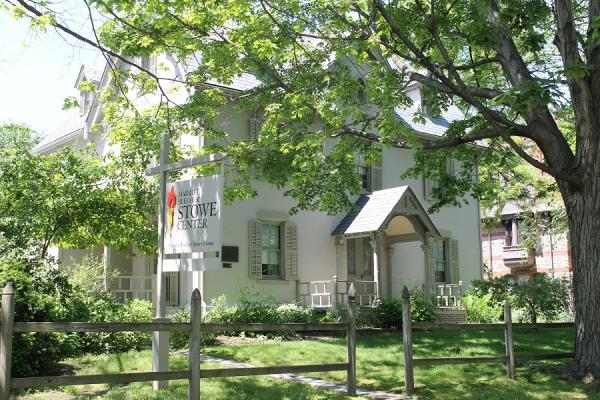 This feature is part of a series we call "50 States of Preservation," in which we are touring small and mid-sized museums, libraries, historical societies, and other repositories across the country to show how they are helping to preserve the nation's cultural heritage.  Read other entries in the series here.
Author Harriet Beecher Stowe (1811-1896) is best known for her anti-slavery novel, Uncle Tom's Cabin, the first installment of which was published on June 5, 1851, in the abolitionist newspaper, The National Era.  She enjoyed a long and successful writing career beyond Uncle Tom's Cabin, publishing more than 30 books, in addition to poems, articles, and hymns.  Stowe's work was significant for its breadth and its influence on public opinion, an unusual feat for a woman of her time.
Stowe was also a mother of seven children.  She lost one son, 18-month-old Samuel Charles Stowe, to cholera in 1849.  Later in her life, Stowe said the heartache of losing Samuel was one inspiration for Uncle Tom's Cabin, giving her empathy for enslaved mothers separated from their children.  It is this intersection of Stowe's life and work that characterizes the collections at the Harriet Beecher Stowe Center in Hartford, Connecticut, the National Historic Landmark site of the Harriet Beecher Stowe House, an 1871 Gothic-style cottage that served as Stowe's home for 23 years.  The Harriet Beecher Stowe Center, which administers the historic house, serves as a heritage tourism site, program center, and research library.  The center receives almost 40,000 people each year, including a wide variety of scholars, students, and members of the public. 
Over the years, the National Endowment for the Humanities has supported the work of the center in caring for the collections exhibited and stored in the Stowe House.  Furniture, clothing, dishware, and personal items belonging to the Stowe and Beecher families are used to demonstrate everyday routines and provide visitors with a way to connect to the historical themes presented—19th-century women's history, African American history, racial attitudes in the United States, civic reform, and Stowe's legacy as a writer—all on a personal level.  Most recently, a Preservation Assistance Grant, enabled the center to purchase 30 historic-looking, light-filtering linen shades for the interpreted public areas on the first and second floors, as well as nine light-blocking shades for the third-floor storage spaces.  The shades will protect the historic artifacts and memorabilia in Harriet Beecher Stowe House from damaging sunlight.
Altogether, the Harriet Beecher Stowe Center has received five Preservation Assistance Grants, which "have significantly strengthened a multi-year collections preservation project in the Harriet Beecher Stowe House," says Katherine Kane, Executive Director of the center. "The grants supported packing and storing fragile collections and prioritizing artifact treatments. In addition, upgraded UV light protection ensures that significant artifacts—including the table where Stowe wrote Uncle Tom's Cabin—are safeguarded for years to come."  Storage furniture and re-housing supplies for material culture collections, conservation assessments of historic artifacts, and collections care training for staff are the building blocks of preservation at historic house museums and sites—activities that the Endowment is proud to support through the Preservation Assistance Grants program.
In every state, NEH supports organizations that preserve humanities collections.  Preservation Assistance Grants for Smaller Institutions (PAGs) fund projects that help safeguard photographs, letters, documents, prints, moving images, sound recordings, maps, drawings, artworks, textiles, furniture, and artifacts, making them available for future generations.  These collections help researchers, educators, and members of the public better understand the complex stories of the various cities, towns, and tribal groups that make up our nation.  Since 2000, NEH has made nearly 2,000 Preservation Assistance Grants to small and mid-sized organizations to preserve and care for their humanities collections.  In all 50 states, the District of Columbia, and Puerto Rico and the Virgin Islands, PAG awards have funded preservation assessments, purchase of shelving, environmental monitoring equipment, and preservation supplies, and training for staff.  Organizations in all states and U.S. territories are eligible to apply, and the program encourages applications from those new to NEH.  The next application deadline Preservation Assistance Grants for Smaller Institutions is May 2, 2017.  If you have any questions about this grant program, please contact us at @email or 202-606-8570.