Blog
50 States of Preservation: Birthplace of Country Music Museum in Bristol, TN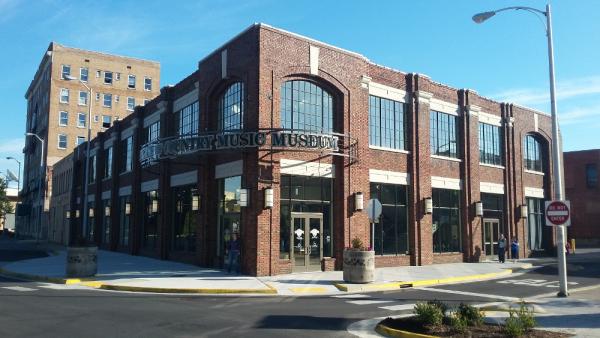 This feature is part of a series we call "50 States of Preservation," in which we are touring small and mid-sized museums, libraries, historical societies, and other repositories across the country to show how they are helping to preserve the nation's cultural heritage.  Read other entries in the series here.
The town of Bristol, situated on the border of Tennessee and Virginia (its Main Street forms the dividing line between the two states) is well known to fans of country music.  In 1927, Bristol was the site of the legendary musical recording sessions of Jimmy Rodgers and the Carter Family, conducted by Victor Records producer Ralph Peer.  These sessions helped the artists achieve commercial prominence and set country music on its modern path.  In view of its cultural importance, Congress in 1998 officially recognized Bristol as "The Birthplace of Country Music."  
Located in Bristol, Tennessee, the Birthplace of Country Music Museum first opened its doors in August 2014.  The focus of the museum extends well beyond the famous Bristol Sessions, however, to encompass a wide range of materials on the early history of country music.   Its holdings include, for example, clippings, photographs, musical scores, and other records related to popular country music performer and Bristol native Tennessee Ernie Ford (1919-1991).  The museum has also acquired a collection of 1,500 masters of old-time, country, bluegrass, and gospel music recorded at the Maggard Sound Studios in nearby Big Stone Gap, Virginia, beginning in the 1960s.  It also houses a collection of hardware (consoles, mics, and turntables) and scrapbooks (photographs, pamphlets, and documents) associated with historic Bristol radio stations WOPI and WCYB.    Outfitted with this vintage radio equipment, the Birthplace of Country Music launched its own FM radio station in 2015: WBFM.  WBCM Radio Bristol currently serves the Bristol area and is streamed over the internet.
Since its opening, barely three years ago, the Birthplace of Country Music Museum has already attracted visitors from all 50 states and 40 foreign countries.  Programs include free public lectures and concerts, after-school programs, and summer music camps for elementary and middle school students.  Researchers have been drawn to the museum's extensive collections of archival records and sound recordings.  For example, representatives of Florentine films in New Hampshire have consulted the museum's paper and photographic materials in preparation for the Ken Burns documentary series on country music slated for release in 2019.
Although a new institution with expanding holdings, the Birthplace of Country Music Museum is committed to the care of the materials it has acquired.  With the help of a dedicated group of volunteers, its small staff has focused on cataloging, rehousing, and conservation efforts.  The challenge is particularly great for some of the museum's older paper materials, which in the past were poorly stored, as well as audio and video formats, which are threatened by obsolescence and physical degradation.  In 2016, the Birthplace of Country Music Museum obtained funding from NEH to hire the services of conservator Frances Harrell from the Northeast Document Conservation Center, who carried out a comprehensive assessment of the preservation needs of the collections. The assessment served as an important first step in planning for the renovation of an adjacent building to store its growing collections.
"The challenge of building a new institution is to offer programs for our audiences while simultaneously building careful policies and processes to safeguard the items entrusted to us," notes Dr. Jessica Turner, the museum's Director. "The excitement within this work is that we have the opportunity to take these treasures from the past and make them accessible to our region and the world through innovative technologies and programs.  We are grateful to the support of NEH for helping us create a lasting foundation for connecting people to an important area in American music history." 
In every state, NEH supports organizations that preserve humanities collections.  Preservation Assistance Grants for Smaller Institutions (PAGs) fund projects that help safeguard photographs, letters, documents, prints, moving images, sound recordings, maps, drawings, artworks, textiles, furniture, and artifacts, making them available for future generations.  These collections help researchers, educators, and members of the public better understand the complex stories of the various cities, towns, and tribal groups that make up our nation.
Since 2000, NEH has made nearly 2,000 Preservation Assistance Grants to small and mid-sized organizations to preserve and care for their humanities collections.  In all 50 states, the District of Columbia, and Puerto Rico and the Virgin Islands, PAG awards have funded preservation assessments, purchase of shelving, environmental monitoring equipment, and preservation supplies, and training for staff.  Organizations in all states and U.S. territories are eligible to apply, and the program encourages applications from those new to NEH.  The next application deadline Preservation Assistance Grants for Smaller Institutions is May 1, 2018.  If you have any questions about this grant program, please contact us at @email or 202-606-8570.