Blog
50 States of Preservation: The Yellowstone Gateway Museum in Livingston, MT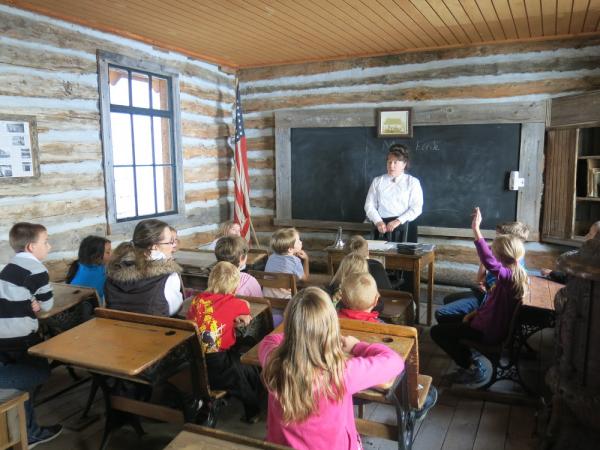 This feature is part of a series we call "50 States of Preservation," in which we are touring small and mid-sized museums, libraries, historical societies, and other repositories across the country to show how they are helping to preserve the nation's cultural heritage.  Read other entries in the series here.
The Yellowstone Gateway Museum (YGM) is located in Livingston, Montana.  Since 1976, it has served both the 15,000 permanent residents of Park County, as well as some of the more than 600,000 visitors who pass through Livingston each year on the way to Yellowstone National Park.  The museum maintains a collection of 50,000 artifacts, photographs, archival materials, and oral histories all related to the history of the region.  The collection and exhibits focus on pioneer life and ranching, early businesses and communities, military history, the railroad, and the Plains Indians who originally occupied this part of Montana.  The diverse materials serve academic researchers, writers, filmmakers, along with genealogists, students, and school teachers.
Situated in a 100-year-old school building and with just two full-time employees, the YGM has struggled over the years to cope with a shortage of storage space and a backlog of unprocessed collections.  The museum relies on a corps of volunteers to manage its exhibits and to conduct an extensive series of programs for the public.  Maintaining stable environmental conditions has been a perennial challenge, with the region's extremes of temperature.  Until recently, the museum's photograph and archival collections were kept in an adjacent building without any heating or cooling.  Stored there were fragile records related to the early history of southern Montana:  records of persons who moved to Livingston to work on the Northern Pacific Railway or to visit and work in the Yellowstone National Park, along with ranchers and homesteaders who settled the region beginning in the 1880s.  Also included are business and labor union records, tourism memorabilia and ephemera, scrapbooks, and oversized posters and artwork that are difficult to store. 
The YGM recently decided to move these materials into the museum proper where temperature and humidity are properly monitored.  To facilitate their transfer into proper storage, the museum obtained an NEH Preservation Assistance Grant in 2015, through which it purchased fireproof file cabinets, as well archival folders, boxes, and sleeves to house these manuscripts and photographs, thus ensuring their long-term preservation.  Thanks to the efforts of a dozen dedicated volunteers, among them several local high school students, the museum was also able to catalog and digitize a number of items.
According to YGM registrar and project director Karen Reinhart, museums will always be challenged with the task of properly housing their collections.  "Obtaining funding from the NEH," she noted, "has undoubtedly aided the public image of the Yellowstone Gateway Museum. Those who work in the humanities field know that there is always stiff competition for national grants and so perhaps they look to our organization with deeper regard as a result of the funded project."
In every state, NEH supports organizations that preserve humanities collections.  Preservation Assistance Grants for Smaller Institutions (PAGs) fund projects that help safeguard photographs, letters, documents, prints, moving images, sound recordings, maps, drawings, artworks, textiles, furniture, and artifacts, making them available for future generations.  These collections help researchers, educators, and members of the public better understand the complex stories of the various cities, towns, and tribal groups that make up our nation.
Since 2000, NEH has made nearly 2,000 Preservation Assistance Grants to small and mid-sized organizations to preserve and care for their humanities collections.  In all 50 states, the District of Columbia, and Puerto Rico and the Virgin Islands, PAG awards have funded preservation assessments, purchase of shelving, environmental monitoring equipment, and preservation supplies, and training for staff.  Organizations in all states and U.S. territories are eligible to apply, and the program encourages applications from those new to NEH.  The next application deadline Preservation Assistance Grants for Smaller Institutions is May 2, 2017.  If you have any questions about this grant program, please contact us at @email or 202-606-8570.