Blog
ODH Year in Review 2022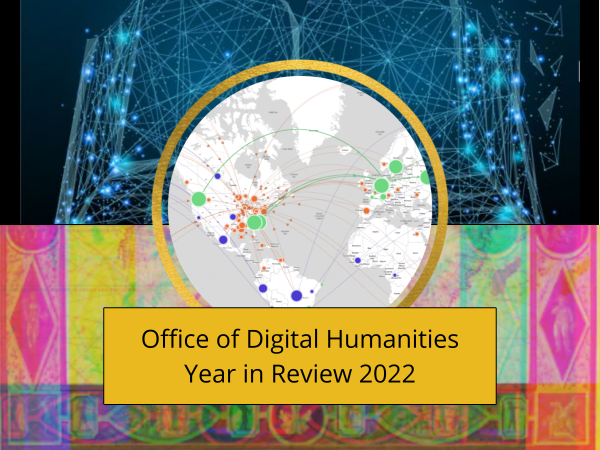 In 2022, the Office of Digital Humanities (ODH) oversaw three grant programs: Institutes for Advanced Topics in the Digital Humanities; Digital Humanities Advancement Grants, a partnership with the Institute for Museum and Library Services; and the Fellowships Open Book Program, a collaboration with the Division of Research Programs.

We worked with 73 external reviewers to evaluate more than 202 grant applications and made 80 awards. We distributed over $6.5 million to 40 different institutions across 19 states and territories.
We also served as a partner on NEH-Mellon Fellowships for Digital Publication, a grant program overseen by the Division of Research Programs.
This year's awards include:
ODH in the Community
In 2022, ODH staff held more than 221 consultations with teams developing digital projects to discuss funding opportunities and project ideas. We also provided feedback on 93 drafts of grant applications for our Digital Humanities Advancement Grant and Institutes for Advanced Topics in the Digital Humanities programs.
We continued our virtual visits program in the spring of 2022, hosting nine workshops on funding opportunities for digital humanities at institutions ranging from the American Philosophical Society in Philadelphia to the University of Colorado in Denver.  This year we were also able to serve as virtual and, for the first time since 2020, in-person participants at a number of conferences, including the Modern Language Association, the Council on Undergraduate Research, and the American Studies Association.
Thanks to everyone who joined us for these events!
We were fortunate to work with two graduate student interns in the summer of 2022 through NEH's Pathways Internship Program: Alexus Hunt—a master's student in library science and African diaspora studies at the University of Indiana, Bloomington—and Essah Díaz—a doctoral candidate in literature at the University of Puerto Rico, Rio Piedras. Stay tuned for more information about our summer 2023 internship program.
Looking Forward
In 2023, the Office of Digital Humanities will be evaluating the first round of applications for our new grant program, Dangers and Opportunities of Technology (DOT): Perspectives from the Humanities, which supports humanistic research that examines the relationship between technology and society. DOT is one of five new grant programs launched by NEH as part of the new "American Tapestry" initiative.
The DOT program has a deadline on February 2 and another in October 2023.
Visit our website to check out the opportunities for participating in an Institute for Advanced Topics in Digital Humanities.
We continue to operate as a hybrid workplace, with limited return to our offices in Washington, D.C. We are in the process of evaluating lessons learned from the pandemic as we think about the future of our Project Directors' meetings and our outreach work.
Want to stay up to date on ODH events? Sign up for our newsletter!
Please note that this link will take you to a registration page for the entire NEH system. Once you register, you can subscribe to any NEH offices, including ODH.