American Tapestry: Weaving Together Past, Present, and Future
New NEH initiative emphasizes the role of the humanities in tackling contemporary social challenges: strengthening our democracy, advancing equity for all, and addressing our changing climate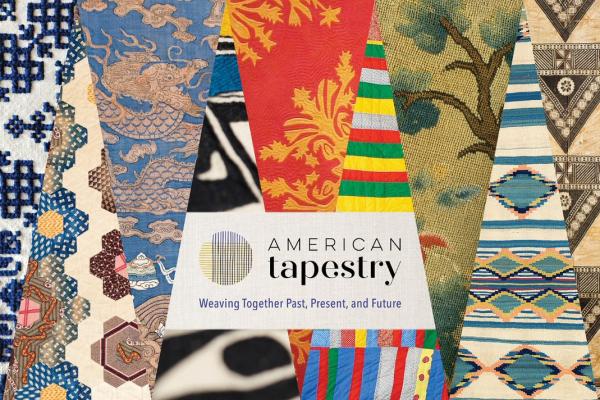 WASHINGTON, D.C. —Shelly C. Lowe (Navajo), Chair of the National Endowment for the Humanities (NEH), today announced a new NEH-wide initiative that draws upon the humanities to help Americans study, evaluate, and respond to some of the nation's most urgent issues.
Today we face some of our greatest challenges as a country: among them, sustaining our democratic institutions, building a more just and equitable society, and preparing for and protecting our cultural inheritance from the effects of climate change. NEH's new special initiative, American Tapestry: Weaving Together Past, Present, and Future, will leverage the humanities to strengthen our democracy, advance equity for all, and address our changing climate.
"As Americans we are the inheritors of a uniquely rich and vibrant history, a magnificent tapestry of diverse cultures, beliefs, experiences, and intellectual movements, bound together by the warp and weft of American ideals of progress and opportunity," said NEH Chair Lowe. "NEH's new agency-wide initiative, American Tapestry, draws upon the insights of the humanities to help us connect the American future with the American past, and cherish this inheritance for future generations by providing funding for humanities-based programs that foster a thriving democracy, expand opportunity and access for all Americans, and help us understand our relationship to the natural world."
NEH's American Tapestry initiative takes its inspiration from the agency's 1965 founding legislation and the goals it sets forth for NEH: "a better understanding of the past, a better analysis of the present, and a better view of the future." NEH is the only federal agency dedicated to funding the humanities, which include history, philosophy, literature, language, culture, government, and the humanistic social sciences. Core to NEH's mission are programs that support the fundamental building blocks of American civil society, helping us to strengthen civic engagement, examine the human condition, preserve our cultural heritage, and foster mutual respect for diverse beliefs and cultures.
Through new funding opportunities at NEH, American Tapestry will encourage projects that elevate the role of civics in schools and public programs, promote media literacy, and use robust humanities research to examine threats to our democracy. American Tapestry will build capacity at museums, libraries, archives, historic sites, cultural centers, and colleges and universities, benefitting more communities while amplifying the untold stories of historically underrepresented groups. This will further NEH's longstanding commitment to support Tribal Nations, community colleges, Historically Black Colleges and Universities (HBCUs), Hispanic Serving Institutions (HSIs), Tribal Colleges and Universities (TCUs), and other minority-serving institutions, as outlined in NEH's Equity Action Plan. Finally, American Tapestry will promote climate resilience in the cultural and educational sectors and encourage humanities research into the human toll of climate change, exploring its historical roots and cultural effects. By supporting humanities projects that align with these priorities, American Tapestry will elevate our country's history in all its complexity and diversity.
The American Tapestry initiative encompasses a number of newly launched NEH grant programs that explore the three themes of "Strengthening Our Democracy," "Advancing Equity for All," and "Addressing Our Changing Climate:"  
 
Dangers & Opportunities of Technology: Perspectives from the Humanities


Many of today's global challenges, such as climate change, pandemics, wealth inequality, and artificial intelligence, are driven in part by the complex relationship between rapidly evolving technology and the people and institutions it affects. This new NEH grant program asks researchers to tackle these key societal challenges through the lens of the humanities to help gain a better understanding of not only the promises of technology, but its dangers as well.  (Application deadline: February 2, 2023)
 

Spotlight on Humanities in Higher Education

 


A new NEH grant program that supports the development of small projects that benefit historically underserved populations through the teaching and study of the humanities at two- and four-year colleges and universities and higher education nonprofits. (Application deadline: November 1, 2022)

 
 

Cultural and Community Resilience Program

 


A new NEH grant program that supports efforts to mitigate the impacts of climate change and the COVID-19 pandemic on communities while safeguarding their cultural resources, especially among historically disadvantaged communities, as outlined in the Biden-Harris

administration's Justice40 initiative

.

(Application deadline: January 12, 2023)

 
 

Climate Smart Humanities Organizations

 


A new NEH grant program to support America's cultural stewards—museums, archives, and libraries—in assessing how their facilities and cultural holdings may be threatened by climate change and developing strategic plans to address these threats. (Application deadline: January 17, 2023)

 
 

Public Impact Projects at Smaller Organizations


A forthcoming grant program to help small and mid-size museums and cultural organizations increase the impact, reach, and excellence of their public programs. (Funding opportunity to launch in 2023.)
 
American Tapestry also incorporates NEH's preexisting A More Perfect Union initiative, which supports the 250th anniversary of the signing of the Declaration of Independence in 2026 by funding projects that enhance our understanding of the country's founding period.  
Learn more about American Tapestry and the initiative's new funding opportunities here.  
National Endowment for the Humanities: Created in 1965 as an independent federal agency, the National Endowment for the Humanities supports research and learning in history, literature, philosophy, and other areas of the humanities by funding selected, peer-reviewed proposals from around the nation. Additional information about the National Endowment for the Humanities and its grant programs is available at neh.gov