Blog
Q&A With ODH Intern Alexus Hunt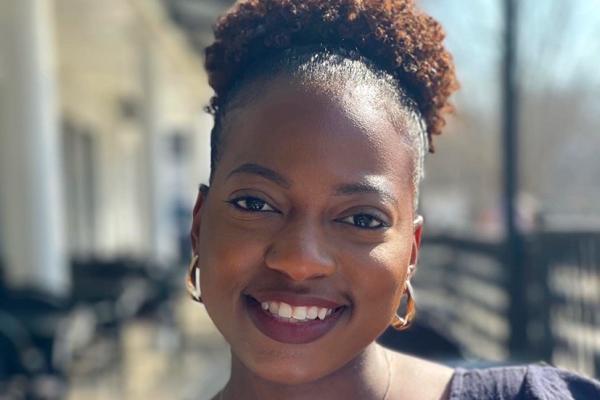 Alexus Hunt is a third-year graduate student at Indiana University Bloomington studying Library Science and African American and African Diaspora Studies, and one of two ODH interns for the summer of 2022. Learn about intern Essah Díaz.
Why did you want to intern with NEH's Office of Digital Humanities? 
I am a graduate student studying library science with a focus in digital humanities and African American and African Diaspora studies at Indiana University Bloomington. Before I started my internship, I took a digital humanities course where we studied the field and wrote practice grant proposals. I crafted my proposal for a grant awarded by NEH's Office of Digital Humanities. I discovered a lot in my coursework, but I knew that there was still much to learn! I researched the office and their mission and values and wanted to know more.
As an Africana studies scholar, I look forward to using digital humanities with my field to further the knowledge of Africana studies and reach a broader audience. I saw an application for the Pathways internships and immediately applied for several positions. I wanted to learn more about the grant application process and how to write grants.
What are your responsibilities as an ODH intern?  
As an Office of Digital Humanities intern, I had the privilege of attending consultations with applicants, staff meetings, and building rapport with various departments through reading groups. Throughout my internship, I worked on various projects with my amazing partner, Essah Díaz. We collaborated on a digital tagging and classification project. We classified applications by their outputs, methods and activities, and agency-wide categories.
Another responsibility of mine was to be an eager learner. I had amazing mentors such as Jennifer Serventi and Hannah Alpert-Abrams that I met with weekly to discuss my projects and the field of digital humanities. They inspired me to keep growing within my work.
What's something you've learned about NEH or about digital humanities that you didn't know before?  
Before my internship with the Office of Digital Humanities I was unaware of how awards are decided upon and the process by which Congress overviews funding appropriations. Understanding the work of how grants are awarded has allowed me to further appreciate how NEH has been innovative in various avenues of the humanities.
I now have a better understanding of how the Office of Digital Humanities has impacted and helped to establish digital humanities. As a young scholar, I did not think about how the evolution of software and technology change, which in turn affects how we use and update technology.
While digital humanities is cool because you can use technology to collaborate, teach, learn, and explore, there is also a sustainability and preservation side that we must be aware of. NEH, through the Office of Digital Humanities and other divisions, has made a sustainability management plan part of their application process, which is a step in the right direction.
What skills or experiences have you gained as an intern that you think will be helpful in your studies or career? 
Before the internship, I was a bit shy in terms of my ability to speak about what I know. Since my internship I have become more confident in my skills such as data entry, digital classification, networking, job search, public speaking, and data analysis.
With these skills and knowledge, I feel more comfortable and prepared to add new ideas to conversations, speak, and ask questions. I am a master's student and not a PhD (yet. . .), so it sometimes felt unsettling to speak when everyone around me was so knowledgeable. It can sometimes be intimidating, but I realized that we are always learning and growing. Furthermore, I am excited to take my skills of data entry, digital classification, and networking into various spaces that advance the work of Africana studies and the humanities.