Blog
Celebrating Preservation Week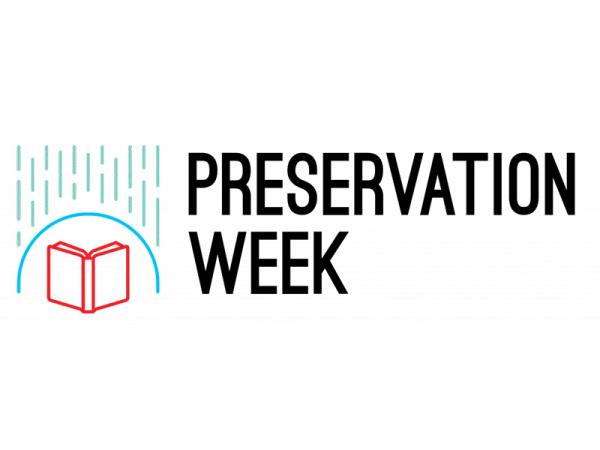 It's that time again! Preservation Week is designed for everyone—from libraries, archives, and museums to individuals, families, and communities—to connect their communities "through events, activities, and resources that highlight what we can do, individually and together, to preserve our personal and shared collections."
The celebration is presented each April by the American Library Association's Core: Leadership, Infrastructure, Futures division. This year's theme, April 24–30, 2022, is "Preservation in the Face of Climate Change."
"We regard this as something we need to pay attention to," said Dyani Feige, co-chair of the event's Preservation Outreach Committee and director of preservation services at the Conservation Center for Art & Historic Artifacts. "There are universal connections and ramifications, including in the field of collections care. When would we be able to confront these critical issues in the preservation community? This is by no means the first time the preservation community has looked at this, but we wanted to elevate it and bring attention to it."
Participants can plan an event "to inspire action to preserve collections—in libraries, archives, and museums, of course, but especially the items held and loved by individuals, families, and communities." The Preservation Week website suggests activities from hosting an event or display to putting a banner on your website, providing tip sheets from its website, and "talking to policy makers and resource allocators about your community's preservation needs." The site offers such resources as a Quick Start Guide, Event Ideas, and Promotional Materials.
Preservation Week is feted by organizations from the national (such as the Library of Congress, whose webinars are listed here) to the local. One notable annual event is the Preservation Week Twitter Conference presented by the Society of American Archivists Preservation Section. This year, on April 27, 2022, all are encouraged to follow along on Twitter a series of posts on sustainability and other preservation-related topics for archivists, librarians, or any interested party, using the hashtag #PresTC22. Presenters include a wide variety of practitioners with a project or research on the preservation of library and archival materials. NEH's Division of Preservation and Access will discuss "Sustaining Sustainability with the National Endowment for the Humanities" by exploring a series of funded projects of its Sustaining Cultural Heritage Collections grant program.
You can also take advantage of another important annual component of Preservation Week: its webinars, which seek to serve public libraries and others working in collections-holding organizations by expanding access to preservation information, and to provide public libraries with content to share with their patrons. This year, check out the following:
On

Thursday, April 28, 1:00-2:00pm CT,

Digital Preservation's Impact on the Environment

will be offered by Linda Tadic, founder and CEO of Digital Bedrock. While addressing libraries and cultural heritage organizations concerned about their impact on the environment, the webinar targets the general public as well, as it will review digital storage media and technologies that individuals may take for granted.
"There are multiple audiences," says Dyani Feige. "There's the institutional audience—folks already familiar with preservation and collections care and, to some extent, organizations already interested in sustainable practice. But we also want to reach members of the public, and that's how we decided on the second." She notes that "Not everyone in the world takes care of a museum or library collection, but just about everyone in 2022 is collecting digital content. We're letting them know that's preservation as well, in their homes and on their phones. We're putting a lens on sustainability as something not just institutional, but that we're all facing."
This year, the honorary chair of Preservation Week is Elizabeth Yeampierre, who identifies herself as a "Puerto Rican attorney and environmental and climate justice leader of African and Indigenous ancestry born and raised in New York City." As a leader in addressing climate justice, she is co-chair of the Climate Justice Alliance and executive director of UPROSE, Brooklyn's oldest Latino community-based organization. She has served as director of legal education and training at the Puerto Rican Legal Defense Fund, director of legal services for the American Indian Law Alliance, and dean of Puerto Rican student affairs at Yale University.
Yeampierre was drawn to Preservation Week and its theme because, she says, "I was born and raised in environmental justice communities. My family had all of the disparities of poor communities with toxic exposure—slums, exposed sewers, everything you find where our people live."
Asked about being asked to serve as honorary chair, she admits, "I didn't know this organization existed. When I got the email, I cried. I told my husband, 'Isn't this the coolest thing?' I grew up in the library. I was poor. The library was my salvation, where I'd go to travel, to let my mind soar. I don't know if people realize the role libraries play in the lives of the working class.
"Remember, the seventies were a hard time. There was disinvestment in communities, violence, no open spaces. Where's that safe place you can send your children to? I spent all my time there—on Saturdays, I'd go there after school to do my homework. The library was the place I could go to be anybody I wanted to be, travel anywhere I wanted to travel, have all my questions answered, could feel safe. Books are where I feel safe. I only give books as gifts. I took my son; he would get so excited."
Clearly, the work of Preservation Week is fundamental to all of us, enriching and supporting all our lives. To NEH's Division of Preservation and Access, of course, every week is Preservation Week. We invite you to consider applying to our grant programs, which support preserving collections of cultural heritage materials and making them available to scholars, teachers, and the general public: