NEH Awards $87.8 Million in ARP Relief Funding for Economic Recovery to Cultural and Educational Institutions
NEH Sustaining the Humanities through the American Rescue Plan (#SHARP) grant awards will preserve humanities jobs and support the reopening and rebuilding of humanities programs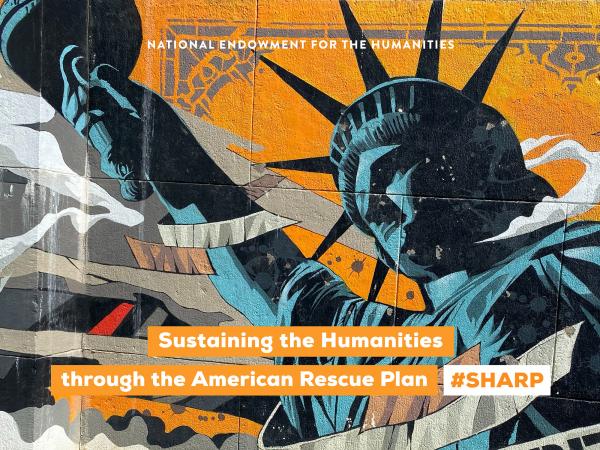 WASHINGTON, D.C. —The National Endowment for the Humanities (NEH) today announced $87.8 million in American Rescue Plan funding to nearly 300 cultural and educational institutions to help them recover from the economic impact of the pandemic, retain and rehire workers, and reopen sites, facilities, and programs. Grant awards were made in all 50 U.S. states, the District of Columbia, Puerto Rico, Guam, and Northern Mariana Islands.  
"The American Rescue Plan recognizes that the cultural and educational sectors are essential components of the United States economy and civic life, vital to the health and resilience of American communities," said NEH Acting Chairman Adam Wolfson. "These new grants will provide a lifeline to the country's colleges and universities, museums, libraries, archives, historical sites and societies, save thousands of jobs in the humanities placed at risk by the pandemic, and help bring economic recovery to cultural and educational institutions and those they serve."  
Grants awarded today are supported by $135 million in supplemental funding allocated to NEH by the American Rescue Plan Act of 2021. NEH has already distributed $52.6 million of this funding to state and jurisdictional humanities councils to support humanities organizations, programs, and professionals at the local level.
These NEH Sustaining the Humanities through the American Rescue Plan (#SHARP) awards were made in two categories:
NEH's SHARP grants provide emergency relief to help offset financial losses sustained by humanities organizations over the last 18 months. They allow cultural and educational nonprofits to retain and rehire staff, maintain operations essential to their missions, and rebuild programs and projects that have been disrupted by the pandemic. The humanities activities they support include education, preservation and access, public programming, digital humanities, and scholarly research.
SHARP grants to around 90 colleges and universities will mitigate economic shocks within higher education, where COVID-related enrollment declines, state funding shortfalls, and the added costs of campus closures and technology investments in online learning have led to the shrinking of postsecondary humanities programs and departments, accompanied by staff and faculty layoffs and salary cuts. These grants will provide emergency relief to public and private postsecondary institutions of all sizes. 
NEH SHARP funding to Hastings College in Nebraska will support five full-time faculty positions in the humanities as well as the creation of a new bachelor's of philosophy program and interdisciplinary degree programs in civics and medical humanities. New Jersey's Montclair State University, which experienced a $34-million budget shortfall in 2020, will use new NEH funding to cover salaries of nine faculty members and four postdoctoral fellows involved in developing a new undergraduate curriculum in American cultural studies. A grant to East Tennessee State University will support the retention and rehiring of staff to provide free online access to historic artifacts and materials documenting the history of Southern Appalachia at the university's Reece Museum and Archive of Appalachia.
Seattle Central College will be able to retain adjunct faculty to partner with local tribal representatives to revise history and literature courses to incorporate Indigenous perspectives and pedagogical approaches. A SHARP grant to Northeastern University will fund research positions for 17 graduate and undergraduate students to re-commence eight digital humanities projects—including the Boston Research Center community history lab and the Early Black Boston Digital Almanac—that were disrupted by the pandemic. Additional funding will support the hiring and retention of foreign language instructors at Kalamazoo College, and allow the University of Oklahoma Press to develop a new Native American imprint in collaboration with the university's Native Nations Center.
Approximately 115 SHARP grants will allow museums, historic sites, and historical societies, which experienced devastating losses in revenue while closed to the public, to reopen facilities, rehire staff, and resume on-site programs. SHARP grants will underwrite ten staff positions at the Museum of Mississippi History and Mississippi Civil Rights Museum to maintain operations and expand virtual museum tours for schools across the state, and facilitate a reinstallation of the Toledo Museum of Art's American Art Collection to highlight works by Native American, African-American, and Spanish colonial artists. A grant to the Chicago Architecture Center will make possible a community-based Open House Chicago festival focusing on the city's architecture and neighborhood histories. The Museum of New Mexico will hire staff to develop an exhibition on the history of Indigenous voting rights in New Mexico, and the National September 11 Memorial and Museum will retain 20 museum staff to create digital resources for teachers and students based on the museum's collections.
SHARP grants will enable Edith Wharton's historic home, The Mount, to resume on-site literary and historic programming, and support the hiring and retention of staff at Thomas Jefferson's Monticello to create a digital platform for oral histories of the descendants of Monticello's enslaved population. Both Old North Church in Boston and Christ Church in Philadelphia will use SHARP funding to advance research on these Revolutionary-era churches' ties to the colonial slave trade.
Direct SHARP grants to federally recognized tribes include funding for the Coushatta Tribe of Louisiana to design an immersive living history experience to introduce visitors to Coushatta history and culture, and a grant to the Sisseton Wahpeton Oyate of the Lake Traverse Reservation in South Dakota to support the preservation and digitization of tribal archives. The Grassroots Indigenous Multimedia Ojibwe language-revitalization organization received a SHARP grant to support work on a mobile app that teaches students about the connections between the Ojibwe language and the natural environment.
Several new SHARP grants will support essential work in preserving and caring for important humanities collections at archives, libraries, museums, and historical societies. Funding to the Foundation for Advancement in Conservation (FAIC) will allow the organization to continue to provide critical conservation services to cultural collections affected by natural disasters and other emergencies through its national network of National Heritage Responder and free online resources for preservation specialists. Other grants will permit the YIVO Institute for Jewish Research to digitize and provide public access to 70,000 pages of records documenting Jewish communities in Poland and Lithuania before the Holocaust, and enable the Oklahoma Museums Association to convert in-person training workshops on collections management into online courses for museum professionals.
Other funding will enable work to continue on the free, online Encyclopedia of Arkansas, and support the completion of New Hampshire Historical Society's "Moose on the Loose" virtual field trips to teach elementary school students about American history and civics. Additional grants will support the expansion of library services in multiple languages at the Englewood Public Library in New Jersey, and allow the American Philosophical Society and The Library Company of Philadelphia to retain staff and early career scholars to digitize manuscript, newspaper, and broadside collections related to Revolutionary-era Philadelphia.
In addition to relief grants made through the NEH ARP: Humanities Organizations program, new grants announced today include 13 awards offered through the NEH ARP: Humanities Grantmaking program, which will fund competitive grantmaking programs that support humanities organizations and institutions. Collectively, grants awarded in the ARP: Humanities Grantmaking category will provide financial support to approximately 145 individuals and as many as 625 organizations in the form of fellowships and subawards. See more information on these grantees in the accompanying press release.
 A complete list of all 305 new NEH SHARP grants is available here. 
National Endowment for the Humanities: Created in 1965 as an independent federal agency, the National Endowment for the Humanities supports research and learning in history, literature, philosophy, and other areas of the humanities by funding selected, peer-reviewed proposals from around the nation. Additional information about the National Endowment for the Humanities and its grant programs is available at neh.gov.