NEH Awards $28.8 Million in ARP Funding to 13 Grantmaking Organizations to Provide Financial Relief to Humanities Non-Profits and Professionals Affected by the Pandemic
New NEH ARP: Humanities Grantmaking awards support at-risk early and mid-career humanities professionals and expand resources for underrepresented communities.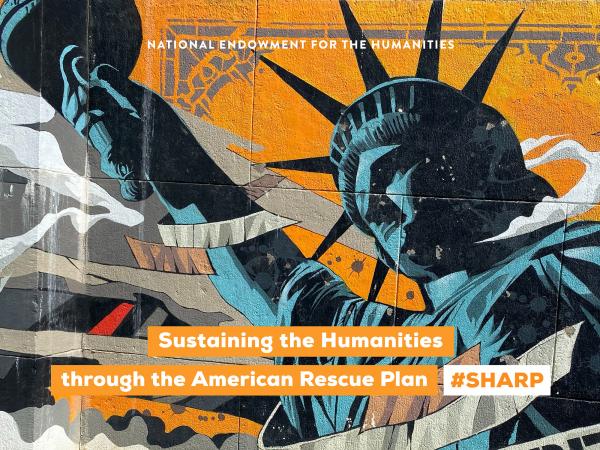 WASHINGTON, D.C. — Thirteen new grants awarded by the National Endowment for the Humanities (NEH) will provide $28.8 million to experienced grantmakers to administer competitive grantmaking programs that will assist cultural and educational organizations and professionals in recovering from the financial impacts of the pandemic.
A subset of the $87.8 million in NEH Sustaining the Humanities through the American Rescue Plan (#SHARP) funding announced today, these ARP: Humanities Grantmaking awards will fund six grantmaking programs for individuals and seven grantmaking programs for organizations. Collectively these awards will provide financial relief to approximately 145 individuals and as many as 625 organizations in the form of subawards and fellowships.
Consult this NEH webpage for additional information on these 13 SHARP-supported grantmaking competitions and calls for applications.   
"NEH is pleased to work with thirteen exceptional grantmaking organizations to distribute American Rescue Plan funding to humanities professionals and cultural and educational institutions suffering financial hardship as a result of the pandemic," said NEH Acting Chairman Adam Wolfson. "Their specialized knowledge of specific humanities disciplines, professions, and sectors will ensure that these relief funds reach those most in need of assistance, and strengthen the nation's humanities infrastructure by investing in forward-looking programs and initiatives that contribute to a robust, resilient, and inclusive humanities sector."
SHARP awards for grantmaking programs for individuals will alleviate the financial stress on humanities practitioners who have been furloughed, lost salaries or work, or are involved in projects stalled due to the pandemic. These include a grant to the Oral History Association to support both year-long and short-term fellowships for oral history practitioners who have suffered career and employment disruptions. Funding for the Association for Asian Studies will underwrite fellowships for Asian studies professionals to conduct humanities research, teaching, and multimedia projects, with a particular focus on providing opportunities for career development for junior scholars, contingent or adjunct faculty, Black scholars in Asian studies, first-generation scholars, and independent scholars or Asia specialists working outside the professoriate. A SHARP award to the Omohundro Institute of Early American History and Culture will result in 16 short-term residential and nonresidential fellowships for contingent faculty and scholars in non-academic employment to pursue advanced research on American history and culture.
Three SHARP grantmaking awards aimed at supporting media professionals whose livelihoods have been affected by COVID-related financial losses and production delays will create opportunities for more than 75 humanities documentary filmmakers. Firelight Media, co-founded by acclaimed filmmaker Stanley Nelson, will administer a fellowship program to deliver financial relief to mid-career Black, Indigenous, and filmmakers of color whose work on historical or humanities-focused documentary film projects was disrupted by the pandemic. An award to Sundance Institute will provide stipends to 20 independent nonfiction media-makers working on humanities projects. And a grant to Independent Television Service will sustain 20 filmmakers working with humanities scholars and content advisers on developing documentaries for public television.
Seven SHARP grantmaking awards for organizations will sustain humanities scholarship, public programs, and preservation activities at cultural and educational institutions of all sizes. These include a grant to the American Historical Association to deliver relief funding to 64 small history-related organizations, including history museums and site-based organizations, professional associations, and history departments at Historically Black Colleges and Universities and Tribal Colleges and Universities. The Social Science Research Council will administer a grant competition to aid colleges, universities, and higher education nonprofits in building humanities teaching and research infrastructure that responds to the needs of underserved communities and organizations. And the American Council of Learned Societies will offer funding to support publicly engaged humanities initiatives at colleges and universities that address issues of pandemic recovery, racial equity, climate change, international relations, and strengthening democracy.
A SHARP grant to the Association of Tribal Archives, Libraries, and Museums will assist up to 175 tribal governments, tribal cultural facilities, and allied institutions in reopening and reestablishing community-based humanities programming and resources. The American Library Association will make 200 subawards to public, school, tribal, prison, and special libraries, with emphasis on those that serve rural or underrepresented communities, to strengthen their role as local centers of humanities learning, research, and programs. The National Trust for Historic Preservation in the United States will distribute funding to up to 80 small and mid-sized humanities organizations to support preservation activities at historic sites that tell the stories of underrepresented groups. An award to the National Writing Project will support the reopening of 50 historic sites, archives, public-facing humanities centers, and the development of educational programming that engages diverse communities.
View a state-by-state list of all 13 NEH ARP: Humanities Grantmaking awards here. 
These NEH ARP: Humanities Grantmaking awards are supported by $135 million in supplemental funding allocated to NEH by the American Rescue Plan Act of 2021. NEH has already distributed $52.6 million of this funding to state and jurisdictional humanities councils to support humanities organizations, programs, and professionals at the local level. Also, the accompanying press release provides information on $59 million in awards made through the NEH ARP: Humanities Organizations emergency relief program to cultural and educational institutions, also announced today. 
National Endowment for the Humanities: Created in 1965 as an independent federal agency, the National Endowment for the Humanities supports research and learning in history, literature, philosophy, and other areas of the humanities by funding selected, peer-reviewed proposals from around the nation. Additional information about the National Endowment for the Humanities and its grant programs is available at neh.gov.