Blog
"Hypertext" the Movie: An Evening with Andy van Dam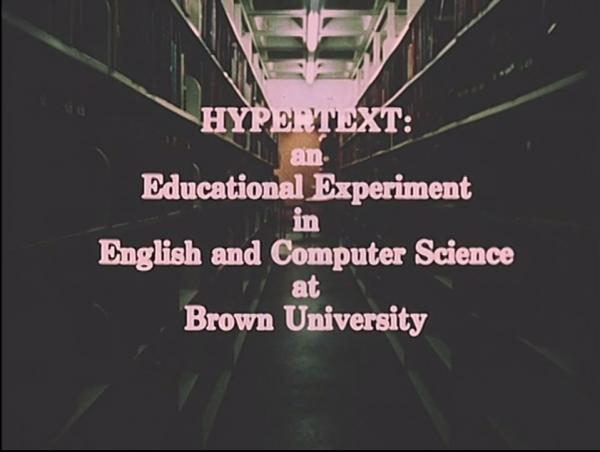 On April 25, 2016, Professor Andries "Andy" van Dam, Thomas J. Watson Jr. University Professor of Technology and Education and Professor of Computer Science at Brown University, was the very special guest of the NEH's Office of Digital Humanities (ODH), the Maryland Institute for Technology in the Humanities (MITH), and the Human-Computer Interaction Lab (HCIL) at the University of Maryland. The celebratory event was a screening the 1976 film, "Hypertext: an Educational Experiment in English and Computer Science at Brown University."  The project featured in the film, led by van Dam, and funded by the NEH in 1974 was a program to "teach a college-level English poetry course, using a new form of computer based 'manuscript,' called a hyptertext."
We became aware of the project and the film during our efforts to digitize NEH's grant records from 1965 through 1979 which were filed on McBee Keysort Cards (please read about the project here and here and here).  This particular McBee card caught our attention for its surprising use of hypertext in literary studies in 1974, long before hypertext underpinned the internet as we know it.  Since its discovery we have always been curious about the film that was one of the "project deliverables." Brett Bobley, Director of ODH, contacted Professor van Dam, who still had a copy—the only copy—of the film.  Professor van Dam was gracious enough to share it with us, as well as attend the screening, and share his experience and expertise in a panel discussion following.
And now, over 40 years later, the film "Hypertext" is available for your viewing pleasure via Internet Archive.
Cory Doctorow writing for the website Boing Boing called the film "astounding, visionary" and certainly notable for its very groovy 1970s aesthetic, it is especially remarkable in documenting formative computer technology, an early example of humanities computing, and particularly, an online scholarly community, the kind of which is a hallmark of present-day digital humanities. One project team member noted in the final report:
I think that the communication that they had with one another on the system, commenting one another's work, reading one another's work, appreciating it, admiring it criticizing it sometimes generated a kind of rapport among the members of the group that is very unusual. I can think of no way that can be duplicated without a system of this kind.
The final report is also posted on Internet Archive and is a fascinating read about this then-very experimental (digital) pedagogical approach.  
With many thanks to Brown University who provided digitization of the film, Stephanie Sapienza who coordinated the screening, and Matt Kirschenbaum and MITH for hosting and convening the panel discussion (which you can watch here). Also, great appreciation goes out to Andy van Dam, Ben Shneiderman, and Kari Kraus for sharing their insights and reflections on the opportunities and challenges for current humanities-computer science collaborations.