Blog
Q&A with Division of Education Programs Intern Kathryn Morgan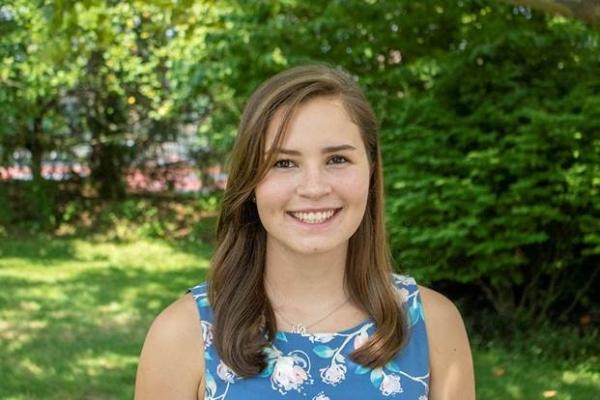 Kathryn Morgan has a master's degree in history with a concentration in public history from American University in Washington, D.C. She interned with the Division of Education Programs in the summer and fall of 2021.
Why did you want to intern with the NEH Division of Education Programs?
In trying to figure out what I'd specifically like to do in the vast public humanities field, I've been fortunate to work in historical and cultural organizations small and large, local and national, nonprofit and trust, trying out various aspects such as visitor services, education, curatorial, archival, and historic preservation. However, NEH provided the opportunity to work in two areas I'd never experienced: the federal government and grants management. Working on the programs side of NEH, I found a good balance of engaging with humanities education for K–12 and higher education and learning new things about grants management. Funding is crucial for the support and growth of humanities, and I'm honored to have witnessed the great programming coming up.
What are your responsibilities as an intern?
I support the Division of Education Programs by working on EDSITEment, a website offering free resources for teachers, students, and parents searching for high-quality K–12 humanities education materials for history and social studies, literature and language arts, foreign languages, arts, and culture. With my background in public history, I also focus on adding more place-based histories and resources to the site. Some of my responsibilities include managing EDSITEment's social media platforms, presenting at two project directors' meetings, creating resources for America250 (in preparation for the 250th anniversary of the U.S.), and contributing to our National History Day article for 2023.
The initiative I've worked the most on is an upcoming video series to promote landmark programs in classrooms, entitled "Why Here?" These short videos ask past project directors and participants from our Landmarks of American History and Culture a series of interview questions about landmarks and historic sites featured in their educator professional development programs. This project also includes a social media campaign, #NEHWhyHere, across Twitter and Facebook. Participating teachers in upcoming summer programs will have the opportunity to share memories of classroom connections and places to build communication among educators.
What's something you've learned about NEH or about humanities education that you didn't know before?
My experiences at NEH gave me the opportunity to engage with diverse communities across the country through various humanities initiatives. Through this position, I gained experience in grants management and facilitating community collaboration by assisting with grant review panels and the recommendation process for Humanities Connections, Humanities Initiatives, Summer Institutes, and Landmarks of American History and Culture Programs. I facilitated community collaboration by taking meeting notes at grant review panels and further served as a liaison to grantees in the evaluation and dissemination process. Additionally, I experienced successful grants in action through my participation in site visits to professional development programs for teachers over the summer.
What skills or experiences have you gained as an intern that you think will be helpful in your studies or career?
Humanities grantmaking organizations encourage the complex expression of humanity to build new meanings and critical thinking skills through dynamic community engagement. Going forward into my career, I will further appreciate all of the "behind the scenes" work that goes into making humanities projects and programs possible. Without funding, some of these innovative initiatives would not be possible. I further commend the efforts of my fellow NEH colleagues who build relationships with community members to support their dream projects, programs, and experiences. So, thank you for all the proposals funded thus far, and thank you in advance for all of the amazing projects yet to be.