Thirteen New Language Grants Awarded Through the First Nations' Native Language Immersion Initiative
NEH partnership with First Nations Development Institute seeks to revitalize endangered indigenous languages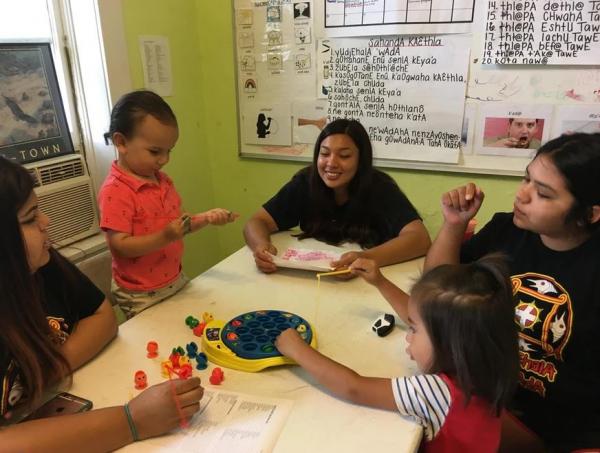 WASHINGTON, D.C. —Thirteen Native language immersion programs will receive funding to expand and support language and culture education programs within tribal communities through an ongoing partnership between the National Endowment for the Humanities (NEH) and First Nations Development Institute (First Nations).
First Nations, a Native-led nonprofit that invests in institutions and models that support economic development and sustain cultural knowledge and practices within Native American communities, has announced grants to thirteen American Indian and Alaska Native language programs. Each program will receive up to $90,000 for curriculum development, technology access, and the recruitment and training of language teachers.
This is the second round of grants awarded through the Native Language Immersion Initiative, a three-year language revitalization project supported by $2.1 million in NEH funding, matched by First Nations. Additional funding for the initiative was provided by Kalliopeia Foundation, Lannan Foundation, and NoVo Foundation.
"Every language that is lost represents the loss of history, knowledge, and identity," said NEH Chairman Jon Parrish Peede. "Through this initiative, the National Endowment for the Humanities is committed to helping Native American organizations and communities protect and revitalize the languages that are an essential part of their cultural heritage."  
The United Nations recently declared 2019 The International Year of Indigenous Languages to increase awareness and appreciation of indigenous languages and their contributions to the world's rich cultural diversity. There are currently approximately 150 Native languages spoken in the U.S., many of them spoken only by a small number of elders. Without intervention, many of these languages are expected to disappear within the next 50 to 100 years, a significant loss of cultural heritage. Through this initiative, NEH and First Nations seek to stem the loss of indigenous languages and cultures by training new generations of Native American language speakers, and by establishing infrastructure and models for immersive Native-language programs that may be replicated in other communities.
The application period for the third round of the Native Language Immersion Initiative grants is currently open, with an application deadline of May 30, 2019.  Application information is available at the First Nations Development Institute website. Additionally, First Nations will conduct two free Q&A webinars for potential applicants to learn more about the program and eligibility requirements on May 8 and 14.
The grantees are:
Chickaloon Native Village, Chickaloon, Alaska, $90,000.

The project will expand upon current efforts to revitalize the Ahtna language at the Ya Ne Dah Ah or "Ancient Teachings" Tribal School. With this grant, the tribe will create new culture and language curriculum to meet Alaska's requirements in the areas of history, science, and social studies.

Euchee Yuchi Language Project, Inc., Sapulpa, Oklahoma, $90,000

. The project will restore the vitality of the Yuchi language though The Yuchi House, a year-round language-immersion program for students grades K-12. Additionally, this grant will be used to produce an archive of Yuchi language videos and assist with tribal language instructor certification.

Friends of the Akwesasne Freedom School, Rooseveltown, New York, $89,320.

This teacher training program will increase the capacity of current and new teachers of the K'anienkeha (Mohawk) language. Master language educators will develop a training program for 10 new elementary school teachers and teacher aides that focuses on the Akwesasne Freedom School's unique language curriculum.

Keres Children's Learning Center, Cochiti Pueblo, New Mexico, $90,000.

This project will provide expansive professional development to nine teachers through one-on-one and group training sessions on language acquisition, language immersion, cultural knowledge, and advocacy. Additionally, this funding will be used to purchase supplies and other materials for elementary classrooms that have recently doubled in size.

Nisqually Indian Tribe, Olympia, Washington, $70,836.

This project will help preserve and promote tribal traditions through the development of a Nisqually Lushootseed-specific language curriculum. With this grant, the tribe will develop and publish 200 new resources, including Lushootseed alphabet and language books. Additionally, the tribe will train up to four more Lushootseed language teachers and create a Lushootseed font application.

Northern Arapaho Tribe, Fort Washakie, Wyoming, $90,000.

This project will support the development of a master-apprentice language program to educate and empower Northern Arapaho tribal members. Tribal elders will develop Arapaho language curriculum (i.e., Arapaho words, phrases, stories, history, and conversational pieces) that they will share with prospective Arapaho language teachers who will, in turn, share that knowledge with students.

Oneida Nation, Oneida, Wisconsin, $89,954.

This project will increase the number of proficient first-language speakers within the Oneida community by creating an immersion-only classroom that utilizes the current Onˆyote′aka Tsi Nitwawˆnotˆ and Head Start "As it Happens" curriculum. Twenty students will participate in this language program. Their parents are also required to attend bi-monthly classes and pass a basic assessment to foster an at-home language environment for their children.

Pascua Yaqui Tribe of Arizona, Tucson, Arizona, $90,000

. This project will build the organizational and professional capacity of the Yaqui Language Immersion Program. Eleven teachers will engage in the study and practicum for their professional development as language instructors.

Salish School of Spokane, Spokane, Washington, $90,000.

This project will provide Salish training to four interns recruited and hired from among parents of current students at the Salish School of Spokane. Interns will participate in 60 hours of evening/weekend Salish classes per year, with the goal of eventually hiring them as Salish immersion instructors.

Standing Rock Community Development Corporation, Fort Yates, South Dakota, $90,000.

The project will utilize the newly created immersion curriculum to pilot educational best practices in the classroom, create an immersion teacher training strategy, increase access to high-quality professional development, and leverage existing staff and resources to transition from a program of Sitting Bull College to a community serving school through the Standing Rock Community Development Corporation.

Thunder Valley Community Development Corporation, Porcupine, South Dakota, $90,000.

This project will provide 26 language instructors with professional development training. Additionally, this grant will be used to open a second Lakota Immersion Childcare Center to provide immersion education to 15 more Lakota students.

Wolakota Waldorf Society, Kyle, South Dakota, $86,174.

This project will utilize new and existing resources to provide language immersion to 50 to 60 children in grades K-8. With this grant, it will set up an outdoor classroom to introduce students to indigenous plants. It will develop curriculum to teach words and phrases about traditional plants, fruits, tools, and ecology. It will also be used to provide professional development training, and encourage parent and community engagement.

Wôpanâak Language Reclamation Project, Mashpee, Massachusetts, $90,000.

This project lays the groundwork to expand the Wôpanâak's language immersion school to the 8th grade. The school currently serves students from pre-K through 4th grade. With this grant, the school will partner with five regional colleges and universities to provide comprehensive state and tribal language teacher certification. This will allow the school to recruit and hire new language teachers.