Statement on the Passing of Former NEH Chairman Bruce Cole
NEH's longest-serving chairman was a champion of American civic education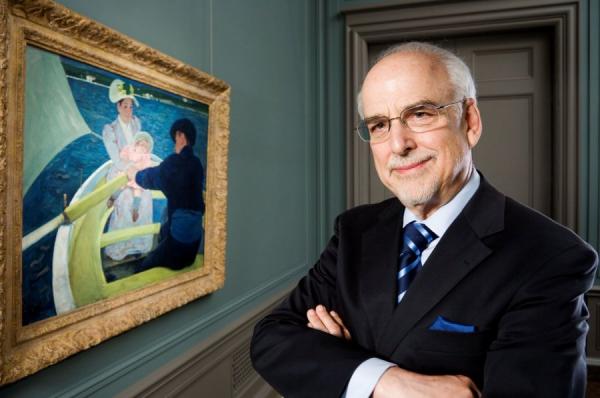 Dr. Bruce Cole, a scholar of Renaissance art, cultural critic, and chairman of the National Endowment for the Humanities from 2001 to 2009, died Monday, January 8.
Cole, 79, was the longest-serving chairman of NEH, where he spearheaded initiatives such as We the People, which encouraged the teaching, studying, and understanding of American history and culture, and Picturing America, which used great works of art to teach students about American history at more than 55,000 schools and public libraries across the country.
"NEH Chairman Bruce Cole was deeply respected as a prolific and accomplished art historian, an esteemed professor, and a discerning cultural leader. He dedicated himself to upholding the most significant works in the humanities, especially those that illuminate American culture and values," said NEH Senior Deputy Chairman Jon Parrish Peede. "As chairman, he was an unflinching defender of traditional humanities scholarship while embracing groundbreaking developments, such as the then-nascent field of digital humanities. I value my interactions with Bruce regarding cultural policy and am honored to serve with remarkable staff members whom he had the wisdom to hire during his tenure."
Cole was appointed NEH's eighth chairman by President George W. Bush and unanimously confirmed by the U.S. Senate in 2001, and again for a second term in 2005. "Congress established the Endowment because it believed our democracy needed more than science and technology to protect it," said Cole at the time of his swearing-in. "Defending our homeland requires not only successful military campaigns; it also depends on citizens understanding their history, their institutions, and their ideals. The humanities show us what it means to be an American, and why America's ideals are worth fighting for."
During his seven years as head of NEH, Cole championed civic education through national efforts to increase public understanding of American history. Under the We the People initiative Cole established an essay contest for high school students on the "Idea of America" and an annual "Heroes of History" lecture, and launched library bookshelf programs on the themes of "Courage," "Freedom" and "The Pursuit of Happiness."
Cole's love of the masterpieces of Western art inspired him to create the enormously successful Picturing America initiative, which brought reproductions of forty important works of American art to K-12 classrooms and libraries, accompanied by humanities-rich educational and curricular resources for teachers. In 2008, President Bush awarded Cole the Presidential Citizens Medal "for his work to strengthen our national memory and ensure that our country's heritage is passed on to future generations."
Under his leadership, NEH took a leading role in the application of digital technology to the humanities through creation of an NEH Office of Digital Humanities, and established a partnership with the National Science Foundation to save endangered languages from extinction through the Documenting Endangered Languages program. Other notable achievements of his tenure include the debut of the Chronicling America online database of historic American newspapers, efforts to ensure open access to NEH-supported products through changes to NEH grant guidelines, and a "Recovering Iraq's Past"initiative to document cultural resources in Iraqi archives, libraries, and museums. 
Cole was an active contributor to NEH's HUMANITIES magazine, both through his own writing and interviews with figures such as historian David McCullough, writers Tom Wolfe and John Updike, literary critic Helen Vendler, and political philosopher Harvey Mansfield.
Cole's connection to NEH dates to 1971, when, as a professor at the University of Rochester, he was awarded an NEH fellowship to conduct research on "The Origins and Development of Early Florentine Painting." In 1992, he was appointed by President George H. W. Bush to the National Council on the Humanities, the agency's 26-member advisory board, on which he served until 1999.
Following his departure from NEH in 2009, Cole served as President and CEO of the American Revolution Center, and in 2012 joined the Ethics and Public Policy Center as a Senior Fellow. In 2013, President Barack Obama appointed Cole to the Eisenhower Memorial Commission, overseeing the creation of a national monument to President Eisenhower.
A native of Ohio, Cole earned a bachelor's degree from Case Western Reserve University, a master's from Oberlin College, and doctorate from Bryn Mawr College. Prior to his chairmanship of NEH, he taught art history and comparative literature for nearly three decades at Indiana University, Bloomington, where he was a distinguished professor of fine arts.
Dr. Bruce Cole wrote fifteen books, including The Informed Eye: Understanding Masterpieces of Western Art (1999); Studies in the History of Italian Art 1250–1550 (1996); Art of the Western World: From Ancient Greece to Post-Modernism (1989); and The Renaissance Artist at Work (1983).  He was a founder and co-president of the Association for Art History and a member of the Accademia Senese degli Intronati, the oldest learned society in Europe. In 2008, he was decorated as a Knight of the Grand Cross, the highest honor of the Republic of Italy.