NEH Announces $1.7 Million for "Next Generation PhD"
28 institutions to receive a total of $1.65 million to plan and implement transformation of graduate education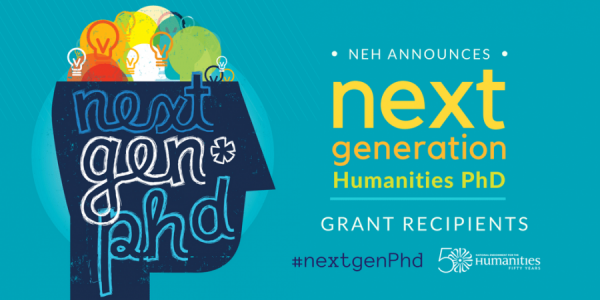 Launching a major effort to transform the culture of graduate education, the National Endowment for the Humanities (NEH) today announced that 28 colleges and universities are slated to receive a total of $1.65 million in grants to plan and implement changes to graduate education that will broaden the career preparation of a PhD student beyond a career in the academy.

Next Generation PhD is the first time that NEH, a longtime public funder of the humanities, is tackling the issue of how PhD students who immerse themselves deeply in graduate humanities research and writing can look to apply their skills and experience beyond teaching and professor positions to a broader range of careers.
Under the new grant program, NEH is making awards in two categories: 25 planning grants of $25,000 each, and three implementation grants of $350,000 each, which support and expand efforts that are already underway. Each of the grants requires the institution to raise matching funds as a sign of their commitment.

Together, the two types of grants represent the agency's first effort into sparking transformation in how graduate programs work to prepare their students for a broad range of careers at the conclusion of their often years-long, intensely academic graduate school experiences.
"The academic-focused future we're accustomed to training graduate students for is disappearing," said NEH Chairman William D. Adams. "If graduate programs wish to make a case for the continuation of graduate education in the humanities, they're going to have to think about the professional futures of their students in entirely different ways."

At Wayne State University in Detroit, the recipient of a planning grant, members of the project team want to foster faculty support and buy-in for creating a new cohort of faculty fellows who could apply their graduate studies to current issues facing the city and beyond, such as the water crisis in Flint. At the University of Chicago, project team members will use their implementation grant to expand an established program that provides training to graduate students through seminars, conferences, experiential learning opportunities, and others means to get them ready for their professional careers.
NEH is an independent federal agency that funds humanities projects in fields such as art history, literature, philosophy and archaeology. Created in 1965, NEH awards grants three times a year to top-rated proposals as examined by panels of independent reviewers.
A full list of institutions receiving Next Generation PhD grants is available – click here for a PDF.