NEH Announces $79 Million for Nearly 300 Humanities Projects and Programs Nationwide
Grants include new support for remaking PhD programs in the humanities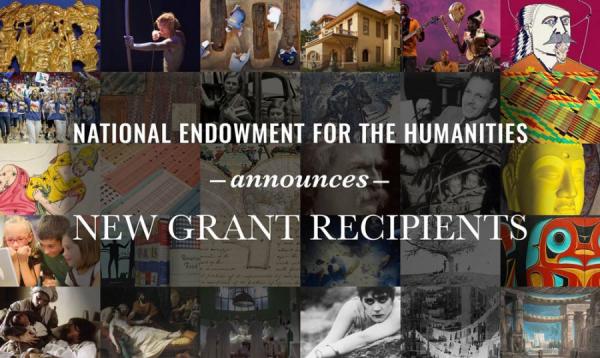 In its 50th anniversary year, the National Endowment for the Humanities (NEH) today announced $79 million in grants for 290 humanities projects and programs across the United States. The grants will be awarded in 14 humanities fields or areas and also include $42.8 million in annual operating support for the national network of state and local humanities councils.

The grants will support a wide range of efforts in the humanities. For example, Bowdoin College professor Matthew Klingle is one of 30 grantees in the Public Scholar program. Klingle will receive funding in support of scholarly research for "Sweet Blood," a forthcoming book geared to a general audience about the history of diabetes from the late 19th century to the present.

In Hawaii, Bernice Pauahi Bishop Museum – which with 25 million objects in its holdings is one the largest resources for ethnological and biological studies about Hawaii and the Pacific Islands – received a grant to plan for improved environmental storage conditions of a collection of more than one million archaeological artifacts. And in Washington, DC, Women in Film & Video received a development grant for a forthcoming documentary about contributions of African-American diplomats during the Cold War.

In Wyoming, where the state humanities council received operating support, one of the council's signature programs is an ongoing series on the history of refugee resettlement in the state and the country. It features readings, discussions, and panelists made up of scholars and educators on the topic.

Next Generation PhD, a new grant program, is being awarded to 28 colleges and universities. These grants support a transformation of how PhD candidates in the humanities study for their degrees and are prepared for a broader range of careers at the conclusion of their often years-long, intensely academic graduate school experiences.

NEH is an independent federal agency that funds humanities projects in fields such as art history, literature, philosophy and archaeology. Created in 1965, NEH awards grants three times a year to top-rated proposals as examined by panels of independent reviewers.

"NEH grants help bring humanities experiences to Americans across the country," said Chairman William D. Adams. "Our funding supports museums, libraries and cultural institutions, and the local state councils that create and sustain humanities programs in their communities. Through films, original research, and new intellectual insights, our grants strengthen the nation's cultural fabric and identity."

Institutions, scholars, and humanities organizations in all 50 states, the District of Columbia and U.S. territories will receive NEH support.

A full list of grants by geographic location is available – click here for a PDF.
Grants were awarded in the following categories:
Collaborative Research

Support interpretive research undertaken by a team of two or more collaborating scholars that adds significantly to knowledge and understanding of the humanities
 

14 grants totaling $3,058,839

Digital Humanities Implementation

Support the implementation of innovative digital humanities projects that have successfully completed a start-up phase and demonstrated their value to the field


8 grants totaling $2,474,056

Institutes for Advanced Topics in the Digital Humanities

Provide scholars and advanced graduate students with the opportunity to deepen their knowledge of advanced technology tools and methodologies relevant to the humanities and to increase the number of humanities scholars using digital technology in their research


4 grants totaling $787,084
 

Landmarks of American History and Culture: Workshops for School Teachers

Support a series of one-week workshops for K-12 educators that address themes and topics in American history, government, literature, art history, and other humanities fields related to historic landmarks


20 grants totaling $3,360,170.14

Media Projects: Development and Production

Support film, television, and radio projects that explore significant events, figures, and ideas within the humanities. Development grants enable media producers to collaborate with scholars to develop humanities content and to prepare programs for production; production grants support the preparation of a project for presentation to the public


11 grants totaling $2,230,000

Museums, Libraries, and Cultural Organizations Planning and Implementation

Support museum exhibitions, library-based projects, interpretation of historic places, living history presentations, and book and film discussion programs that deepen public understanding of significant humanities ideas and topics


15 grants totaling $3,245,000

National Digital Newspaper Program

Support the creation of a national, digital resource of historically significant newspapers
published between 1836 and 1922, from all states and U.S. territories


14 grants totaling $3,201,204

NEH On the Road

Bring NEH-funded traveling exhibitions to small and mid-sized museums across the country


7 grants totaling $7,000

Next Generation PhD: Planning and Implementation

Support efforts by institutions to plan for and implement changes that transform scholarly preparation in the humanities at the doctoral level and incorporate broader career preparation for PhD candidates


28 grants totaling $1,655,361

Public Scholar Program

Support well-researched books in the humanities aimed at a broad public audience


30 grants totaling $1,491,000

Scholarly Editions and Translations

Support the preparation of editions and translations of texts that are valuable to the humanities but are inaccessible or available only in inadequate editions


20 grants totaling $5,095,576

State Humanities Councils Annual General Operating Support

Support local humanities initiatives and state humanities council operations


55 grants totaling $42,838,230

Summer Seminars and Institutes for College and University Teachers

Support intensive one- to four-week projects in which sixteen to twenty-five college and university faculty members, working with scholarly experts, engage in collegial study of significant texts and topics in the humanities
 

24 grants totaling $3,716,570.59

Summer Seminars and Institutes for School Teachers

Support intensive one- to four-week projects in which sixteen to thirty school teachers, working with scholarly experts, engage in collegial study of significant texts and topics in the humanities
 

23 grants totaling $3,366,163.50

Sustaining Cultural Heritage Collections

Support preventative conservation measures to prolong the useful life of collections to help cultural institutions preserve large and diverse holdings of humanities materials for future generations
 

14 grants totaling $1,935,014