Ken Burns Named the 2016 Jefferson Lecturer in the Humanities
Acclaimed historical documentarian to deliver May 9 free public lecture on race in America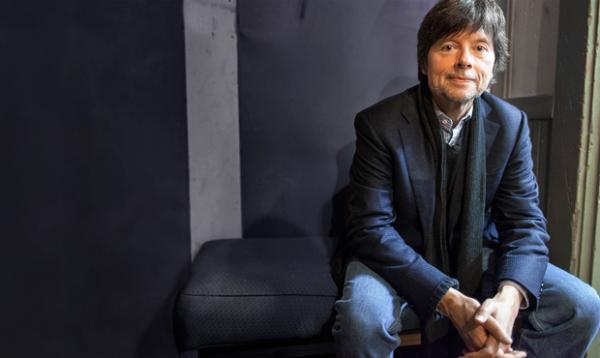 Ken Burns, the award-winning documentarian who pioneered a new genre of historical filmmaking, will deliver the 2016 Jefferson Lecture in the Humanities.
The lecture is the highest honor the federal government bestows for distinguished intellectual achievement in the humanities. The lecture is produced by the National Endowment for the Humanities (NEH).
NEH is a federal agency created in 1965 that is celebrating its 50th anniversary. NEH awards grants to individuals and institutions (e.g. museums, libraries, archives) that support understanding and appreciation of cultural topics including languages and literature, history, philosophy and others.
Burns will deliver the lecture on May 9 at the John. F. Kennedy Center for the Performing Arts at 7:30 p.m. The lecture is a free public event and will also stream live online. Burns will talk about race in America, a topic he has illuminated and confronted through his nearly 40 years of directing and producing acclaimed historical documentaries.
The winner of 14 Emmy awards, two Grammy Awards, and a 1991 National Humanities Medalist, Burns was the first filmmaker to match humanities scholars with stunning archival photos and texts to tell compelling American stories that have created a humanities experience for millions of viewers.
NEH has awarded grants to Burns in support of 15 films over three decades— from his first film in 1981, Brooklyn Bridge, to the forthcoming Vietnam, which will premiere on PBS in the fall of 2017. His film subjects include jazz, baseball, national parks and the presidential Roosevelt family, and many others.
"We are very excited that Ken Burns will be giving the Jefferson Lecture this year. Because we are celebrating our 50th anniversary, we were especially eager to select a person who represents the best qualities of NEH's deep and diverse portfolio," said William D. Adams, Chairman of the National Endowment for the Humanities. "His work combines deep humanities research with a rich feeling for American life and culture and unparalleled public reach and appeal. Ken is one of the great public intellectuals and historians of our time, and he is also a terrific speaker. I know that his Jefferson Lecture will be a very special event."
Ken Burns said: "I am honored to have been selected to deliver the Jefferson Lecture. The NEH has been a partner on many of my films.  But more importantly, I have been inspired by the NEH's vision and values and support for countless writers, artists and filmmakers. As such, the NEH as a federal agency is, in my mind, of equal importance to those other public services that we consider most essential."
"I've long believed that our democracy is strengthened by the humanities.  They are critical to our understanding of our country, our politics and our neighbors and ourselves," Burns said.

Born in Brooklyn and raised in Delaware and Michigan, Burns received an 8 mm camera for his birthday and thus, a career was born. After experimenting with film and documentary in high school, he went on to graduate from Hampshire College with a B.A. in film studies and design. Then, as an unknown filmmaker, he applied for an NEH grant to support his first documentary film Brooklyn Bridge, which aired on PBS and was nominated for an Academy Award. Since 1981, he has gone on to direct and produce some of the most acclaimed historical documentaries ever made, including The Civil War;Baseball; Jazz; Statue of Liberty; Huey Long; Lewis and Clark: The Journey of the Corps of Discovery;Frank Lloyd Wright; Mark Twain; Unforgivable Blackness:  The Rise and Fall of Jack Johnson; The War;The National Parks: America's Best Idea; The Roosevelts: An Intimate History; and, most recently,Cancer: The Emperor of All Maladies.
A December 2002 poll conducted by Real Screen magazine listed The Civil War as second only to Robert Flaherty's Nanook of the North as the "most influential documentary of all time," and named Ken Burns and Robert Flaherty as the "most influential documentary makers" of all time.
The late historian Stephen Ambrose said of Burns's films, "More Americans get their history from Ken Burns than any other source."
Future projects include films about Jackie Robinson — which will debut on April 11 on PBS — the history of country music, Ernest Hemingway and the history of stand-up comedy.
Past Jefferson Lecturers include actress and playwright Anna Deavere Smith (2015), biographer Walter Isaacson (2014), and filmmaker Martin Scorsese (2013). The lectureship, established in 1972, carries a $10,000 honorarium set by statute.
The 2016 Jefferson Lecture in the Humanities is being made possible in part with generous support from the Carnegie Corporation of New York and the John D. and Catherine T. MacArthur Foundation.
Ticketing and Event Information
Tickets will be available to the public in April through neh.gov.
In its 50th anniversary year, NEH is encouraging communities around the country to sign up to host or participate in Jefferson Lecture watch parties. Visit neh.gov for more information.
Engage or follow the Jefferson Lecture social conversation
Facebook: National Endowment for the Humanities
Twitter: @NEHgov | #jefflec16
Explore This Work Further