Blog
Greening Maine's Abbe Museum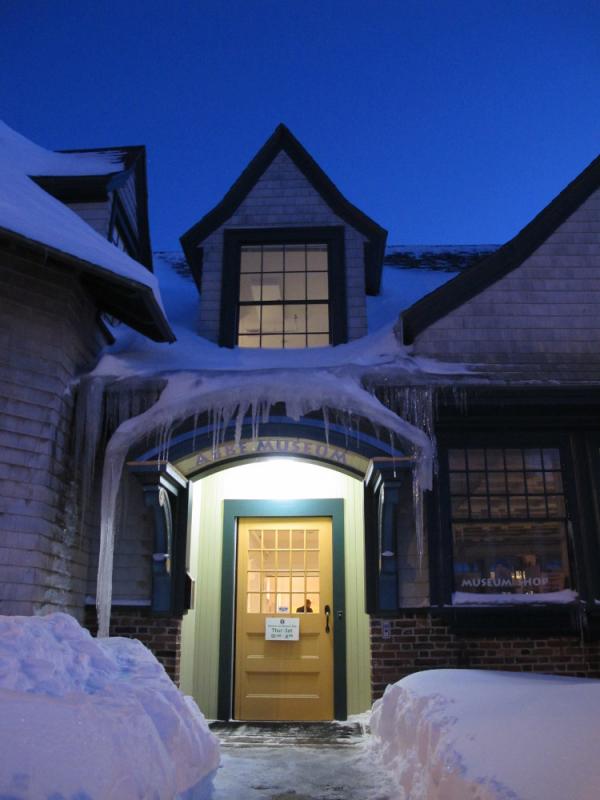 Through its rich archaeological and ethnographic holdings, Maine's Abbe Museum focuses on the state's principal Native American groups: the Penobscot, Passamaquoddy, Micmac and Maliseet, collectively known as the Wabanaki.  Its collection of approximately 70,000 items related to the Wabanaki includes exceptional examples of ash splint and sweetgrass baskets, birchbark canoes, beadwork on hide and cloth, furniture, and photographs. Founded by Dr. Robert Abbe, a surgeon with a deep interest in archaeology, the Abbe operates from two facilities, the original trailside museum in Acadia National Park that dates from 1928 and a new museum in downtown Bar Harbor, which opened in 2001. 
The Abbe Museum is one of a growing number of cultural institutions implementing sustainable strategies for preserving their collections. This means that the museum is seeking to pragmatically balance collection preservation requirements, costs, and environmental impact. Sustainable preservation strategies ensure that collections are well cared for and available for use, and the "green" approaches to preservation can contribute to an institution's financial health and reduce its use of fossil fuel.
In 2010, the Abbe Museum received a planning grant through NEH's Sustaining Cultural Heritage Collections program to help identify environmentally and economically sustainable approaches for preserving collections exhibited and stored in the 2001 building.  The museum's Bar Harbor facility has provided much needed space for exhibitions and programs highlighting past and present Native American traditions in Maine and has improved access to the collections for Native American craftspeople, artists, and scholars. The museum had expected that the new building would also provide greatly improved conditions for the collections, which would help to ensure their long-term preservation.  But the first ten years in the new facility proved challenging for the Abbe's staff.  The building's state-of-the-art heating, ventilating, and air conditioning (HVAC) system, which was designed to maintain precise relative humidity and temperature conditions, did not function well.  The museum experienced repeated equipment failures, unacceptable levels of relative humidity and temperature, excessive energy use, and high operating costs. Frustrations were growing because collection preservation goals weren't being met, and high building operating expenses were diverting funds away from exhibits, educational programs, and other mission-related activities.
With the assistance of the NEH, the Abbe Museum brought together an interdisciplinary team composed of members of its own staff, as well as several outside specialists: an architect/engineer, a conservator, the architect who designed the 2001 building, and a representative of its current HVAC service provider. This expert group analyzed a year's worth of environmental monitoring data the museum had collected.  They also studied the museum's climate control and lighting systems and re-evaluated the preservation requirements for the museum's collections.  Their analysis took into account new research in collections care, the nature of the Abbe's collections, the highly variable local climate in Maine, and the characteristics of the museum's building. The team confirmed that the museum's HVAC system had to work too hard to meet the prescriptive set points for relative humidity and temperature that at times were very different from outdoor conditions. The HVAC system was also functioning inefficiently, using a large amount of electricity and heating oil year-round, placing a burden on the museum's budget. In fact, the project team discovered that the HVAC system was using almost as much heating oil in the summer as in the winter and its chiller was running through much of the winter season.  Also, due to the complexity of the HVAC system, local service providers often found it difficult to diagnose and repair mechanical problems. Finally, the team also found that the museum's lighting system had an available lighting intensity far greater than necessary for the space, thereby wasting energy, generating excess heat, and causing the HVAC system to work overtime to compensate.
Based on their findings, the project team identified four key strategies for establishing a more sustainable collections environment at the Abbe:
Set more realistic relative humidity and temperature targets for the collection spaces, allowing for gradual seasonal changes.
Use passive measures such as buffered exhibit and storage cases to stabilize environmental conditions for sensitive collections and reduce demand on the HVAC system.
Make the existing HVAC system function more efficiently by adding user-friendly controls and upgrading various components.
Reduce intensity and energy consumption of the lighting system in the museum by switching from halogen to LED lights in galleries.
The museum developed a three-phase plan to implement the project team's recommendations along with other green initiatives, and it launched a Greening the Abbe campaign, which includes everything from local sourcing of material for a variety of museum uses, to the use of recycled or recyclable materials and the proposed improvements to the lighting and HVAC systems.  The museum's campaign kicked off in July 2012 with a gala event that included a "paddle raise" carried out by an auctioneer. In a report to NEH, the museum wrote: "In a matter of minutes, the museum raised $31,500! We were literally jumping up and down with excitement." This enabled the Abbe to begin implementing some of its green initiatives immediately; by March of 2013, heating oil consumption had dropped by 20 percent and electricity use was down 10 percent.
In September of 2013, the Abbe Museum received an implementation grant through NEH's Sustaining Cultural Heritage Collections program to install more efficient LED lighting in some of its galleries and to make additional improvements to its HVAC system.  Even greater cost and energy savings are expected when this work is completed. 
The Abbe Museum's experiences with planning of sustainable preservation measures offer some interesting lessons that could benefit other museums, libraries, and archives.