Blog
Environmental Sustainability for Collecting Institutions: Part II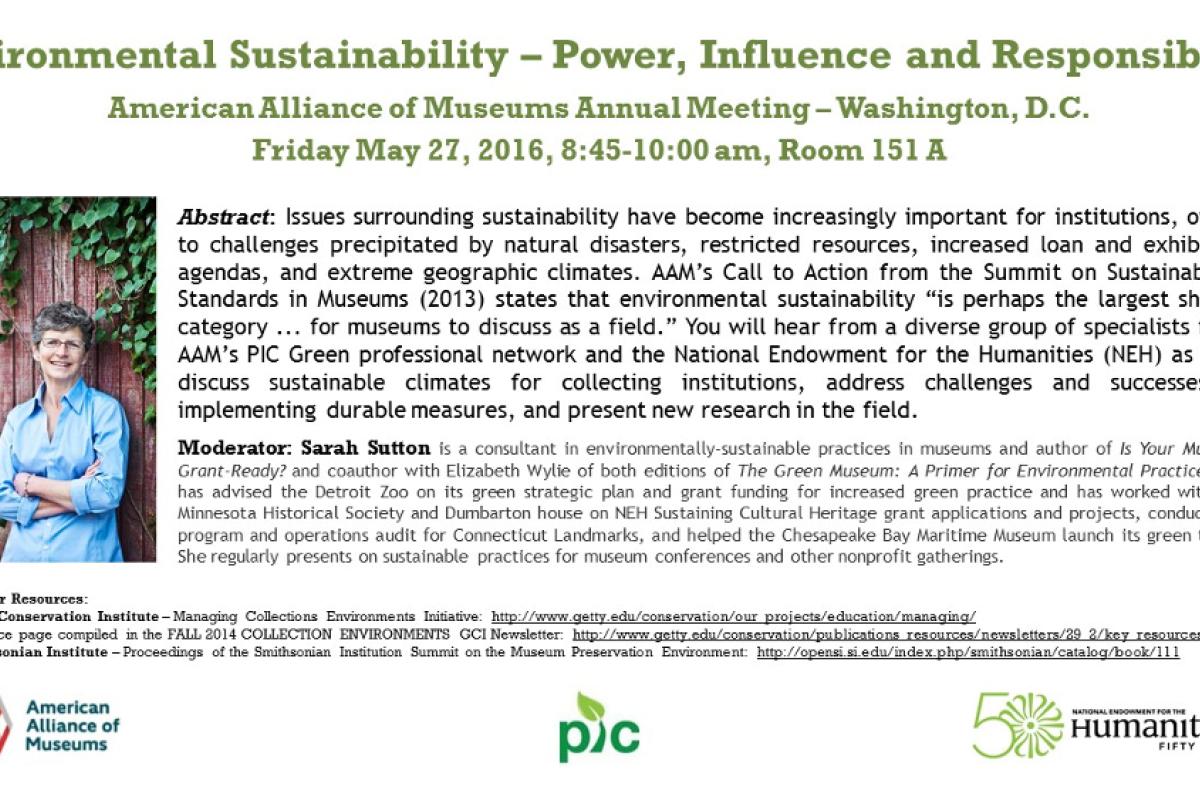 This is Part 2 of a two-part series that recaps the discussion by preservation experts Foekje Boersma, Karen Daly, Michael C. Henry, and Sarah Stauderman at a session co-sponsored by NEH and the PIC Green professional network. The session took place at the the annual meeting of the Alliance of American Museums (AAM) in Washington, DC, in May 2016.   Part 1 concentrates on the topic of environments and facilities. The following section focuses on sustainable practices and curatorial and institutional policies in museums and other collecting institutions.
6. Can you address how sustainability efforts relate to exhibition practices and materials?
One terrific "reuse" effort related to exhibitions at the Smithsonian Institution is the repurposing of exhibition banners into reusable shopping bags; this came out of the Smithsonian's green team which has addressed sustainable practices from the use of compostable plates and utensils in Smithsonian Institution cafeterias to wholesale recycling across the Institution. But exhibitions do generate a lot of materials that are not easily repurposed into commercial products within a reasonable timeframe. Exhibitions and loans generate the most greenhouse gases compared to other activities of the museums. This is especially true for art museums with their strong emphasis on risk management as evidenced by shipping crates, custom and temporary mounts, couriers, and transit via more carbon-generating sources like planes. Here there needs to be a continual refining of what museums can do to manage collections well and to provide excellent visitor experiences while considering the non- or low-renewable resources utilized to accomplish the mission. Reusing equipment and supplies makes sense economically and ecologically; however, storage of equipment and supplies can be costly and labor intensive. The key is continuing to ensure that sustainability efforts--reduce, reuse, recycle--are applied sensibly to museum exhibition products and processes. (S.Stauderman)
7. Several years down the line, will there be opportunities for institutions to share their experiences in using the Guide from the Smithsonian Institution (SI) Declaration?
In the Proceedings of the Smithsonian Institution Summit on the Museum Preservation Environment (SI Press, 2016) there is a chapter devoted to promoting conversations with colleagues on the topic of developing an appropriate preservation environment for museum collections. We like the idea of providing a forum for sharing experiences, and will consider ways to gather stories. Many Smithsonian staff already participate in their respective professional organizations and share these concepts and guidelines with colleagues; this might be the best way to ensure that we capture feedback and promote the conversation. (S. Stauderman)
8. How do you engage board members in these discussions beyond considering the financial aspects of sustainability?
We included key board members in our planning grant activities. We have them attend advisor summits and planning workshops, so they could voice their own questions and concerns and hear directly from our team of experts--preservation architects, engineers, sustainability consultants, conservators, etc. This helps individual members feel more engaged in the project, and allows them to become knowledgeable ambassadors for the project to the board at large. (K. Daly)
9. Do you take visitor engagement/experience into consideration when looking at environmental guidelines for collections? How does attention to providing appropriate environmental conditions in public areas support or interfere with visitors connecting to your collections and exhibits? Also, how are you involving the community in your sustainability plans and ideas?
Visitor use of the physical spaces throughout the site is considered a part of our HVAC system design process. We have also tried to implement our sustainability initiatives in interpretive ways, i.e., integrating some into tours and public programs, displaying interpretive signage, and putting information about our projects on our website. (K.Daly)
10. Do we still really need to talk in terms of sustainability when it should be a basic part of our best practices in collection management for museums?
For a bit longer, yes.  The roll-out of environmental sustainability has been slow in the field, and the distribution uneven. For example, not every curator has heard about the research that has led to changing from hard set points to ranges for temperature and relative humidity based on collections materials, housing, geographic region, and preservation goals. For those who have not, and others who may wish for more information, the Image Permanence Institute's Sustainable Preservation Practices Guidebook is a great resource. It is an NEH-funded project that is the bedrock for an important wave of decision making for the field that is related to the concept of sustainability. See (https://www.imagepermanenceinstitute.org/store/publications/sustainable-preservation-practices-guidebook)
Likely the reason we still must spread the word on saving energy in collections care is because any purposeful deviation from the strict standards (that have been drilled into us over the last 30 years) may be perceived as a high-risk--professionally for the decision maker and materially for the collections. Most of us are likely not managing our collections to that standard anyway, though, so the risks are less in reality than in perception. Still, such changes should only be made in consultation with a conservation scientist well-versed in the research. But there is excellent material and guidance available and support for exploring these options.
Sustainability isn't only about energy efficiency, though. The field continues to develop lower-impact resources. For example, practitioners are testing new, more sustainable options for housing artifacts and other cultural resources when packing, storing, and shipping. As we improve our sustainability, sharing challenges and successes continues to be so important. Hopefully, all the talk about sustainability will soon be dominated by new practices, not invitations to begin practice. (S. Sutton)
12. Are funders (other than NEH) providing significant support for researching or engaging in sustainable practices for collecting institutions?
Yes, and, more importantly, there are traditional funders who see added value in work that has sustainable design. The short answer is that rather than having a new category of funders, many existing funders are willing to support environmental sustainability as part of their work with nonprofit organizations--whether in buildings, operations, collections and programs, or collective or collaborative action. Some funders have added a sustainability question to their proposals, and others have special-focus categories related to this topic. Other funders expect sustainability to be implicit in the conceptualization of a project. So proposals designed thoughtfully for sustainability have an edge over others.
The Kresge Foundation and the Heinz Foundations have led the way in promoting sustainable preservation measures for cultural heritage institutions.  Between 2003 and 2009, Kresge offered its Green Building program. See http://kresge.org/news/kresge-has-retired-its-green-building-initiative-its-environment-program-works-policy-level  The program ended when the foundation concluded that funded projects had significantly raised the profile of energy efficiency and green building approaches and that the tide was beginning to turn. The Kresge Foundation's work in this area did indeed set an important wave in motion. Kresge's new Environment Program goes far beyond the original work in response to the impact of climate change.
The Heinz Foundation, in the same time period, was also catalytic in raising awareness of sustainability in building design and operation. Now it too is beginning to encourage collaborative, cross-sector projects: http://www.post-gazette.com/business/pittsburgh-company-news/2016/02/28/Heinz-Endowments-refocuses-its-grantmaking-strategy/stories/201602210078 .
Of course, most support for "green" initiatives tends to be project-specific, tied to a particular locality or region. Alternatively, it focuses on larger problem of climate change and centered on advocacy.  Toyota USA, for example, supports environmental education and landscape rehabilitation through partnerships with gardens, zoos, parks, nature centers, museums, and local Audubon Societies: http://www.toyota.com/usa/community/conservation/environmental-partners.
Regional funders tend to support sustainability work based on project design and location. Region-based mitigation and adaptation responses, which are locally responsive by design, often fit into this funding focus. Local, state, and federal government websites often compile information about these funders. Here is one example of a state-based resource for regional support for disaster planning and resiliency work: http://sustainability.psu.edu/learn/researchers/sustainability-funding-opportunities
Just last year, the Foundation Center's online database (online access to members only online, free access to non-members in any of their office locations around the country) created the category, 'climate change', to complement the existing 'energy efficiency' search options. This database tends to focus on major national funders, often outside the scope of small and medium-sized museums.
To sum up, the best option for building sustainable practices within an institution is to link the sustainability facets of your project with the interests of your potential funders. I would also suggest building sustainable practices into larger collaborative efforts within institutions, to try to attract funding from the largest funders. To scale a response to climate change we need collaboration anyway. Fundraising for sustainability work is just like all other fundraising: it's based on the alignment of funder and applicant missions and interests, is designed to serve appropriate audiences in a thoughtful and responsive manner, and reflects best practice. This often means collaborative work--something museums can excel at. Sustainable design is best practice. (S. Sutton)