Blog
Environmental Sustainability for Collecting Institutions: Part I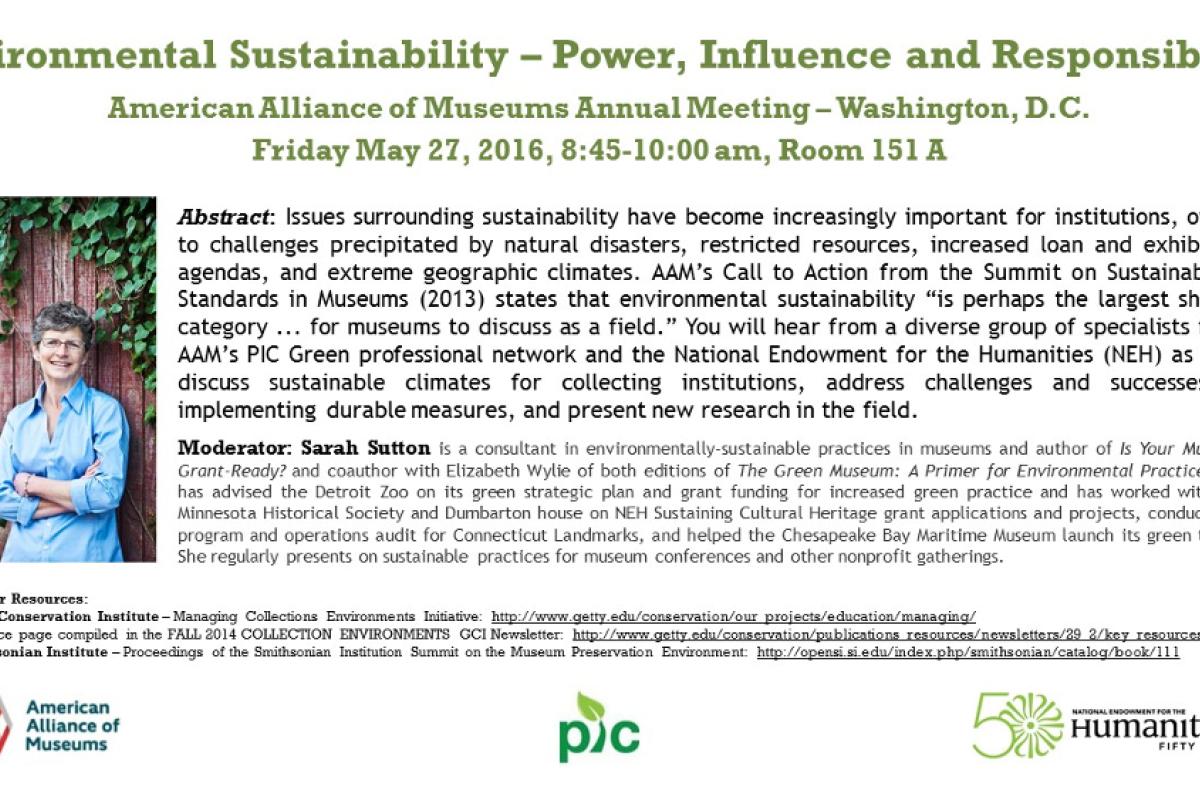 This two-part feature will recap the discussion during a special panel on environmental sustainability at the annual meeting of the Alliance of American Museums (AAM) in May 2016.  In the first part, we will concentrate on the larger topic of museum environments and facilities. In a follow-up, we will focus on speakers' responses to questions from the audience regarding sustainability in curatorial and institutional practices.
Part One
Museums, libraries, archives, and other institutions that care for the nation's cultural heritage face a number of ongoing challenges. Among them are limited staffing and financial resources, increased loan and exhibition agendas, problems caused by extreme climates, and the risk of national disasters.  Together they form a complex set of challenges that affect the ability of collecting institutions to employ sustainable approaches to maintaining their humanities collections.  
To address these issues, the National Endowment for the Humanities (NEH) joined with the  PIC Green professional network at the May 2016 meeting of the Alliance of American Museums in Washington, D.C. The session built upon NEH and PIC Green's shared commitment to establishing museums as leaders in environmental sustainability for collections. This is a critical issue that is inextricably tied to the fulfillment of the mission of cultural heritage organizations and to the concept of institutional resilience. Since 2010, NEH has helped museums, libraries, and archives meet the complex challenge of preserving humanities materials through the Sustaining Cultural Heritage Collections (SCHC) grant program. SCHC supports sustainable conservation measures that mitigate deterioration, prolong the useful life of collections, and support institutional resilience in the face of natural and man-made emergencies. PIC Green is a committee of museum professionals which seeks to advance environmental stewardship and works to help museums be "green" in every aspect of their operations and programs.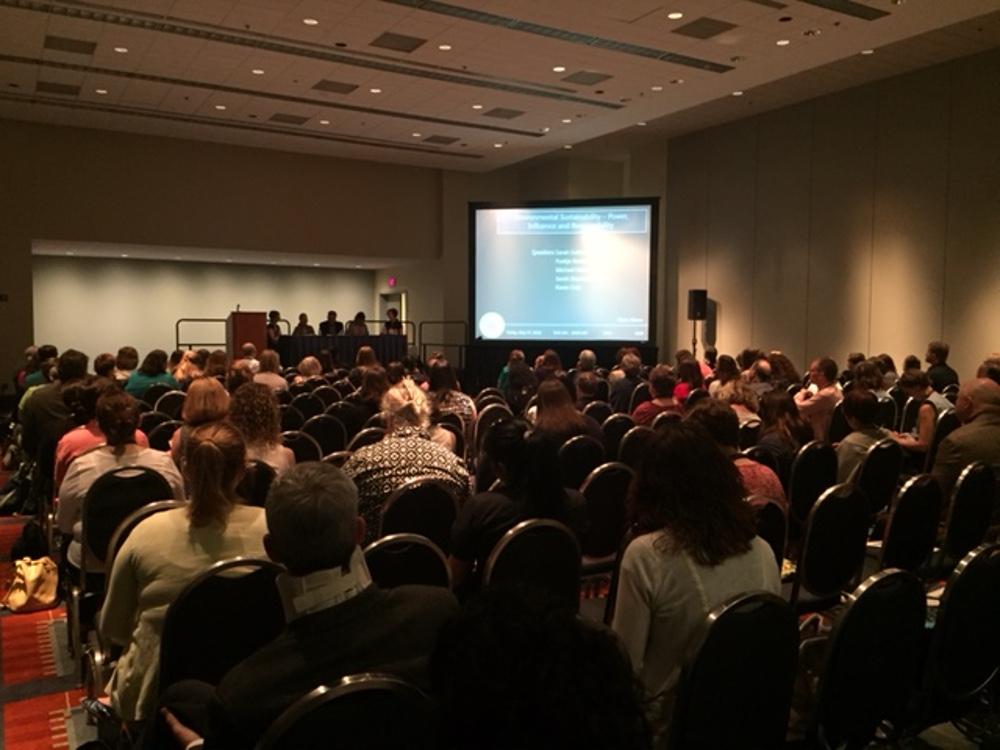 The AAM session on environmental sustainability was moderated by green museums expert Sarah Sutton. It brought together a diverse group of preservation specialists:
Foekje Boersma, Senior Project Specialist in the Getty Conservation Institute (GCI) collections department;
Karen Daly, Executive Director of Dumbarton House;
Michael C. Henry, Principal Engineer/Architect with Watson & Henry Associates and Adjunct Professor of Architecture at the University of Pennsylvania; and
Sarah Stauderman, Director of the Department of Collections Care at the Hirshhorn Museum and Sculpture Garden.
Drawing on their particular institutional and professional expertise, the speakers examined some of the challenges collecting institutions face when implementing durable measures for improving storage and exhibition environments. They also pointed to some museums' notable successes in achieving environmental sustainability.
In a packed conference room, Sarah Sutton introduced the panel discussion.  In her opening remarks, she noted that museums and other cultural heritage institutions are only beginning to grapple with issues of environmental sustainability. She emphasized the need for shared discussion, improved education, and further research on topics such as changing standards for temperature and humidity in indoor collection environments. Sutton also observed that sustainability should be not limited to collections care but should also be part of a wider institutional strategy.  Finally, she stressed that the best approaches to environmental sustainability in collecting institutions are usually the result of collaborative work by an integrated team of preservation professionals.
Next, each of the presenters--Boersma, Henry, Stauderman, and Daly—reported in turn on some of the projects in which they have been involved.  Some of the general "take-aways" of the session:
Interdisciplinary collaboration is required at all levels within a collecting institution;
Leadership and outreach from those who have "gone before" can be extremely helpful to institutions interested in "going green";
Success depends on the staff's ability to adapt to and advocate for changing standards within an institution;
Achieving environmental sustainability can be expensive and time-consuming, and is often "put on the back burner" due to other institutional priorities.
The audience had a number of excellent questions for the presenters. They are summarized below, along with panelists' responses.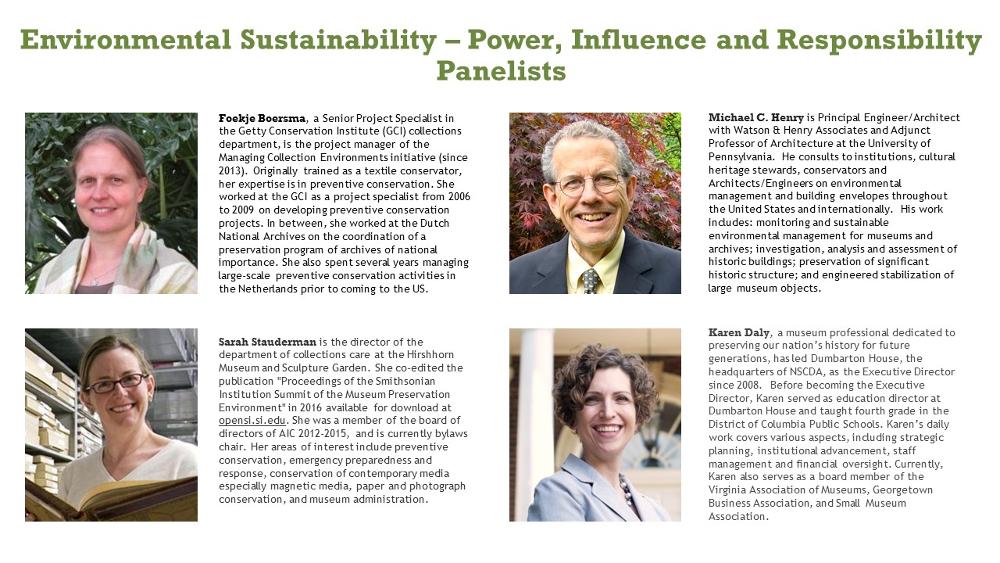 1. Planning for emergencies, such as extreme weather events or increased risk due to climate change, also requires sustainability planning, with a strong financial implication. Can anyone speak to the process of looking at upgrading infrastructure + data + data management to plan for the unexpected?
I would only say to this that 'strong financial implications' do not necessary have to be the case. There are sometimes affordable or pragmatic solutions, e.g., moving a storage space for collections from the basement, or working together with other institutions in the region facing the same threat. (F.Boersma)
2. Are there any examples of collections spaces designed (recently) to avoid or minimize use of air conditioning? Can you share details? How well have they performed vs. expectations?
The Getty Conservation Institute has worked on alternative climate control in hot and humid climates for many years. It has published a book and several case studies related to this topic: http://shop.getty.edu/products/environmental-management-for-collections-alternative-conservation-strategies-for-hot-and-humid-climates-978-1606064344
There is also information available online:
http://www.getty.edu/conservation/our_projects/science/climate/index.html http://www.getty.edu/conservation/our_projects/science/climate/climate_experts_roundtable.html
Here are some examples of sustainable preservation measures in collecting institutions from the UK:
http://www.conservators-converse.org/2014/06/aics-42nd-annual-meeting-opening-session-may-29-sustainable-collections-care-on-a-budget-a-new-museum-store-for-bolton-uk-by-pierrette-squires/  and https://museumdevelopmentnorthwest.wordpress.com/2012/11/09/bolton-museums-sustainable-store/
And Denmark: http://www.conservationphysics.org/storage/low-energy-museum-storage.php, http://www.doernerinstitut.de/downloads/Poster_CfC/CP17.pdf
3. I think I need relative humidity and temperature guidelines from the American Institute for Conservation. Any timeline on the publication of these guidelines?
Several national and international professional associations are currently reviewing environmental guidelines for collections. But rather than coming up with prescriptive numbers, we will likely see a move towards more informative decision making, where a climate control strategy will be based on a holistic approach to the local climate, building, collection type, use, etc. There is already a lot of guidance available on safe ranges for certain types of collections. What is now needed is a framework to help museums and other collecting institutions access this information and make decisions. The current AIC guidelines reflect this to some extent: http://www.conservation-wiki.com/wiki/Environmental_Guidelines. (F.Boersma)
4. Would museum professionals be willing to have a collection with the intent of using it as a means to gain data? For example, acquiring a collection with the intent of letting it deteriorate?
This question leads us back to our collections! We do not necessarily have to build "sacrificial" collections to learn about degradation behavior. We have ample collections that we can learn from. Instead, we should look more closely at collection objects, try and understand damage, reconstruct the past and investigate potential causes. Museum objects have a lot to tell us, if only we listen.
But having said that, the Getty Conservation Institute, through our Managing Collections Environments initiative, is actually exposing a small selection of antique objects, purchased from the market (not museum objects) to fluctuating environmental conditions. This is done less to examine the correlation between environmental fluctuation and damage than to test different monitoring techniques from simple observation, through photographic techniques and all the way to acoustic emission.  Our goal is to help formulate useful monitoring protocols that may be implemented in the field. Our collections are one of the best sources of information about what constitutes a safe climate. (F.Boersma)
5. Could you speak more about the 'life time' of objects and sustainability?
The idea of the life expectancy of an object seems perhaps to be in conflict with the notion of sustainability--you may perhaps think of sustainability being about saving everything. However, the notion of object's life time is one of the bits of information that will help inform a sound preservation strategy and may actually lead to more sustainable practices. An example of this kind of decision making is already happening with lighting. When displaying an object to the public, it will suffer light damage. Assessing in advance what the sensitivity of the object is to light, how long you want to be able to display it, what would be considered an unacceptable level of change--all help inform an exhibition policy.
Also in the library and archival world, the determination of a planning horizon will inform your preservation strategy.  See:
https://heritagesciencejournal.springeropen.com/articles/10.1186/s40494-015-0062-1 (F.Boersma)