Blog
50 States of Preservation: Valdosta State University in Valdosta, Georgia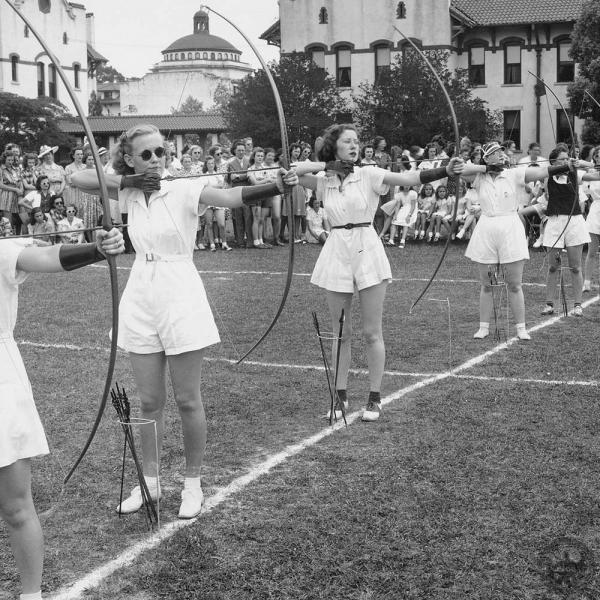 This feature is part of a series we call "50 States of Preservation," in which we are touring small and mid-sized museums, libraries, historical societies, and other repositories across the country to show how they are helping to preserve the nation's cultural heritage.  Read other entries in the series here.
What if you lost all of the files on your computer—photographs, documents, music, videos?  That's exactly what happened several years ago at the Archives and Special Collections at Valdosta State University (VSU) in Valdosta, Georgia.  Through a series of freak accidents in the winter of 2010-11, the archives lost three external drives and suffered catastrophic hard-drive failures on four computers.  Archivists and data recovery experts worked to salvage as much as they could, but the archives permanently lost more than 80 gigabytes of electronic files from collections and projects.  Realizing the pressing need for better hardware, more consistent policies and procedures for tracking items, and a comprehensive digital preservation strategy, the archives applied for and received an NEH Preservation Assistance Grant in 2012, in an effort to avoid another loss of critical digital materials.
"The NEH Preservation Assistance Grant has had a huge impact on our department," explains Archives and Special Collections Director Deborah Davis.  "Our digital program is now very stable and ongoing." 
VSU's impressive digital holdings are large and diverse.  They include thousands of photos, books, newspapers, letters, scrapbooks, objects, textiles, videos, audio recordings, and art.  For example, the award-winning South Georgia Folklife Project documents Wiregrass Country culture, Sacred Harp singing, Okefenokee music, turpentine workers, fisheries, radio interviews, and more.  Online exhibits and digitized photographs reveal the VSU's 100-year history and include photos from the Spectator student newspaper, material on the Georgia State Woman's College (the predecessor to VSU) from 1914 to 1930, and the Georgia Theatre Conference, and even images of the 1960s "Best Dressed Coeds!"  The collection also contains digital images of medieval manuscripts, East African art, and 4,500-year-old Babylonian clay tablets.  Over 1,500 herbarium slides from the university's Biology Department, previously locked in a heavy-duty safe in complete disarray, are now digitized.  And video archives show campus events and local culture spanning decades.
With NEH support, preservation experts Tom Clareson and Leigh A. Grinstead visited VSU in 2012.  They met with people across the campus, conducted a digital inventory and digital preservation readiness assessment, and provided recommendations for improving the care of the university's digital collection.  Their advice enabled Davis and her staff to hit the ground running to develop a complete digital program at VSU. 
Davis ticks down the list of improvements at the university made over the last few years.  "We now have a detailed preservation policy.  We have cloud storage for our preserved items and are using a variety of software and standards to preserve our items.  We have greatly increased our digitization workflow and have moved all of our student assistants into digitizing, OCR and metadata.  We also added a Digital Specialist position to our staff, in charge of all digital activities.  We have increased access to over 30,000 pages and photographs available in such venues as our Institutional Repository and Flickr."  She concluded by noting that "Our digitized materials are being harvested by the Digital Library of Georgia, by the Georgia Knowledge Repository and the Internet Archive."
VSU's digital collections are widely used both on campus and beyond, where they serve as a "teaching archives," providing primary sources for classes and teaching students archival skills such as processing and indexing.  Collections have also attracted national interest from researchers, especially those working on the folklife of southern Georgia.  Now these essential digital resources are preserved and accessible to all.
In every state, NEH supports organizations that preserve humanities collections.  Preservation Assistance Grants for Smaller Institutions (PAGs) fund projects that help safeguard photographs, letters, documents, prints, moving images, sound recordings, maps, drawings, artworks, textiles, furniture, and artifacts, making them available for future generations.  These collections help researchers, educators, and members of the public better understand the complex stories of the various cities, towns, and tribal groups that make up our nation.
Since 2000, NEH has made nearly 2,000 Preservation Assistance Grants to small and mid-sized organizations to preserve and care for their humanities collections.  In all 50 states, the District of Columbia, and Puerto Rico and the Virgin Islands, PAG awards have funded preservation assessments, purchase of shelving, environmental monitoring equipment, and preservation supplies, and training for staff.  Organizations in all states and U.S. territories are eligible to apply, and the program encourages applications from those new to NEH.  The next application deadline Preservation Assistance Grants for Smaller Institutions is May 2, 2017.  If you have any questions about this grant program, please contact us at @email or 202-606-8570.