Blog
50 States of Preservation: Tomaquag Indian Memorial Museum in Exeter, Rhode Island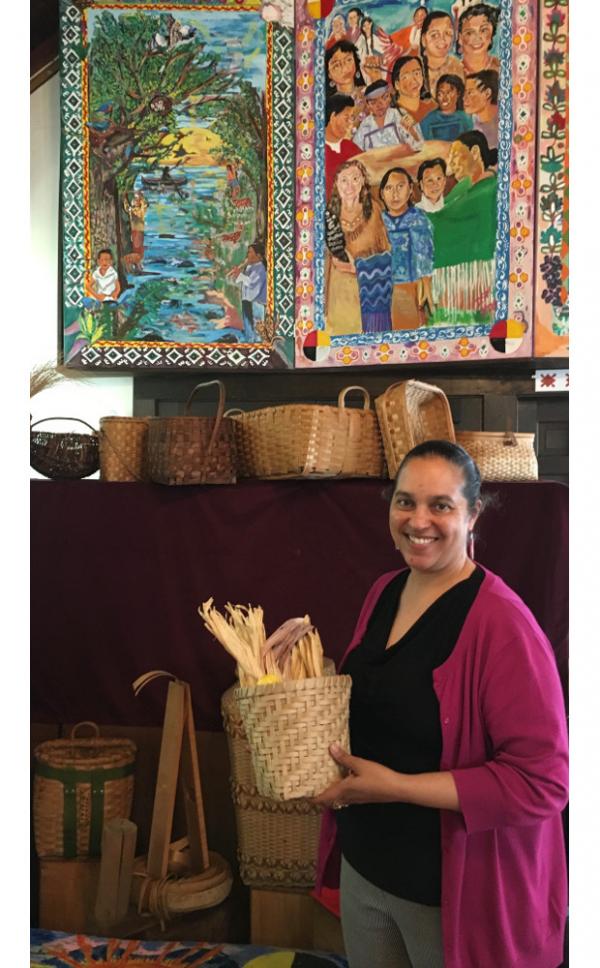 This feature is part of a series we call "50 States of Preservation," in which we are touring small and mid-sized museums, libraries, historical societies, and other repositories across the country to show how they are helping to preserve the nation's cultural heritage.  Read other entries in the series here.
For the educators and curators at the Tomaquag Museum in Exeter, Rhode Island, indigenous life both past and present can feel "invisible."  Many people learn about Native Americans through their study of the colonial period and a few stereotypical images.  The museum counters these views by bringing forward indigenous stories and perspectives in all their complexity.  And they emphasize that indigenous people are still here today, making history, art, and culture, and contributing to New England's communities.
The Tomaquag Museum's collections and exhibits embrace both the painful and the positive.  A feature on Ellison "Tarzan" Brown traces the Narragansett runner's journey to two Boston Marathon wins and the Olympics in the 1930s.  A showcase of wampum explains its craft and significance, which goes far beyond money.  Outside, a Three Sisters Garden displays how the traditional combination of beans, squash, and corn nourishes both humans and nature.  Canoes from the 1800s come with family stories of their carvers and users.  And photographs, news clippings, films, letters, tribal government documents, newsletters and newspapers, maps, journals, scrapbooks, and notebooks tell multifaceted stories of Native history and contemporary issues.  Since Narragansett and Wampanoag historian Princess Red Wing and archaeologist Eva Butler founded the museum in 1958, the collection has swelled through donations from historians, tribal and community members. 
Two NEH awards have helped the museum preserve and provide access to materials for researchers, students, artists, filmmakers, authors, historians, and the general public.  "NEH PAG has given us the guidance we needed to build our collections management program, find additional funding for a collections manager, and other preservation needs," says Executive Director Lorén Spears.  A 2016 NEH award funded an assessment by an expert conservator and creation of the Tomaquag Museum Preservation Plan.  And a 2017 NEH grant is supporting planning and staff training for pest management, disaster preparedness, environmental monitoring, and the creation of a collections care cart with supplies and equipment.  "Tomaquag Museum has been able to fulfill many of its goals via the support of the National Endowment for the Humanities Preservation Assistance Grants," states Spears.
The Tomaquag Museum is a lively cultural center in Rhode Island, and has recently received national recognition.  Spears reports that Tomaquag's "successes in collections care as well as the use of collections in our exhibits, programs, and workshops helped propel the museum to receive the Institute of Museum and Library Service's National Medal in 2016."   First Lady Michelle Obama honored Tomaquag and other medal winners at the White House, praising them for their impact on communities across the nation.  And the Tomaquag Museum's curators and educators continue to engage the wider community in challenging and enriching dialogues about Native history, culture, language, religion, and politics—traditional and contemporary.
In every state, NEH supports organizations that preserve humanities collections.  Preservation Assistance Grants for Smaller Institutions (PAGs) fund projects that help safeguard photographs, letters, documents, prints, moving images, sound recordings, maps, drawings, artworks, textiles, furniture, and artifacts, making them available for future generations.  These collections help researchers, educators, and members of the public better understand the complex stories of the various cities, towns, and tribal groups that make up our nation.
Since 2000, NEH has made nearly 2,000 Preservation Assistance Grants to small and mid-sized organizations to preserve and care for their humanities collections.  In all 50 states, the District of Columbia, and Puerto Rico and the Virgin Islands, PAG awards have funded preservation assessments, purchase of shelving, environmental monitoring equipment, and preservation supplies, and training for staff.  Organizations in all states and U.S. territories are eligible to apply, and the program encourages applications from those new to NEH.  The next application deadline Preservation Assistance Grants for Smaller Institutions is May 1, 2018.  If you have any questions about this grant program, please contact us at @email or 202-606-8570.