Blog
50 States of Preservation: The Star Island Corporation in Portsmouth, New Hampshire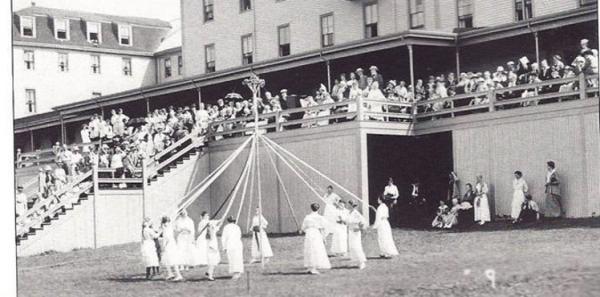 This feature is part of a series we call "50 States of Preservation," in which we are touring small and mid-sized museums, libraries, historical societies, and other repositories across the country to show how they are helping to preserve the nation's cultural heritage.  Read other entries in the series here.
A major center for cod fishing since the colonial era and a vacation spot for wealthy Bostonians in the 19th century, Star Island is the second largest (at 38 acres) of a chain of nine islands known as the Isles of Shoals located about 10 miles off the coast of Portsmouth, New Hampshire.  Since 1960, Star Island has been home to the Celia Thaxter Museum, which along with a library and archives is located in the historic Vaughn Cottage.  Together, they hold a diverse collection of books, manuscripts, photographs, art works, and other materials related to the history of Star Island and the Isles of Shoals.
The museum is named for poet and artist Celia Laighton Thaxter (1835-1894), the daughter of a Thomas Laighton who was once the lighthouse keeper on White Island and whose family owned and operated a hotel on nearby Appledore Island.  In its heyday, guests included such notable New England figures as writer Ralph Waldo Emerson and artist Childe Hassam.  The latest phase of Star Island's history began in 1897 when the Unitarian and Congregationalist churches initiated a series of annual conferences for ministers and Sunday school teachers.  Now open to the wider public, the conferences remain a central focus of island life.
The collections of the Celia Thaxter Museum document more than 400 years of Shoals history. They range from the humble tools of the early fishermen who eked out a meager existence on what was then a remote and inhospitable place, to displays of the furniture, china, and paintings that once decorated the islands' opulent hotels.  The museum contains more than 100 paintings and watercolors, 7,000 photographs, and 600 Native American artifacts.  Its programs and exhibits focus on the nearly 12,000 visitors--tourists, conferees, members of school groups--who travel to Star Island every summer.
In recent years, the Island Heritage and Artifacts Committee of Star Island Corporation (SIC) renewed its commitment to care for its rich humanities collections. In 2015, SIC received a Museums for America grant from the Institute of Museums and Library Services to construct a temperature controlled room and install light monitoring equipment and a vapor barrier to reduce humidity in the collections area. 
The grant also supported cleaning and rehousing of each item and ensuring intellectual control of the collection.  Moreover, objects conservator Barbara Moore assisted staff in monitoring changes in temperature and humidity that could damage collection items. During the summer of 2016, under Moore's direction, Jenna Bossert and Sam Pike, museum studies interns from Rochester Institute of Technology, carried out sound preservation practices and rehoused collection items.
Most recently, Star Island Corporation received an NEH Preservation Assistance Grant (PAG) that will allow staff to continue and finish the Vaughn Cottage Preservation Project in 2017. With PAG funds, Star Island will purchase preservation supplies including a foot candle meter, a textile vacuum attachment and screening, a storage platform and stanchions for Celia Thaxter's writing desk and chair, and reframing materials for visual art in the museum. With grant funds, Jenna Bossert, now a graduate student at Syracuse University, as well as Barbara Moore, will return to the island this summer.  Museum Manager Ally Miner commented: "Thanks to the opportunity IMLS and NEH have given…with specialists like Barbara and Jenna, we will be able to work further towards accomplishing our mission and vision…"
In every state, NEH supports organizations that preserve humanities collections.  Preservation Assistance Grants for Smaller Institutions (PAGs) fund projects that help safeguard photographs, letters, documents, prints, moving images, sound recordings, maps, drawings, artworks, textiles, furniture, and artifacts, making them available for future generations.  These collections help researchers, educators, and members of the public better understand the complex stories of the various cities, towns, and tribal groups that make up our nation.
Since 2000, NEH has made nearly 2,000 Preservation Assistance Grants to small and mid-sized organizations to preserve and care for their humanities collections.  In all 50 states, the District of Columbia, and Puerto Rico and the Virgin Islands, PAG awards have funded preservation assessments, purchase of shelving, environmental monitoring equipment, and preservation supplies, and training for staff.  Organizations in all states and U.S. territories are eligible to apply, and the program encourages applications from those new to NEH.  The next application deadline Preservation Assistance Grants for Smaller Institutions is May 2, 2017.  If you have any questions about this grant program, please contact us at @email or 202-606-8570.