Blog
50 States of Preservation: The Goldstein Museum of Design at the University of Minnesota in St. Paul, MN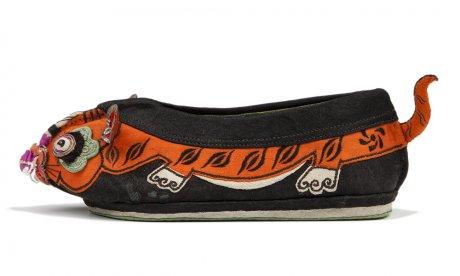 This feature is part of a series we call "50 States of Preservation," in which we are touring small and mid-sized museums, libraries, historical societies, and other repositories across the country to show how they are helping to preserve the nation's cultural heritage.  Read other entries in the series here.
When people think of artifacts, pottery and metalwork often come to mind. Yet a woven dress or embroidered scarf can also serve as a record of the past. For instance, material choices, construction techniques, and pattern styles can point to cultural or regional origins and affiliations, and even particular shoe styles can indicate something about the wearer's profession or social status. Just as handmade clothing and accessories can absorb a culture's traditions and practices, they can also help us imagine the stories and times of the people who once wore them.
The Goldstein Museum of Design (GMD) in the College of Design at the University of Minnesota (UMN) works to advance the understanding and appreciation of such artifacts. With over 34,000 items, the collections at GMD cover apparel and accessories, textiles, and decorative arts. Founded in 1976, the museum began with the personal collection of two UMN professors, Harriet and Vetta Goldstein. In the early part of the 20th century, the Goldstein sisters acquired a wide variety of objects, such as ceramics by the Handicraft Guild of Minneapolis, Tiffany metalwork, and Navajo rugs and blankets, during their travels in the United States and around the world. In 1978, an important gift from the Minneapolis/St. Paul chapter of The Fashion Group International further helped form the foundation of GMD's premier designer fashion collection, which includes the work of internationally prominent designers such as Charles Frederick Worth, Coco Chanel, and Christian Dior.
Numbering over 22,000 items, and dating as far back as 1760, apparel and accessories make up the largest part of the museum's collection. In 2004, the International Institute of Minnesota donated to the GMD 659 pieces of clothing from around the world. Thanks to this generous gift, the museum's collection of world dress now numbers 870 items and includes main garments and accessories from Europe (Serbia, Croatia, Norway, Sweden, Poland, Latvia, Scotland, Portugal, Turkey), the Americas (Guatemala, Mexico, Peru), Asia (Korea, China, Japan), and the Middle East (Palestine, Saudi Arabia, Egypt). These labor-intensive, hand-executed ensembles form a unique record of cultural and artistic expression that can help us further our knowledge about the peoples who made and wore them. In 2014, a NEH Preservation Assistance Grant supported the purchase of a powder-coated metal museum cabinet specifically designed for housing part of the GMD's collection of apparel from around the world. The museum-quality cabinet is now the home for 100 accessories (hats, belts, socks, scarves, aprons, shoes) that are part of GMD's world dress collection, items that had been previously kept in congested, non-archival storage boxes.
"These NEH grants have allowed GMD to safely preserve this important collection so that students and other researchers may learn from people across cultures," states GMD director Lin Nelson-Mayson. "NEH's support for preservation is key to inspiring empathy and understanding through design."
The museum has received other NEH grants that have supported the preservation of its world dress collection. In 2007 and 2009, Preservation Assistance Grants funded an initial assessment of GMD's holdings as well as the purchase of metal cabinets to rehouse main garments. Additional Preservation Assistance Grants in 2010 and 2015, as well as a NEH Sustaining Cultural Heritage Collections planning grant in 2013, supported other museum projects. Thanks in part to the NEH, the Goldstein Museum of Design continues to support the preservation, safe storage, and easy access of this important collection and others related to fashion, textiles, and the decorative arts.
In every state, NEH supports organizations that preserve humanities collections.  Preservation Assistance Grants for Smaller Institutions (PAGs) fund projects that help safeguard photographs, letters, documents, prints, moving images, sound recordings, maps, drawings, artworks, textiles, furniture, and artifacts, making them available for future generations.  These collections help researchers, educators, and members of the public better understand the complex stories of the various cities, towns, and tribal groups that make up our nation.
Since 2000, NEH has made nearly 2,000 Preservation Assistance Grants to small and mid-sized organizations to preserve and care for their humanities collections.  In all 50 states, the District of Columbia, and Puerto Rico and the Virgin Islands, PAG awards have funded preservation assessments, purchase of shelving, environmental monitoring equipment, and preservation supplies, and training for staff.  Organizations in all states and U.S. territories are eligible to apply, and the program encourages applications from those new to NEH.  The next application deadline Preservation Assistance Grants for Smaller Institutions is May 1, 2018.  If you have any questions about this grant program, please contact us at preservation@neh.gov or 202-606-8570.