Blog
50 States of Preservation: The Appalachian Mountain Club, Boston, Massachusetts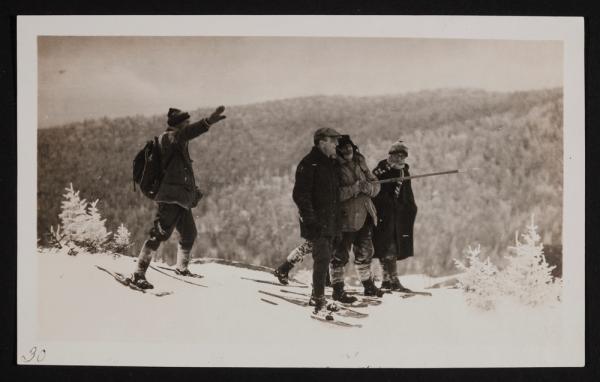 This feature is part of a series we call "50 States of Preservation," in which we are touring small and mid-sized museums, libraries, historical societies, and other repositories across the country to show how they are helping to preserve the nation's cultural heritage.  Read other entries in the series here.
With its headquarters in Boston, the Appalachian Mountain Club (AMC) is the nation's oldest nonprofit conservation and recreation organization.  It was established in 1876 to promote exploration and conservation of nearby wilderness areas and, in particular, the pristine White Mountains of New Hampshire.  The club maintains a network of shelters, camps, and hiking trails in the White Mountains and in other parts of New England.  Its library and archives house a variety of materials pertaining to the history of the organization and the activities of its members.  Researchers, filmmakers, and members of the public have shown particular interest in the AMC's collection of more than 20,000 historic images, which include lantern slides, postcards, stereograph cards, as well as photographic slides, and glass plate negatives, all of which document the history of outdoor recreation from the 1870s to the present.  AMC materials have appeared in programs, publications, and exhibits at the National Geographic Society, Yankee Magazine, and the Bradford Washburn Mountaineering Museum. 
Some highlights of the collection include an early set of prints and lantern slides of scenes in rural New Hampshire and Maine by amateur photographer Frederic Endicott (1839-1918) and a collection of 700 prints from Count Vittoria Sella (1859-1943) detailing his mountain climbing expeditions around the world in the 1880s and 1890s.  All in all, the AMC's resources help document changing patterns of outdoor recreation over the past 150 years, from well-heeled guests at grand resort hotels at the turn of the century to the mass of vacationing motorists of the postwar era.
As the AMC's photographic holdings have expanded over the years, its small library and archive was hard pressed to process and house these materials in a timely and appropriate fashion.  Cramped storage and inadequate environmental conditions threatened the safety of the collection.  The club has begun to address these challenges in a systematic fashion.  In 2010, the AMC received its first NEH Preservation Grant, which enabled Monique Fisher, a conservator at the Northeast Document Conservation Center, to assess the preservation needs of the club's photograph collection.  Based on her written report, AMC applied for and received a second NEH award in 2013, through which it purchased archival supplies to safely house some 5,000 historic Kodachrome, Ectachrome, and tourist slides.   Rebecca Fullerton, the club's librarian/archivist was also able to participate in a training workshop on the care and identification of photographic materials.  A third NEH award made last year is enabling the AMC to rehouse and store an additional 2,000 photographic prints dating from the 1930s through the 1950s, including both newly accessioned materials as well as items from the general collection in need of immediate preservation.
In every state, NEH supports organizations that preserve humanities collections.  Preservation Assistance Grants for Smaller Institutions (PAGs) fund projects that help safeguard photographs, letters, documents, prints, moving images, sound recordings, maps, drawings, artworks, textiles, furniture, and artifacts, making them available for future generations.  These collections help researchers, educators, and members of the public better understand the complex stories of the various cities, towns, and tribal groups that make up our nation.
Since 2000, NEH has made nearly 2,000 Preservation Assistance Grants to small and mid-sized organizations to preserve and care for their humanities collections.  In all 50 states, the District of Columbia, and Puerto Rico and the Virgin Islands, PAG awards have funded preservation assessments, purchase of shelving, environmental monitoring equipment, and preservation supplies, and training for staff.  Organizations in all states and U.S. territories are eligible to apply, and the program encourages applications from those new to NEH.  The next application deadline Preservation Assistance Grants for Smaller Institutions is May 2, 2017.  If you have any questions about this grant program, please contact us at @email or 202-606-8570.