Blog
50 States of Preservation: Stephen F. Austin State University in Nacogdoches, Texas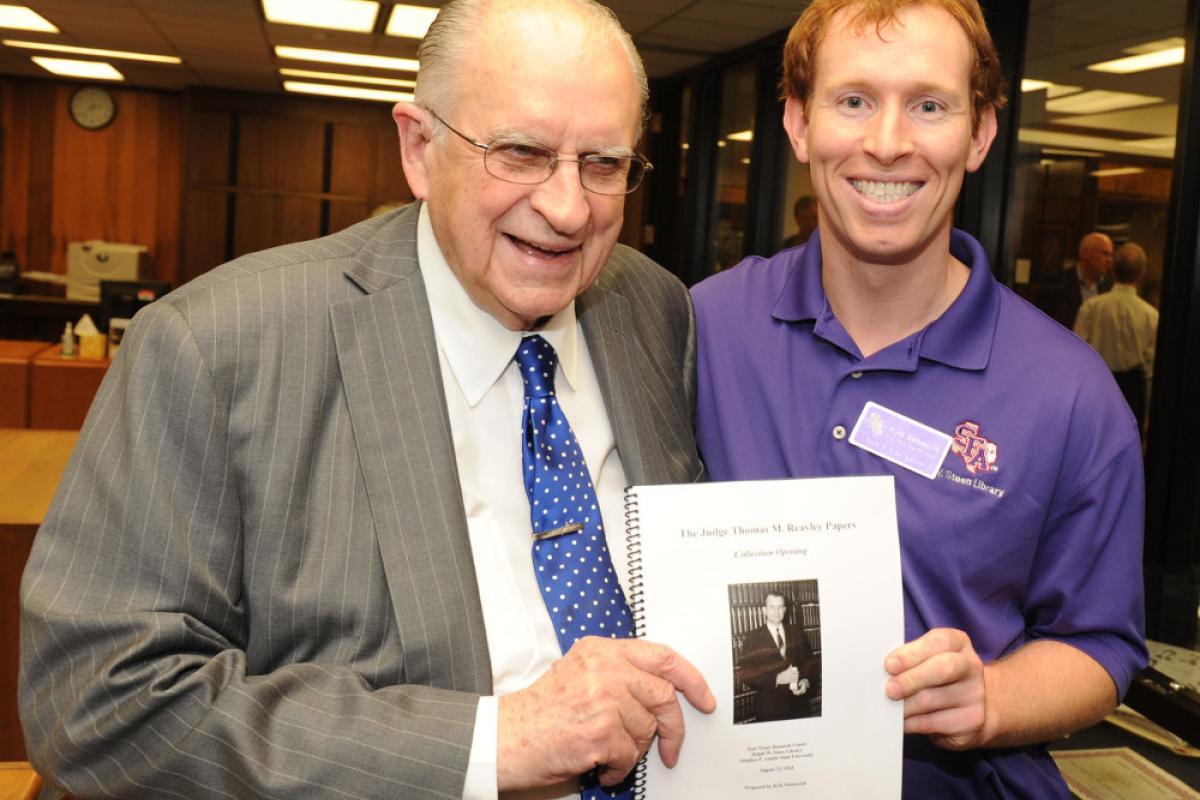 This feature is part of a series we call "50 States of Preservation," in which we are touring small and mid-sized museums, libraries, historical societies, and other repositories across the country to show how they are helping to preserve the nation's cultural heritage.  Read other entries in the series here.
In Nacogdoches, Texas, archivists, librarians, and museum professionals are prepared when disaster strikes, thanks in part to an NEH Preservation Assistance Grant. 
Situated in the heart of Deep East Texas, Nacogdoches is the oldest city in the state and home of Texas's first oil well, as well as the East Texas Research Center (ETRC) at Stephen F. Austin State University.  As one of the early entry points to Texas from the United States, Nacogdoches was an important crossroads right up through the Civil War.  Even as the city declined in importance postwar, it remained a vibrant agricultural community heavily influenced by nascent oil and lumbering industries, as well as the establishment of a teacher's college in 1923.  
The ETRC's wide-ranging collections document East Texas's rich cultural footprint. Business records of lumber barons like John Henry Kirby illuminate not only the oligarchs but also the lives of regular people toiling, and sometimes resisting, in isolated lumber camps. Personal and family collections reveal diaries, letters and photographs from luminaries like Thomas J. Rusk, Texas's first U.S. Senator.  Curious what race relations were like during the latter half of the 20th century?  Explore the recently organized collection of NAACP organizer Arthur Weaver.  County records include deeds, civil and criminal cases, gas and oil rights, tax rolls, and scholastic censuses.  At the ETRC, you can even check out the papers of Congressman Charlie Wilson, whose life and legislative accomplishments inspired the 2007 movieCharlie Wilson's War, starring Tom Hanks, Julia Roberts, and Philip Seymour Hoffman.  All told, the center holds more than 1,000 maps, and nearly 25,000 volumes of Texana and rare books, as well as over 400 manuscript collections.  It receives many visitors each year, including school classes, family history specialists, and other researchers.
In addition to facing the usual preservation threats like leaks, mold, light, and heat, the ETRC is particularly vulnerable to natural disasters.  Both 2005's Hurricane Rita and 2008's Hurricane Ike hit East Texas.  Furthermore, the surrounding region boasts more than 60 historical and cultural organizations with tens of thousands of additional historic items.  In 2012, with NEH support, the ETRC invited representatives from many of these heritage institutions to a four-day workshop on disaster and preservation planning conducted by consultant Donia Conn of the Northeast Document Conservation Center.  The workshop included lectures, hands-on tutorials, and salvage demonstrations.
According to Kyle Ainsworth, Special Collections Librarian, the NEH project has already helped the ETRC save irreplaceable books:  "In 2014 the archives had a water leak that affected more than 200 books from our special collections.  The training our staff received from the NEH-funded disaster and prevention planning workshops in 2012 gave us the information we needed to assess the situation, take action, and save the overwhelming majority of the affected materials."
In every state, NEH supports organizations that preserve humanities collections.  Preservation Assistance Grants for Smaller Institutions (PAGs) fund projects that help safeguard photographs, letters, documents, prints, moving images, sound recordings, maps, drawings, artworks, textiles, furniture, and artifacts, making them available for future generations.  These collections help researchers, educators, and members of the public better understand the complex stories of the various cities, towns, and tribal groups that make up our nation.  Since 2000, NEH has made nearly 2,000 Preservation Assistance Grants to small and mid-sized organizations to preserve and care for their humanities collections.  In all 50 states, the District of Columbia, and Puerto Rico and the Virgin Islands, PAG awards have funded preservation assessments, purchase of shelving, environmental monitoring equipment, and preservation supplies, and training for staff.  Organizations in all states and U.S. territories are eligible to apply, and the program encourages applications from those new to NEH.  The next application deadline Preservation Assistance Grants for Smaller Institutions is May 2, 2017.  If you have any questions about this grant program, please contact us at @email or 202-606-8570.