Blog
50 States of Preservation: Rockingham Free Public Library in Rockingham, Vermont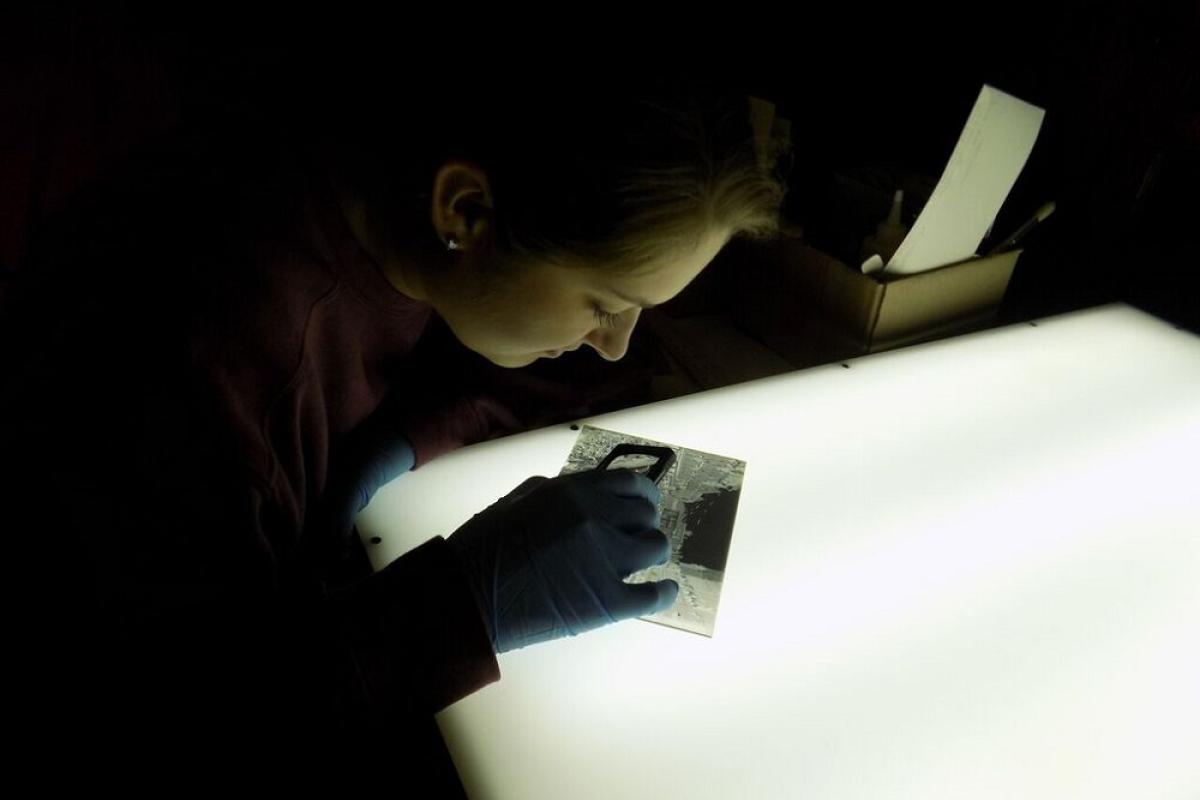 This feature is part of a series we call "50 States of Preservation," in which we are touring small and mid-sized museums, libraries, historical societies, and other repositories across the country to show how they are helping to preserve the nation's cultural heritage.  Read other entries in the series here.  
Thanks to a local initiative, the residents of Rockingham, Vermont, can see what their community looked like back in the days when you could water your oxen in a trough in the town square.  The town's collection of historic photographs also captures local eccentric Hetty Green, known as "the richest woman in America," the "Witch of Wall Street," and the "World's Greatest Miser," relaxing on her porch.  Ulysses S. Grant spoke from the balcony of the renowned luxury hotel, Island House, an event recorded in the photographs.   Residents and researchers can use pictures of children participating in a corn "Husking Bee" and images showing the Bellows Falls's evolution from natural landscape to railroad hub to thriving industrial center.
The photograph collection is housed at the Rockingham Free Public Library.  It began in 1976 to mark the U.S. Bicentennial and includes images going back to 1870, showing town celebrations, famous residents and visitors, the evolution of land use, public buildings, railroads, bridges and canals, and local events like theater productions and fundraising efforts.  In fact, according to Director Célina Houlné, the photographs are "the most frequently consulted local history collection in the Library, with an average of 250 requests per year from people of varying ages and levels of expertise, including local researchers, visiting scholars, residents and students."
Rockingham's historic photographs were in peril of being lost forever due to excessive handling and inadequate storage.  A grant to the Rockingham Free Public Library from NEH's Division of Preservation and Access funded the rehousing and proper storage of 1,384 historic glass plate negatives, 35 framed photographs, and 46 large mounted and unmounted prints.  The award also allowed the library to purchase environmental monitoring equipment to assure proper temperature and humidity conditions for the photographs in their storage area.
"Creating better housing and storage conditions for the glass plate negatives, oversize prints, and framed photographs collection has helped ensure these materials will survive for researchers and residents long into the future," said Houlné.  People have made good use of the collection:  eighth graders studying the town's founding fathers, a doctoral student writing about local photographers and their interest in immigrant populations, a carpenter wishing to restore a local home's façade, municipal officials documenting the historical importance of a decaying local bridge, high school alumni looking for their class photograph, and a local organization researching the history of circuses in the area.  "We're extremely grateful for the financial support we received from NEH to help preserve this very valuable and well-used community resource," said Houlné.  Thanks to the improvements made with the aid of the NEH award, the library's unique photograph collection will continue to be available to the public for years to come.  
In every state, NEH supports organizations that preserve humanities collections.  Preservation Assistance Grants for Smaller Institutions (PAGs) fund projects that help safeguard photographs, letters, documents, prints, moving images, sound recordings, maps, drawings, artworks, textiles, furniture, and artifacts, making them available for future generations.  These collections help researchers, educators, and members of the public better understand the complex stories of the various cities, towns, and tribal groups that make up our nation.  Since 2000, NEH has made nearly 2,000 Preservation Assistance Grants to small and mid-sized organizations to preserve and care for their humanities collections.  In all 50 states, the District of Columbia, and Puerto Rico and the Virgin Islands, PAG awards have funded preservation assessments, purchase of shelving, environmental monitoring equipment, and preservation supplies, and training for staff.  Organizations in all states and U.S. territories are eligible to apply, and the program encourages applications from those new to NEH.  The next application deadline Preservation Assistance Grants for Smaller Institutions is May 2, 2017.  If you have any questions about this grant program, please contact us at @email or 202-606-8570.