Blog
50 States of Preservation: Plains Art Museum in Fargo, ND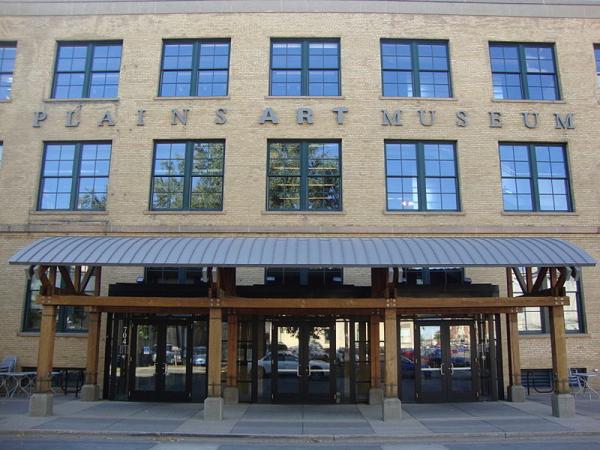 This feature is part of a series we call "50 States of Preservation," in which we are touring small and mid-sized museums, libraries, historical societies, and other repositories across the country to show how they are helping to preserve the nation's cultural heritage.  Read other entries in the series here.
Located in Fargo, North Dakota, the Plains Art Museum is one of the upper Midwest's leading cultural institutions.   It holds a diverse collection of more than 4,000 works of fine and decorative art, as well extensive Native American and African ethnographic materials.  The museum's exhibitions, services, and programs extend well beyond the city of Fargo, serving each year approximately 50,000 persons in rural communities throughout North Dakota and Minnesota.  In 1997, the Plains Art Museum moved into a turn-of-the century International Harvester warehouse in downtown Fargo.  The fully renovated building includes three climate-controlled galleries, a collections care area, print studio, classroom, and an interactive art lounge. 
Like many cultural heritage institutions, the Plains Art Museum faces the challenge of maintaining growth and providing for the adequate storage of its collections.  As its holdings expand, the museum works to maximize the efficiency of every square foot of vault space.  Its staff is committed to the safe, proper storage of the objects in its care, especially since many of them are uniquely shaped and highly fragile.  Based on recommendations from a formal collection survey completed in 2005, the Plains Art Museum has worked to improve the storage of its most vulnerable materials.  With support from NEH, the museum was able to rehouse nearly 300 works of graphic art in 2009.  It then embarked on a similar effort to improve the storage of its three-dimensional objects, many of which were kept on shelves and covered in plastic sheets.  A Preservation Assistance Grant in 2011 enabled the purchase of metal cabinets to house about 60 of the most fragile and sensitive objects. They included many ceramics and glass works, as well as Inuit soapstone sculpture and wooden African masks.  Having been moved from overcrowded storage into secure cabinetry, these items are now protected from dust, debris, and accidental damage. 
According to Steve Jacobs, the Plains Art Museum's Registrar and Director of Collections and Operations, the new "cabinets have made searching for, and accessing, objects within the collection easier, and therefore safer, as all objects can be easily seen, and are arranged in a manner that allows them to be pulled off the shelf, support and all, without disturbing the objects around them."  Furthermore, because Fargo, which is located on the Red River, is particularly susceptible to flooding, metal cabinets mounted on locking casters are a safe and efficient means to relocate a large number of objects quickly in the event of an emergency.  Mr. Jacobs also commented on the long-term effects of the NEH grants.  The "scale and scope of this project," he noted, has had "an impact on the museum staff as a whole and the governance structure overall, and has made all more aware of the vital importance of the proper storage and access to the collections that the museums hold in trust for the community."
In every state, NEH supports organizations that preserve humanities collections.  Preservation Assistance Grants for Smaller Institutions (PAGs) fund projects that help safeguard photographs, letters, documents, prints, moving images, sound recordings, maps, drawings, artworks, textiles, furniture, and artifacts, making them available for future generations.  These collections help researchers, educators, and members of the public better understand the complex stories of the various cities, towns, and tribal groups that make up our nation.
Since 2000, NEH has made nearly 2,000 Preservation Assistance Grants to small and mid-sized organizations to preserve and care for their humanities collections.  In all 50 states, the District of Columbia, and Puerto Rico and the Virgin Islands, PAG awards have funded preservation assessments, purchase of shelving, environmental monitoring equipment, and preservation supplies, and training for staff.  Organizations in all states and U.S. territories are eligible to apply, and the program encourages applications from those new to NEH.  The next application deadline Preservation Assistance Grants for Smaller Institutions is May 1, 2018.  If you have any questions about this grant program, please contact us at @email or 202-606-8570.