Blog
50 States of Preservation: Muhlenberg County Public Libraries, Greenville, Kentucky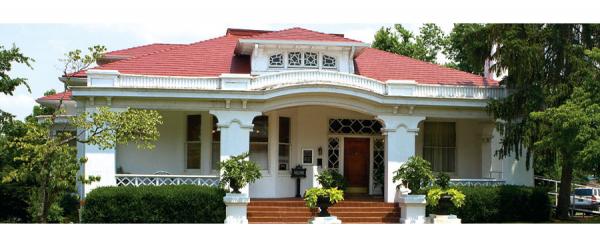 This feature is part of a series we call "50 States of Preservation," in which we are touring small and mid-sized museums, libraries, historical societies, and other repositories across the country to show how they are helping to preserve the nation's cultural heritage.  Read other entries in the series here.
There was a time, in the mountains of Muhlenberg County, Kentucky, when nearly everybody was involved in some way in the coal industry.  Muhlenberg had the first coal mine in the state, and for a century and a half afterward coal was king.  Mine owner William Graham Duncan built his Spanish mission-style house in the town of Greenville in 1912, naming it Thistle Cottage.  The Duncan family donated the house to the city in 1986 for use as a museum, and it continues to operate as part of Muhlenberg County Public Libraries.  Its collections show not only the deep roots of coal in this part of Kentucky but also depict over 150 years of the state's history.
The museum's contents date back to the 1840s.  Household furniture and décor transport visitors to a past time, as does an antique coal handcar.  A 1905 Bride's Book depicts the wedding of Duncan's son, while ledgers, payroll records, and financial documents illustrate the development of Duncan's company and the coal industry in general in the first half of the 20th century.  Postcards and letters show ordinary life and travel dating back to the 19th century.  The museum's textiles and clothing collection include wedding dresses from multiple periods, tuxedo coats and pants, Victorian mourning dresses and mink stoles, a jockey's racing silks, and a "Nudie suit" worn by country music star and Muhlenberg County native Merle Travis at the Grand Ole Opry (1960s-70s).  The Thistle Cottage collection also contains a number of full military uniforms from different eras, school apparel, and locally pieced quilts.
With a recent NEH grant, the library hopes to preserve and provide better access to these materials.  "Thistle Cottage is a historic home that operates as a branch of Muhlenberg County Public Libraries," explains Amie Waltrip, Thistle Cottage Branch Archivist.  "We simply do not have much money, but that doesn't make our collections any less important or less worthy of preservation.  Our community's identity is, in many ways, tied to the items housed within these walls.  Our goal is to preserve our community's history, and our collection includes many items that are crucial to fulfilling that mission."
The NEH grant enabled a visit by preservation experts from LYRASIS who assessed the museum's 3,000 documents, books, textiles, and clothing.  "Without the grant funding," says Waltrip, "we would have been unable to receive this important training."  Consultants advised on a variety of matters including the needs of the historic building, disaster and safety concerns, digitization of collections, and specific collection items.  "Our consultants, Annie Peterson and Jennifer Hein, were incredibly helpful," Waltrip states, "and affirmed our efforts or corrected us where necessary to make sure we are doing the best we can to protect our collection."  Waltrip went on to say: "We will use the information we have learned from them to purchase necessary supplies and prepare a better environment for our collection so it may continue to be enjoyed. Our collection items are irreplaceable, and it is our responsibility to make sure we have done everything possible to protect them and preserve them for generations to come."
"As a small institution that is almost entirely funded by local taxes, being able to receive the Preservation Assistance Grant from the National Endowment for the Humanities was incredibly beneficial," concluded Waltrip.  "I cannot even begin to explain how grateful we were to receive this funding."  Given the growing public interest in both coal mining and local history, the Muhlenberg County Public Libraries plan to involve more local educators and members of the public in their programs in the coming years.  And with the help of the NEH-funded general preservation assessment, they should be able to preserve these irreplaceable artifacts for all to access.  
In every state, NEH supports organizations that preserve humanities collections.  Preservation Assistance Grants for Smaller Institutions (PAGs) fund projects that help safeguard photographs, letters, documents, prints, moving images, sound recordings, maps, drawings, artworks, textiles, furniture, and artifacts, making them available for future generations.  These collections help researchers, educators, and members of the public better understand the complex stories of the various cities, towns, and tribal groups that make up our nation.
Since 2000, NEH has made nearly 2,000 Preservation Assistance Grants to small and mid-sized organizations to preserve and care for their humanities collections.  In all 50 states, the District of Columbia, and Puerto Rico and the Virgin Islands, PAG awards have funded preservation assessments, purchase of shelving, environmental monitoring equipment, and preservation supplies, and training for staff.  Organizations in all states and U.S. territories are eligible to apply, and the program encourages applications from those new to NEH.  The next application deadline Preservation Assistance Grants for Smaller Institutions is May 1, 2018.  If you have any questions about this grant program, please contact us at @email or 202-606-8570.