Blog
50 States of Preservation: Massanutten Regional Library in Harrisonburg, VA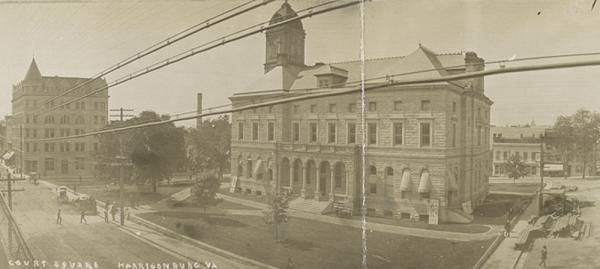 This feature is part of a series we call "50 States of Preservation," in which we are touring small and mid-sized museums, libraries, historical societies, and other repositories across the country to show how they are helping to preserve the nation's cultural heritage.  Read other entries in the series here.
Located in Virginia's Shenandoah Valley, Massanutten Regional Library (MRL) is the chief repository of historical materials related to the history of Harrisonburg and Rockingham County.  MRL's Genealogy and Local History Collection contains nearly 8,000 books, manuscripts, oral histories, files, ephemera, and maps that are frequently used by academic researchers, family historians, and members of the public interested in the history of the region.  In the 18th century, Rockingham County, Virginia, was a thoroughfare for many settlers heading to the frontier, and later it was the location of several Civil War battles.
Most of MRL's local history materials are held at the Central Branch in Harrisonburg, where they are divided between an enclosed genealogy room and a basement storage vault. The Genealogy and Local History Collection is located in the section of the library built in 1951, part of a multi-use area devoted to storage as well as patron study, photocopying, and microfilm research.  It includes many items of interest:  a Veteran's History project containing 93 volumes of veterans' life stories; the Vanishing Farm series documenting development on formerly rural lands; and the Valley Changes series chronicling eyewitness accounts of change in the region over the past century. MRL also contains a historic copy of the original Virginia Acts of Assembly, approximately 780 historic photographs, Civil War records, 739 family histories, 36 civic scrapbooks, and 100 recordings of local performers, as well as many other archival and institutional records.  Microfilms of local newspapers, some dating to the 19th century, and regional census records round out the collection.  Also popular are Sanborn Insurance maps, cemetery records, a local history file, and pen and ink drawings by a local Harrisonburg artist.  Historians, writers, genealogists, and students from several nearby colleges and universities regularly use these and other local history materials.
Many items in the Genealogy and Local History Collection are one-of-a-kind or one of very few copies, and some are in poor condition. In 2006, the MRL received support from NEH for a preservation assessment of its local history materials by preservation consultants Jane Kogi and Tina Mason of SOLINET. Their evaluation covered a wide variety of issues related to the maintenance of the collection, including environmental conditions, security, and conservation needs.  The consultants recommended, in particular, that the original wooden shelving on which many fragile items were being stored be replaced with archive-quality storage furniture better suited to their preservation.  Thanks to a Preservation Assistance Grant received in 2015, MRL was able to acquire 282 linear feet of new steel shelving to which the genealogy and local history materials were moved, a key first step on the path of protecting and saving these historical treasures.  According to Head Reference Librarian Susan Versen, "Our new shelving has made our Genealogy and Local History room brighter and more inviting to visitors.  Items are now safely shelved and are easier to find."
In every state, NEH supports organizations that preserve humanities collections.  Preservation Assistance Grants for Smaller Institutions (PAGs) fund projects that help safeguard photographs, letters, documents, prints, moving images, sound recordings, maps, drawings, artworks, textiles, furniture, and artifacts, making them available for future generations.  These collections help researchers, educators, and members of the public better understand the complex stories of the various cities, towns, and tribal groups that make up our nation.
Since 2000, NEH has made nearly 2,000 Preservation Assistance Grants to small and mid-sized organizations to preserve and care for their humanities collections.  In all 50 states, the District of Columbia, and Puerto Rico and the Virgin Islands, PAG awards have funded preservation assessments, purchase of shelving, environmental monitoring equipment, and preservation supplies, and training for staff.  Organizations in all states and U.S. territories are eligible to apply, and the program encourages applications from those new to NEH.  The next application deadline Preservation Assistance Grants for Smaller Institutions is May 1, 2018.  If you have any questions about this grant program, please contact us at @email or 202-606-8570.