Blog
50 States of Preservation: Kurt Vonnegut Museum and Library, Indianapolis, IN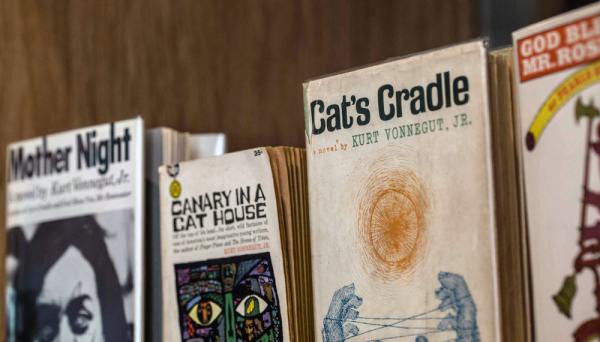 This feature is part of a series we call "50 States of Preservation," in which we are touring small and mid-sized museums, libraries, historical societies, and other repositories across the country to show how they are helping to preserve the nation's cultural heritage.  Read other entries in the series here.
During a high school commencement speech in 1986, American writer Kurt Vonnegut, Jr. (1922-2007) said, "What people like about me is Indianapolis."  And while many a high school student, scholar, or literary critic might argue that it is Vonnegut's absurdist and existential analysis of topics such as war, politics, culture, society, and the American condition that has drawn them in as readers for the past 65 years, Vonnegut firmly identified himself as an Indiana native.  That is why it is so appropriate that the Kurt Vonnegut Museum and Library is located in the author's hometown.
The Kurt Vonnegut Museum and Library (KVML) was founded in 2011 with the mission to champion "the legacy of Hoosier author Kurt Vonnegut and the principles of free expression, common decency, and peaceful coexistence he advocated."  Vonnegut is best known as the author of the best-selling war novel Slaughterhouse Five, as well as highly acclaimed novels Cat's Cradle and Breakfast of Champions.  In addition, he published 11 more novels, three collections of short stories, and numerous plays, screenplays, and works of non-fiction.  Since Vonnegut's death in 2007, three collections of previously unpublished short stories have also been released.
KVML fulfills its mission through a variety of programs that include an annual weeklong festival, workshops for teachers, guest speaker series, writing workshops for women veterans, book clubs, and an award for humor; the museum also offers programs for local students such as a personal narrative writing workshop for eighth graders and writing scholarships for high schoolers.  Many of KVML's programs focus on military veterans, honoring Vonnegut's time in the army in World War II.  At the museum, visitors can immerse themselves in Vonnegut memorabilia such as first editions of his works, correspondence, including rejection letters from publishers, family photographs, the author's typewriter, and his Purple Heart medal.  Vonnegut was also well known for the line drawings he used to illustrate many of his works, a collection of which are also on display.
The Kurt Vonnegut Museum and Library has an ever growing collection and is currently undergoing a capital campaign to enable a move to a larger and more permanent home.  At present, KMVL is using donated space in downtown Indianapolis.  In 2015, the museum was awarded a Preservation Assistance Grant to purchase environmental monitoring supplies; the staff also received training in preservation and collections care and contracted with a preservation specialist to assess the collections.  Following an evaluation by conservator Shelley Paine, KVML was awarded a second NEH grant in 2016 to begin implementing some of her recommendations for improving the care of the collection. These include purchasing environmental monitoring equipment for the museum and rehousing the collection in appropriate enclosures.  These activities and supplies will help to ensure that the Kurt Vonnegut Museum and Library can properly care for its collections now and in its future home.
In every state, NEH supports organizations that preserve humanities collections.  Preservation Assistance Grants for Smaller Institutions (PAGs) fund projects that help safeguard photographs, letters, documents, prints, moving images, sound recordings, maps, drawings, artworks, textiles, furniture, and artifacts, making them available for future generations.  These collections help researchers, educators, and members of the public better understand the complex stories of the various cities, towns, and tribal groups that make up our nation.
Since 2000, NEH has made nearly 2,000 Preservation Assistance Grants to small and mid-sized organizations to preserve and care for their humanities collections.  In all 50 states, the District of Columbia, and Puerto Rico and the Virgin Islands, PAG awards have funded preservation assessments, purchase of shelving, environmental monitoring equipment, and preservation supplies, and training for staff.  Organizations in all states and U.S. territories are eligible to apply, and the program encourages applications from those new to NEH.  The next application deadline Preservation Assistance Grants for Smaller Institutions is May 1, 2018.  If you have any questions about this grant program, please contact us at @email or 202-606-8570.