Blog
50 States of Preservation: Heurich House Museum in Washington, DC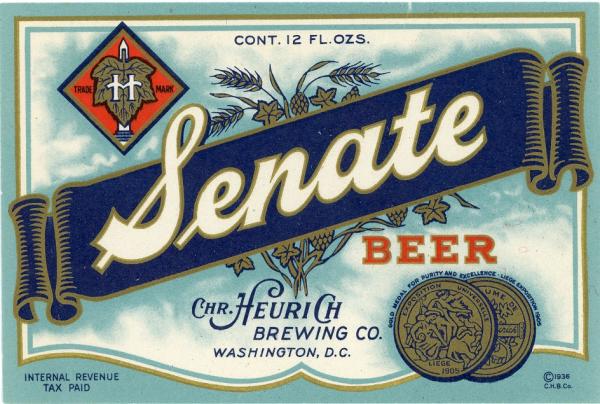 This feature is part of a series we call "50 States of Preservation," in which we are touring small and medium-sized museums, libraries, historical societies, and other repositories across the country to show how they are helping to preserve the nation's cultural heritage.  Read other entries in the series here.
Should your travels take you to Washington, DC, during our hot and humid summer months, there's no better place to visit than the Heurich House Museum near Dupont Circle.  Known as the "Brewmaster's Castle," this late-Victorian architectural gem completed in 1894 was home to German immigrant, local brewer, and philanthropist Christian Heurich and his family for more than 60 years.  Heurich owned the Chr. Heurich Brewing Co., the city's longest-operating brewery (1872-1956).  At one time, he was the District's second largest landowner and largest non-governmental employer.  While you can't see the brewery itself—the building along the Potomac River was torn down in 1962 to construct the Theodore Roosevelt Bridge—you can schedule a Brewmaster Tour, which includes an hour-long guided tour of the house museum followed by a tasting of three local craft beers.
The museum hosts other public tours and cultural events throughout the year and uses both the building and the collections inside to explore the history of the Heurich family and the local business history of Washington, DC.  In December 2016, NEH awarded the Heurich House a grant to bring in conservator Wendy Jessup and her associate, Allison LaCroix, to develop a comprehensive storage plan for its collections—furnishings, decorative art, and textiles—that are original to the house.  The collection items are displayed in the way the Heurich family used them, and the museum exhibits provide insight into late-Victorian decorating trends and the craftsmanship behind the artifacts.  Preserving collections in a historic house can be difficult.  Rachel Jerome, Director of Preservation, explains, "As a small museum with limited space for collections storage, one of our greatest challenges is posed by multi-purpose spaces that are used for exhibition, offices, and collections storage. The recommendations made by Jessup and Associates emphasized the risks that are posed by these multi-purpose spaces, and how best to mitigate these risks by choosing the most appropriate types of collections to store in these areas, or in some cases, by moving collections out of these multi-purpose spaces."
NEH is pleased to support the kind of careful preservation planning represented by this project—one that combines the expertise of the museum's staff with consulting specialists.  When implemented, the comprehensive storage plan, Ms. Jerome adds, "will give the museum greater flexibility in rotating its collections for exhibit, and will ensure that the museum is adhering to best practices for the long-term conservation of its collection."  The Heurich House looks forward to many future visitors enjoying the museum, thirsty for the history of German-American immigrants, the brewing industry, Victorian-era craftsmanship, and, of course, a taste or two of great local beer.
In every state, NEH supports organizations that preserve humanities collections.  Preservation Assistance Grants for Smaller Institutions (PAGs) fund projects that help safeguard photographs, letters, documents, prints, moving images, sound recordings, maps, drawings, artworks, textiles, furniture, and artifacts, making them available for future generations.  These collections help researchers, educators, and members of the public better understand the complex stories of the various cities, towns, and tribal groups that make up our nation.
Since 2000, NEH has made nearly 2,000 Preservation Assistance Grants to small and mid-sized organizations to preserve and care for their humanities collections.  In all 50 states, the District of Columbia, and Puerto Rico and the Virgin Islands, PAG awards have funded preservation assessments, purchase of shelving, environmental monitoring equipment, and preservation supplies, and training for staff.  Organizations in all states and U.S. territories are eligible to apply, and the program encourages applications from those new to NEH.  The next application deadline Preservation Assistance Grants for Smaller Institutions is May 1, 2018.  If you have any questions about this grant program, please contact us at @email or 202-606-8570.