Blog
50 States of Preservation: Fundación Luis Muñoz-Marín in San Juan, Puerto Rico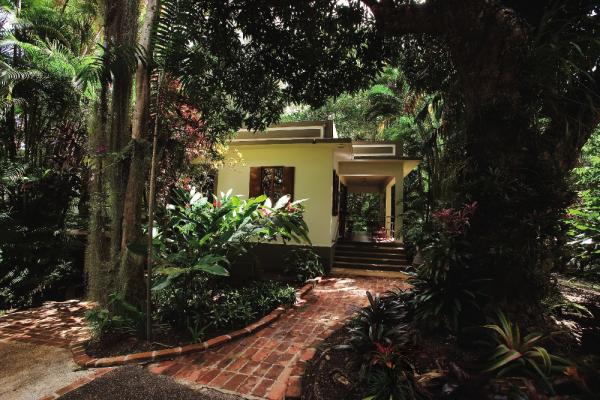 This feature is part of a series we call "50 States of Preservation," in which we are touring small and mid-sized museums, libraries, historical societies, and other repositories across the country to show how they are helping to preserve the nation's cultural heritage.  Read other entries in the series here.
Known as the "Father of Modern Puerto Rico," Luis Muñoz-Marín (1898-1980) was the first democratically elected governor of the island, serving from 1949 to 1965.  During a political career which stretched from 1932 to 1970, Muñoz supported agrarian and educational reforms and the industrial development of the island.  Muñoz was also a devoted patron of the arts and helped to inaugurate the annual Pablo Casals Festival.
After his death in 1980, Muñoz's modest family home, built in San Juan in the 1930s, was converted into a historic house museum.  Together with its affiliated library and archives, the museum holds more than 2 million documents related to the history of Puerto Rico and its relationship to the United States.  Researchers interested in Muñoz's life and legacy can also consult the governor's extensive holdings of books, photographs, ephemera, and audiovisual materials, along with his collection of decorative art, furniture, textiles, and costumes.  One of the largest items in the museum collection is Franklin D. Roosevelt's 1942 Packard, a gift to Muñoz from President Harry Truman.
More than 3,700 objects are permanently on display in the Muñoz-Marín house.  In addition, a two-room office and library contain numerous documents and memorabilia, including Muñoz's notebooks, manuscripts, and personal papers.  A new visitor center was opened in 2014.  The museum and library/archives are available to researchers and to members of the public, who may participate in guided tours of the governor's house and of the surrounding gardens named in honor of his wife, Doña Inés Mendoza.
In 2002, the Fundación Luis Muñoz-Marín obtained a Preservation Assistance Grant to carry out a preservation assessment of the historic house's collections.  One recommendation from the consultant's report was the need for better environmental monitoring of exhibition and storage areas, especially since most lacked effective humidity controls.  In 2013, the Fundación Luis Muñoz-Marín obtained a second NEH grant through which it was able to purchase and install in different rooms of the house and archives PEM2 dataloggers, electronic devices which enable regular monitoring of seasonal fluctuations in temperature and humidity.  Johnny Lugo-Vega, a conservation scientist from the University of Puerto Rico, and Jeremy Linden, a preservation specialist from the Image Permanence Institute in Rochester, New York, assisted museum staff with the installation of the dataloggers and the analysis of the resulting environmental data.  The new environmental monitoring system was incorporated in the regular tours of the historic house, broadening the public's awareness of the importance of caring for humanities collections. Museum staff also provided a special tour for visiting students from the University of Puerto Rico, Carolina campus, interested in preventive conservation techniques.
Since the completion of the second Preservation Assistance Grant, the Muñoz-Marín house continues to monitor temperature and humidity levels in the museum's historic spaces and storage areas and has implemented additional efforts to improve environmental conditions.  According to museum Director Soraya Serra-Collazo, "The NEH project helped us to better understand the environment of the historic house and storage and how it relates to the hot and humid weather of the tropics. Understanding the relationship between indoor environments and outside climates helped us to better care for the objects and documents we have in our care and custody. Being able to bring together local and international experts into the project team was an important aspect of the project's success."
In every state, NEH supports organizations that preserve humanities collections.  Preservation Assistance Grants for Smaller Institutions (PAGs) fund projects that help safeguard photographs, letters, documents, prints, moving images, sound recordings, maps, drawings, artworks, textiles, furniture, and artifacts, making them available for future generations.  These collections help researchers, educators, and members of the public better understand the complex stories of the various cities, towns, and tribal groups that make up our nation.
Since 2000, NEH has made nearly 2,000 Preservation Assistance Grants to small and mid-sized organizations to preserve and care for their humanities collections.  In all 50 states, the District of Columbia, and Puerto Rico and the Virgin Islands, PAG awards have funded preservation assessments, purchase of shelving, environmental monitoring equipment, and preservation supplies, and training for staff.  Organizations in all states and U.S. territories are eligible to apply, and the program encourages applications from those new to NEH.  The next application deadline Preservation Assistance Grants for Smaller Institutions is May 1, 2018.  If you have any questions about this grant program, please contact us at @email or 202-606-8570.