Blog
50 States of Preservation: Franklin County Historical Society in Ottawa, KS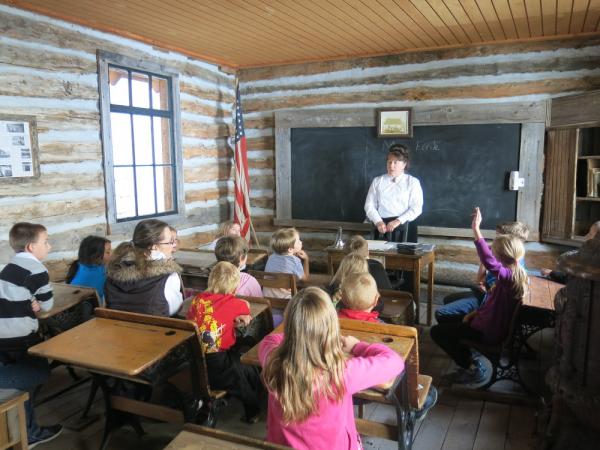 This feature is part of a series we call "50 States of Preservation," in which we are touring small and mid-sized museums, libraries, historical societies, and other repositories across the country to show how they are helping to preserve the nation's cultural heritage.  Read other entries in the series here.
Located in the town of Ottawa, the Franklin County Historical Society (FCHS) is an important custodian of local history for this part of northeast Kansas.  Founded in 1937, FCHS oversees a collection of some 30,000 manuscripts and photographs in its Records and Research Center. It also administers a restored pioneer home from 1859 and the 8,000-square-foot Old Depot Museum, which began life as a railroad depot in 1888. (A 1940s railroad caboose parked outside the building testifies to its early history.) All told, the Old Depot Museum houses more than 25,000 historic artifacts. 
The FCHS has a particularly interesting history to preserve.  Franklin County sits in the heart of a rich agricultural region with solid connections to railroad lines. Yet its early history was marked by extremely bitter conflict.  In the years before the Civil War, bloody fighting broke out in Kansas between anti-slavery and pro-slavery residents in an episode known as the Border War.  In fact, abolitionist John Brown and his family lived in Franklin County and were implicated in the 1856 killings of five pro-slavery settlers. The FCHS sponsors an immersive and interactive exhibit on the "Pottawatomie Massacre."
Permanent exhibits drawn from the museum's collection also include a Victorian parlor furnished with valuable items donated by community families; displays about Native American tribes who once lived in Franklin County; a 19th-century school room and a general store; a display tracing the history of the grassland and farming culture in the area; and displays focusing on innovative commercial enterprises and entrepreneurs based in Ottawa.  Museum artifacts and archival materials have also augmented and added local interest to temporary exhibits on the Lewis and Clark Expedition, African-American settlement ("Kansas Exodusters"), the Dust Bowl, Brown v. Board of Education of Topeka, and others. 
The FCHS is committed to maintaining its collections over the long term by adhering to the best practices in preservation.  Based on recommendations from a 2011 conservation assessment, its staff has embarked on a systematic effort to improve environmental conditions in its exhibit and storage areas.  With support from the National Endowment for the Humanities in 2016, the FCHS was able to purchase environmental monitoring equipment for the Old Depot Museum, most notably data loggers, which monitor changes in temperature and humidity.  The grant also enable the acquisition of HEPA-filtered vacuums to clean museum artifacts and storage spaces.  Deborah Long, Head of Conservation at the Gerald R. Ford Conservation Center in Omaha, who oversaw the FCHS's earlier needs assessment, is advising on the installation, placement, and use of the new equipment.  FCHS staff plan to use the environmental data they collect to assess the effectiveness of the museum's HVAC system and to plan for any needed upgrades.  By the time the project concludes later this year, the FCHS hopes to have developed a set of relative humidity and temperature parameters for each of its buildings. According to FCHS Executive Director Deborah Barker, who is overseeing the project:  "We are grateful for NEH support of our efforts to care for our artifacts."
Since 2000, NEH has made nearly 2,000 Preservation Assistance Grants to small and mid-sized organizations to preserve and care for their humanities collections.  In all 50 states, the District of Columbia, and Puerto Rico and the Virgin Islands, PAG awards have funded preservation assessments, purchase of shelving, environmental monitoring equipment, and preservation supplies, and training for staff.  Organizations in all states and U.S. territories are eligible to apply, and the program encourages applications from those new to NEH.  The next application deadline Preservation Assistance Grants for Smaller Institutions is May 1, 2018.  If you have any questions about this grant program, please contact us at @email or 202-606-8570.