Blog
Q&A With ODH Intern Leah Dudley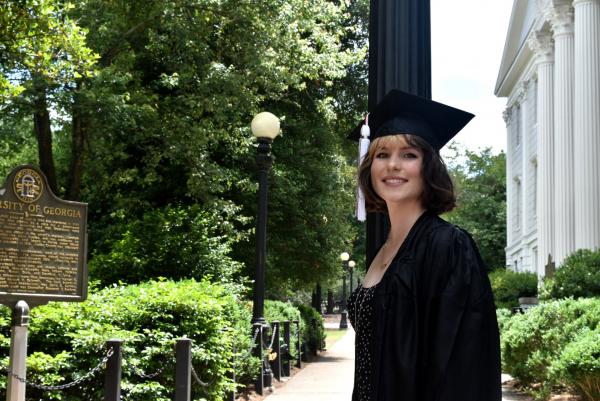 Leah Dudley is a master's student in linguistics with a concentration in computational linguistics at the University of North Carolina at Chapel Hill. Leah is one of two interns working with the Office of Digital Humanities for the summer and fall of 2021. Learn more about intern Demetra McBrayer here. 
Why did you want to intern with the NEH Office of Digital Humanities? 
I was drawn to working at the NEH because I admired the emphasis the agency puts on equitable distribution of funding, and accessibility of humanities knowledge. I have always found myself drawn to the non-profit sector, and while the NEH is not a non-profit, the agency's ability to aid people, projects, and institutions in a tangible way made me eager to work here. 
I was specifically drawn to the ODH because of my background and academic interests. I earned a certificate in Digital Humanities from the University of Georgia and have stayed passionate in my pursuit of digital applications of humanities data. Digital Humanities is a broad field, and I believed interning at the ODH would allow me to gain knowledge of what kind of DH projects are being created right now by diverse humanities institutions. It's been amazing to see the breadth of projects that have been funded in my time here, from the expansion of a 3D cultural heritage database to innovations in educating students on web technologies in online humanities courses. 
What are your responsibilities as an ODH intern? 
My primary responsibility as an intern was to develop a new research project. I ended up choosing to look at data from NEH CARES, a grant program that distributed $40 million in emergency relief funding to cultural organizations  at the start of the pandemic. Though this grant was very different from typical NEH grants, as it focused on financial relief during a pandemic, it offered a unique snapshot into how humanities institutions attempted to pivot themselves to an online mode of outreach in a very short amount of time. By the end of my internship, I will create a writeup on the distribution of CARES funding, the kinds of digital projects that came out of this grant program, and suggestions for the public, the ODH, and the wider NEH on what to take away from this data. 
Along with this research project, I had other minor responsibilities including attending weekly staff meetings, writing up my weekly progress, creating a research plan, attending interdepartmental working groups, and generally helping with any tasks the staff needed assistance with. 
What's something you've learned about the NEH or about Digital Humanities that you didn't know before? 
Before coming here, I was definitely not aware of all the steps it took to review grants. Between the peer reviewers, panels, reviews of ratings, and  Council meetings, I better understand how rigorous the review process is.  
I was also not aware of how collaborative the NEH is, both within and outside of the agency. We often talk with other divisions within the NEH, both in working groups and informally. We also collaborate with outside sources to expand our reach to DH scholars and other DH funders; a great example is the NEH-Mellon Fellowships for Digital Publication, where both the ODH and the Andrew W. Mellon Foundation support individual scholars in different phases of researching and publishing digital projects. It's been great to see how many outside resources the ODH works with and how cooperative a funding agency NEH is. 
What skills or experiences have you gained as an intern that you think will be helpful in your studies or career? 
I have definitely learned a lot just by being able to work in an office setting, albeit remotely. As someone with an academic background, I haven't held any traditional office jobs, and the staff at the ODH were great to have as colleagues, giving valuable feedback  and generally being available when I had any questions about the agency and our office. 
I also learned how to formulate a reliable and realistic research plan. Previously my research had vague deadlines with more generalized goals, but for my NEH project I formulated a worksheet detailing each step, what I hoped to achieve in every part of the project, and the estimated time it would take. This helped keep me on track with my project in the limited amount of time I had as an intern. Additionally, this research project helped me hone some of my data analysis and visualization skills, working in programs like Excel, QGIS, and RStudio. 
Finally, my supervisor in the ODH, Hannah Alpert-Abrams, organized multiple group intern meetings focusing on professional development. I was able to gain knowledge on alternate academic (alt-ac) career paths,  the difference between a CV and a résumé, how to tailor my application to a job, and what to look for in job descriptions. This proved to be invaluable as someone who is considering the alt-ac path after completing my master's, and showed me how great the job opportunities within DH can be.