Blog
Q&A With ODH Intern Bria Paige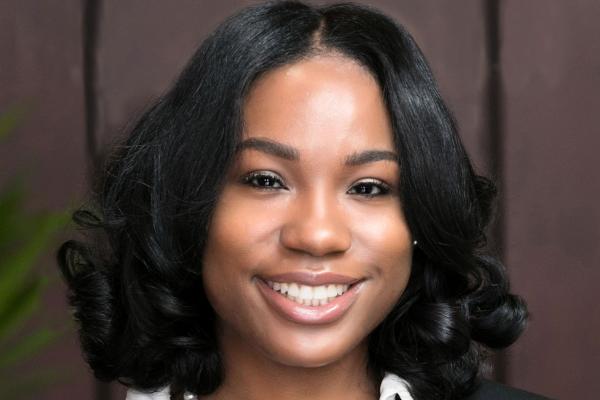 Bria Paige is a PhD student in English literature at Rutgers University studying African American and African diasporic literature. She is one of two interns working with the Office of Digital Humanities for academic year 2020-2021. Learn more about intern Alyssa Fernandez here. 
Why did you want to intern with the NEH Office of Digital Humanities? 
The digital humanities has been a field of interest for me since my time in college. In pursuit of this interest, as a graduate student at Rutgers I found the DH community on campus and attended several events and programs to learn more about this field. 
Since then, I have searched for supplementary opportunities to learn more about DH, network with DH scholars and practitioners, and acquire the digital tools and methodologies that could be useful for my own research. Not too long after my search began, I found the internship program description for the NEH and knew the ODH internship would be not only a learning opportunity but also an opportunity to put that recently acquired knowledge to work.  
The internship's focus on professionalization and promotion of career exploration within various career paths within the agency and beyond was also appealing to me as a graduate student interested in exploring alternative-academic (alt-ac) career paths.  
Lastly, I realized ODH is a close-knit division where I would not only be able to work with the division director and program officers directly, but I also knew that I would gain life-long mentors and colleagues (which has certainly happened since my time here began in November 2020).  
What are your responsibilities as an ODH intern?  
As an intern, I assist the program staff with a number of smaller projects and tasks in addition to developing and implementing my own individual research project from start to finish.  
In collaboration with ODH team members, I completed a mini data visualization project, where I worked to determine how impactful program staff consultations were in relation to the applicant success rate for ODH's signature Digital Humanities Advancement Grants (DHAG) program. I am currently working on my own individual research project that evaluates the impact and reach of NEH grants with a digital component to or that include Historically Black Colleges or Universities (HBCUs).  
In addition to these long-term projects that have spanned across a number of months, I attend weekly team meetings, accompany program officers to special interest groups throughout the agency (like the Digital Humanities Special Interest Group & the HBCU Working Group), and observe the sorting and evaluation process for ODH grant program applications. This internship offers a nice balance between collaborative, group projects within and beyond ODH as well as room to complete one's own individual projects according to my personal and professional research and career interests.  
What's something you've learned about the NEH or about Digital Humanities that you didn't know before? 
Prior to my internship, I didn't realize how collaborative the NEH is as a federal agency and how many partners the NEH enlists in order to support the humanities not only nationally, but internationally.  
The ODH, in particular, is quite a collaborative division, with initiatives between other divisions in the agency and outside the agency, partnering with institutions like the Institute for Museum and Library Services (IMLS), the National Library of Medicine, the U.K.'s Arts and Humanities Research Council (AHRC), and the Andrew W. Mellon Foundation, among others. It's reassuring to know there's a network of national and international agencies and institutions dedicated to ensuring the humanities are prioritized.  
The NEH's collaborative nature allows for the NEH's grant programs to reach more people around the globe. It also fosters a unique networking experience for NEH interns to meet and work with a wide-ranging group of professionals specializing in the humanities.   
What skills or experiences have you gained as an intern that you think will be helpful in your studies or career? 
Prior to my internship at the ODH, I was not well versed in Microsoft Excel or many other project management tools. Since the start of my internship, I have increased my capability to navigate the program confidently and thus work with and assess large data sets with ease.  
I've also learned what makes a successful grant application by providing draft feedback to current applicants, which will certainly prove to be useful as I look forward to applying for various grant programs in the future. In addition, I am continuing to hone my writing skills as I expand my writing capabilities beyond traditional academic writing and into various types of public-facing writing (such as blog posts, final reports, and infographics).  
As a doctoral student interested in alternative-academic career paths, this internship has opened my eyes to the wide range of careers available to me outside of the university setting. The professional development workshops we participated in throughout the duration of the internship have been especially helpful as we learned how to write proper resumes and CVs, maintain an online presence, and develop networking skills that you can only learn through practice.  
Interning in the ODH at the NEH has been an invaluable experience that has affirmed my continued interest in the digital humanities and pursuing career opportunities in and around the field in the future.