Blog
Q&A With ODH Intern Alyssa Fernandez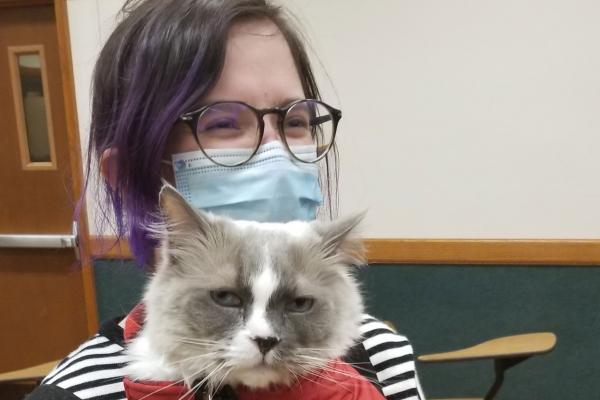 Alyssa Fernandez is a master's student in English at Purdue University studying postmodern American literature, trauma theory, and Natural Language Processing. She is one of two interns working with the Office of Digital Humanities for academic year 2020-2021. Learn more about intern Bria Paige here. 
Why did you want to intern with the NEH Office of Digital Humanities?  
Although I didn't delve into Digital Humanities (DH) until I became a graduate student at Purdue, I immediately found a home in Purdue's small (but growing!) DH community. In the courses I took involving DH, I gained invaluable experience experimenting with DH tools and methodologies, and practiced writing grant applications. I wanted to intern with the NEH Office of Digital Humanities because I wanted to learn from experienced mentors about their experiences with DH, grant writing, and career development and to develop a more in-depth understanding of the granting process from the perspective of the funding agency.   
I also wanted to better understand the breadth of interests, methodologies, tools, and ideas represented in the projects funded by the Office of Digital Humanities (so that I may make use of this knowledge in my own work and research), and because I hoped to gain further insight into the Digital Humanities community itself and learn about building connections with scholars in the DH community. Additionally, I also hoped to learn more about what an alternative-academic (alt-ac) career at the NEH truly entailed, as well as about the variety of paths leading into NEH work.  
What are your responsibilities as an ODH intern?  
As an intern, I help the Office of Digital Humanities staff with various tasks, including providing feedback on grant application drafts and assisting with project consultations.   
During my first few months as an intern, I was responsible for the planning and execution of a data-collection project with the aim of better understanding the geographical distribution of Office of Digital Humanities grant funds in terms of population, state wealth (gross domestic product), and the distribution of ODH funds themselves across the fifty-six states and territories.  
Currently, I am building upon that data-collection project as I seek to better understand the impact of the ODH on various geographic regions of the United States in relation to population, monetary distribution (of state wealth and Office of Digital Humanities grant funding), and institution type. I will also be working to envision what impact looks like for the NEH at large. At the end of my internship and as I conclude my independent project, I will offer concrete suggestions for targeted outreach in hopes that my project will help the ODH staff reach underserved populations more effectively.  
What's something you've learned about the NEH or about Digital Humanities that you didn't know before?  
Before I became an intern at the Office of Digital Humanities, I had absolutely no idea how complex the grant-reviewing process was, nor how complicated the timelines were for grant awardees. Learning about the complexities of these processes has allowed me to gain a deeper appreciation for the work that grantees and grantors complete, as well as an appreciation for the work that the ODH staff does.  
I also didn't realize the extent to which the different divisions of the NEH worked collaboratively to serve the American public more effectively. Seeing this cross-divisional collaborative work has been a highlight of my time at the ODH so far. Recently, I have been learning more about precisely how challenging international collaboration can be (and how rewarding the results can be, too).   
About Digital Humanities in particular, I learned that DH work is far more collaborative than I could have ever imagined and that there are more approaches to any given research topic than I could ever hope to imagine alone. During my time as an intern, I've not only learned about the power of collaboration between ODH staff members (and at the NEH in general), but also about the strength that comes from working collaboratively on Digital Humanities projects.   
What skills or experiences have you gained as an intern that you think will be helpful in your studies or career?   
As an intern, I gained several key skills and experiences that I am certain will help me in my studies and eventual career. Perhaps the most important of these has been gaining substantial experience with Excel and Excel equations, though I also gained interpersonal communication skills, rich experiences with data visualization and data storytelling, presentation skills, and data analysis. I've also gained experience with developing research questions, methods, methodologies, timelines, and data compilation.  
Additionally, I had the opportunity to observe every stage of the grant-review process, including consultations, which will no doubt help me write better grant applications when I work on projects I hope will be funded by the NEH. Being able to view the internal workings of the grant-review process has allowed me to better grasp not only what many successful grant applications look like, but also the breadth of potential Digital Humanities projects and research questions.