Blog
Preservation Assistance Grant for Smaller Institutions 2022 Awardees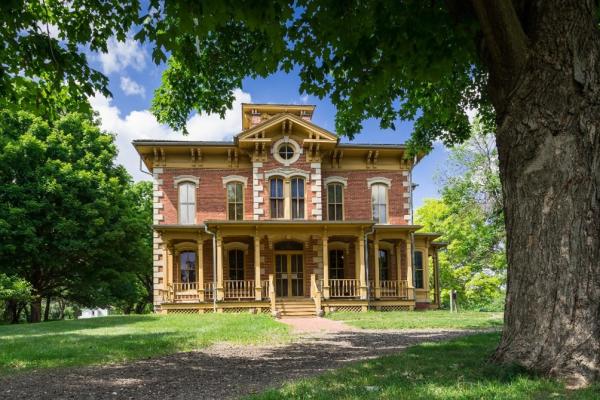 The Preservation Assistance Grant for Smaller Institutions (PAG) program works with small and mid-sized organizations, such as museums, historical societies, libraries, and other institutions, to provide more opportunities to care for their collections. These institutions hold important collections and information on the nation's cultural heritage and history, and this grant program especially encourages a focus on collections that represent underserved or underrepresented communities. The National Endowment for the Humanities' PAG program helps these organizations to preserve their collections and provide greater access to researchers and the general public. The following selection of some of the 2022 awardees reflects the diversity of the collections within the United States and demonstrates the uniqueness of each organization that applies for this grant.
Living History Farms, located in Urbandale, Iowa, has a large collection spanning more than 500 acres and containing historical items, some of which are more than 300 years old. These are items that the working class (such as farmers, tradesmen, and shopkeepers) would use, as well as furniture and other objects from upper-class homes. The collection also includes buildings, from general stores to mansions, which show diverse ways of life. Living History Farms includes interactive exhibits spanning many different time periods in midwestern life, and caters to many different ages, groups, and abilities. With its PAG award, Living History Farms is focusing on improving its collection environments by installing window films in three of their buildings to filter harmful ultraviolet rays, as well as monitoring equipment. Window films are used to protect the most valuable objects of a collection from sun damage, while environmental monitoring equipment demonstrates which areas should be the focus of preservation activities, as well as what activities should be done. The focus of this project is on objects that would be most difficult to replace and have the most historical value. The window films are being installed in three different buildings which contain these extremely valuable objects. One is the Flynn Mansion, which contains 1,339 objects of Victorian furnishings. Built in 1870, the Flynn Mansion is now on the National Register of Historic Places.
The National Association for Armenian Studies and Research (NAASR), located in Belmont, Massachusetts, is one of the leading Armenian studies centers internationally and contains a rare book collection, which is the focus of its Preservation and Assistance grant. The Edward and Helen Mardigian Library is a publicly accessible Armenian library that contains more than 31,000 books as well as other materials in a variety of languages, which date back to the 1600s. The library is a major center for Armenian research and hosts educational programming for all levels. NAASR is using their Preservation Assistance Grant to conduct a preservation assessment, which will help the association better understand current conditions and set priorities for the future, such as purchasing rehousing supplies to protect the rare book collection. It is also supported by NEH's "A More Perfect Union" initiative which demonstrates the important role of the humanities in the United States and will help commemorate the 250th anniversary of the Declaration of Independence in 2026.
The Cotsen Institute of Archaeology (CIoA) at the University of California, Los Angeles, contains collections of about 323 archaeological and ethnographic objects from around the world that date from prehistory to the twentieth century. The collections are relatively new; many objects were acquired in 2021. The main collections are the Cotsen Teaching Collection and the Waystation Program Collection, which contains objects being repatriated to their nations of origin. The collections of the CIoA are used for research, instruction, exhibition, publication, and public programs, and both collections are the focus of the Preservation Assistance Grant. The CIoA is using their grant for a variety of activities, including a general preservation assessment, trainings for staff, faculty, and students on preservation and collections care, and the purchase of archival storage supplies and environmental monitoring equipment.
The International Women's Air and Space Museum (IWASM) located in Cleveland, Ohio, opened its first museum in 1986 in Centerville, Ohio, and moved to Cleveland in 1998. The collection contains approximately 20,000 materials such as cultural objects, photographs, and books. IWASM documents the lives and careers of women in different paths of aviation and aerospace such as pilots, flight attendants, and engineers. Its collection includes historical items from many prominent women in the history of flight, such as Ruth Rowland Nichols, Amelia Earhart, and Bessie Coleman. The museum offers many different activities, such as tours, presentations, programs, traveling exhibitions, and other experiences. This Preservation Assistance Grant is providing an opportunity for IWASM to upgrade the storage areas for its collections, including the purchase of acid-free boxes, polyester photograph sleeves, barriers to protect from dust and water leaks, light meters, and thermohygrometers. The focus is on 3D objects, which include tool kits, space suits, and other air and space paraphernalia.  
The New Orleans Pharmacy Museum (NOPM) is housed in a classic Creole townhouse in the French quarter of New Orleans, Louisiana, where the first licensed pharmacist, Louis J. Dufilho, Jr., lived and ran his apothecary. NOPM's collection contains about 18,400 historical items relating to the history of pharmacy from the late eighteenth century to the mid-twentieth century. The collection includes pharmacy and medical artifacts, medical books, serials, prescription files and ledgers, photographs, and other objects, mostly from the United States. This Preservation Assistance Grant is supporting a general preservation assessment, as well as the purchase of shelving and housing supplies for the library and archives. According to K. Hanley, the museum's librarian and archivist, "the new shelving has brought much needed order to the reading room, which is open to researchers by appointment. One important focus was the preservation of nineteenth and early-twentieth century prescription files that document the daily medicine dispensing of pharmacists in Louisiana. These were rehoused in custom archival boxes using grant funding. The Preservation Assistance Grant is ensuring the longevity of the museum's collection, especially of these important historic objects!"
PAG projects convey the wide scope of humanities institutions and collections held in small organizations nationwide. They promote continuing education, research, and experiences in the humanities for a wide variety of audiences. The Preservation Assistance Grant for Smaller Institutions program ensures that all these collections will be around for many years to come. To learn more about this grant program, please click here. If your institution is interested in applying for this grant, or has any questions, please contact the Division of Preservation and Access by clicking here to find phone and email information, or by emailing @email.  
Adina Olbrys is an intern in the NEH Division of Preservation and Access during the summer of 2023. She is a graduate student currently pursuing her master's degree in critical museum studies at the University at Buffalo.