Blog
Improving Collections Care with Geothermal Systems at Glessner House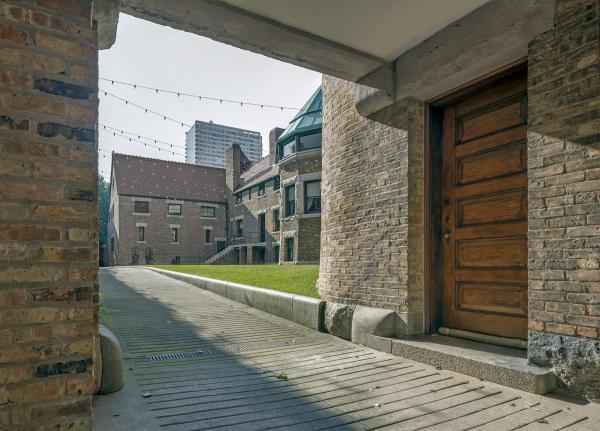 In the fall of 2009, the Division of Preservation and Access announced the National Endowment for the Humanities' first funding program in preventive conservation that places environmental sustainability at its core, Sustaining Cultural Heritage Collections.  Over the past 12 years we have funded projects that are at the forefront of addressing and responding to the growing climate crisis by using passive measures, locally sourced and recycled materials, and energy efficient technologies to retrofit existing collections spaces to properly house humanities materials based on their particular needs and vulnerabilities. 
This Earth Day we'd like to highlight one such project that Glessner House, a National Historic Landmark that dates to nineteenth-century Gilded Age Chicago, is undertaking. Last year this historic house museum, located in an urban environment, received a Sustaining Cultural Heritage Collections award to expand its geothermal heating and cooling system to ensure reliable temperature and humidity control onsite.  This system will provide a more stable environment with the ability to monitor and control fluctuations while also reducing energy usage and operating costs.
In December 2020, the American Institute for Conservation's (AIC) Sustainability Committee produced a two-part interview series on this NEH-funded project with Glessner House Executive Director and Curator Bill Tyre and Consulting Engineer and Project Director Mark Nussbaum.
In Part 1, three members of the AIC Sustainability Committee, Roxy Sperber (Chair), Rachel Childers (Vice Chair), and Annabelle Camp (Student Member), interview Bill Tyre about why a geothermal system made sense for Glessner House, how the system will be integrated into the building, and the museum's work with consultants.  Some key take-aways from Part 1 include:
Geothermal systems only need a relatively small outdoor space for installing wells, and once installed they are invisible. Glessner House has a courtyard where the wells will be drilled.
Drilling and installation of systems causes little impact on neighbors.
Geothermal systems can last up to 50 years.
The sustainability and technological advancements of geothermal systems are in keeping with the history of Glessner House, which incorporated advances at the height of technology when it was originally built in 1887, such as a state-of-the-art heating plant.
Learning from the geothermal system in place at nearby Evanston History Center and working with consultant Mark Nussbaum, who has experience with similar projects, was key to determining that a geothermal system would be a sustainable outcome for Glessner House as well.
In Part 2, Sperber, Childers, and Camp interview Project Director and Principal Engineer Mark Nussbaum on the sustainability of geothermal energy, the features that make it particularly useful for collections environments, and the different considerations involved for managing the environments of historic buildings. Key take-aways from Part 2 include:
Although there can be a larger upfront cost, geothermal systems are the most environmentally friendly, energy efficient, and long-term cost effective heating and cooling systems on the market and often will pay for themselves over time.
Geothermal systems allow for simultaneous control of temperature and relative humidity (RH), which helps to reduce extreme temperature and RH swings.
Updates in geothermal technology have made these systems more efficient in urban settings  than in the past. 
All projects should start with a feasibility study to determine what type of geothermal system will work in a given space and to compare those costs (both monetary and environmental) to more traditional systems.
The best system for any given building will necessitate a balance of needs, taking into consideration whether or not the building is an historic structure with certain architectural elements that need to be maintained, how many stories there are, and if there are currently available spaces for the internal systems.
If you'd like to learn more about Glessner House's new geothermal system, you can contact Executive Director and Curator Bill Tyre at @email.
With thanks to Glessner House and the AIC Sustainability Committee, we hope that these discussions inspire you to consider environmentally friendly and sustainable ways of preserving your collections.  Our Sustaining Cultural Heritage Collections program can fund such projects at both the Planning and Implementation levels.  Please visit the program page to learn more about other previously funded projects and how to apply.  The next application deadline is January 13, 2022, with an optional draft deadline of December 9, 2021.  Please contact us at @email with any questions or to discuss your project ideas.