Thirty-three Middle and High School Students Named National Endowment for the Humanities Scholars at 2019 National History Day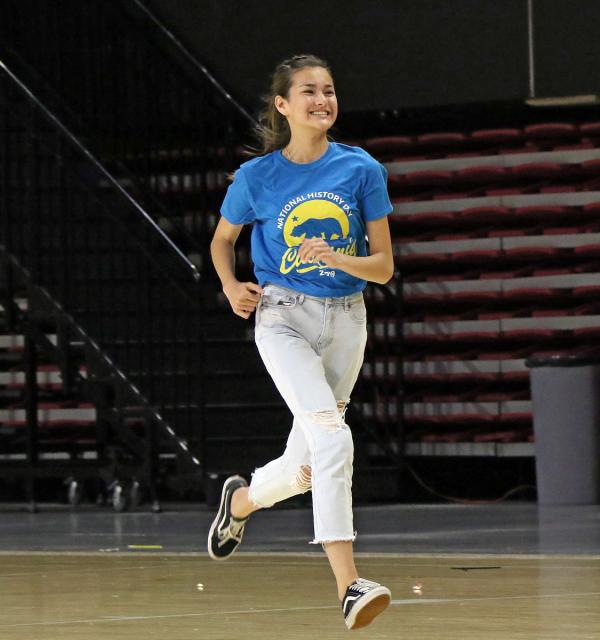 WASHINGTON, D.C. —Thirty-three students took home top prizes sponsored by the National Endowment for the Humanities (NEH) at National History Day, a nationwide contest for middle and high school students that concluded today at the University of Maryland, College Park.
These young history buffs were recognized as "National Endowment for the Humanities Scholars" for earning first place in a range of categories. Four additional students received a special award from NEH for incorporating historic American newspapers into their National History Day projects. More than 3,000 students from around the country made it to National History Day finals.
The annual awards ceremony is the culmination of a yearlong academic program in which students in grades 6 to 12 conduct original historical research for papers, exhibits, websites, documentaries, and public performances. This year more than a half million students submitted National History Day entries on the theme of "Triumph & Tragedy in History" at local, regional, and state competitions for a chance to win a spot at the national finals.
NEH has supported National History Day since the program began in the 1970s. NEH grants were instrumental in helping National History Day grow from a pilot start-up project in Ohio into a national program that now operates in all 50 states, the District of Columbia, U.S. territories, and in international schools in China, South Korea, and South Asia. Winners are selected by volunteer judges, including history teachers and others. NEH does not judge the projects or select the winners. (For information on the contest, please consult the National History Day website.)
In addition to 18 first-place prizes, NEH sponsors National History Day prizes for the best use in a student project of Chronicling America—a searchable online database of historic U.S. newspapers, digitized through a partnership between NEH and the Library of Congress. EDSITEment, NEH's educational website, has created a set of online resources around Chronicling America to assist students and educators in using the newspapers in historical research.
The following students received National Endowment for the Humanities Scholar awards from NEH Chairman Jon Parrish Peede at today's awards ceremony. Winners in other categories received prizes from a host of other sponsors. Students in grades 6 to 8 compete in the "junior" division; those in grades 9 to 12 in the "senior" division.
Junior Paper:
Harry Murphy from St. Peter's School, Philadelphia, PA
Project: Dealing with the Devil: The Triumph and Tragedy of IBM's Business with the Third Reich
Senior Paper:
Margo Pedersen from Wilbur Cross High School, New Haven, CT
Project: Malaga Island: How the State of Maine Devastated a Resilient Island Community in the Name of the Greater Good
Junior Individual Documentary:
Sophie Elliott from Singapore American School, Singapore
Project: Positives and Negatives: Shaping Native American Identity Through the Photography of Edward S. Curtis
Senior Individual Documentary:
Allison Bushong from Martin Luther King High School, Riverside, CA
Project: Triumph of Representation and Tragedy of Repercussion: Silent Gesture of 1968
Junior Group Documentary:
Thomas Gnacke and Dane Kassube from Discovery Elementary School, Bakersfield, CA
Project: Le Chambon-sur-Lignon: Fighting for Triumph in the Midst of Great Tragedy 
Senior Group Documentary:
Kyler Wang and Alan Zhou from Sunset High School, Portland, OR
Project: Echo of Falling Water: The Inundation of Celilo Falls
Junior Individual Performance:
Addie Skillman from Elkridge Landing Middle School, Elkridge, MD
Project: Loving v. Virginia: The Stepping Stone for Equality in America
Senior Individual Performance:
Max Mateer from Pensacola High School, Gulf Breeze, FL
Project: Swallowing the Lion's Pride: A Requiem in Recompense
Junior Group Performance:
Michael Heyman, Harley Honig, and Sydney Honig from Woodmere Middle School, Hewlett, NY
Project: Without Hope Life Is Not Worth Living: The Harvey Milk Story
Senior Group Performance:
Ethan Marotte, Olivia Marotte, and Simon Marotte from Conway Junior High School, Conway, AR
Project: This Was Our War: The Émigré Ritchie Boys' Contribution to an Intelligence Triumph in the Midst of Personal and Global Tragedy
Junior Individual Exhibit:
Allison Tate from Whitehall Middle School, Montague, MI
Project: A Bitter Pill to Swallow: Dr. Kelsey's Triumph Hides an American Tragedy
Senior Individual Exhibit:
Mia Porcello from Northwest Catholic High School, West Hartford, CT
Project: Out of the Closet and into the Medicine Cabinet: ACT UP New York's Healthcare Triumphs
Junior Group Exhibit:
Daynen McKee and Hayden Wahlberg from Akron-Westfield Community School District, Westfield, IA
Project: Tragedy in the Chicago Fire and Triumph in the Architectural Response
Senior Group Exhibit:
Christy Guan and Hana Kim from Stuyvesant High School, New York, NY
Project: Tragedy of the Great Fire and Triumph of Skyscraper City
Junior Individual Website:
Leslie Kim from Ames Middle School, Ames, IA
Project: The Gwangju Uprising: Triumphs from Tragedy
Senior Individual Website:
Abigail Peterson from North Lakes Academy, Forest Lake, MN
Project: Stomaching America: Tragedies and Triumphs of "The Jungle"
Junior Group Website:
Wyatt Coffey, Mason Harris, Gavin Johnson, Lawson Veit, and Grahm Williams from Morrison Middle School, Morrison, OK
Project: After the Dust Settles: Saving the Soil
Senior Group Website:
Sean Choudhry, Elias Rice-Bensch, Zia Rice-Bensch, and Keona Wallen from Accelerated Learning Laboratory, Tucson, AZ
Project: Radium Girls: From Jaw-Dropping Tragedy to Glowing Triumph   
NEH Chairman Peede also presented two National Endowment for the Humanities Chronicling America: Historic American Newspapers Prizes to:
Hannah Chan, Phoebe Chan, and Joseph Heitzmann from River Hill High School
Project: Caged But Not Defeated: The Triumphant Spirit of the Angels of Bataan
Steven West from Albuquerque Christian School
Project: Racing Against Racism: Triumph and Tragedy in the Life of Jesse Owens
A list of all 2019 National History Day winners is available at https://www.nhd.org/winners.
National Endowment for the Humanities: Created in 1965 as an independent federal agency, the National Endowment for the Humanities supports research and learning in history, literature, philosophy, and other areas of the humanities by funding selected, peer-reviewed proposals from around the nation. Additional information about the National Endowment for the Humanities and its grant programs is available at: www.neh.gov.