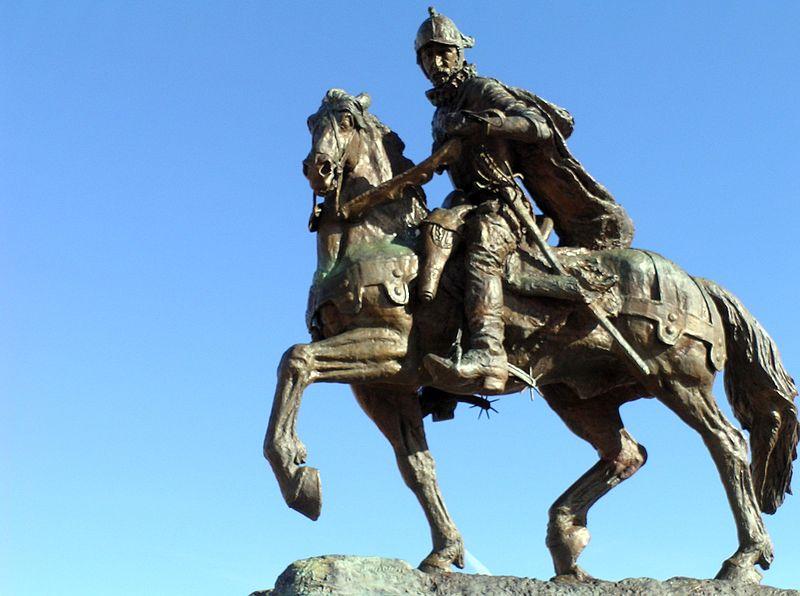 For three hundred years, there was only one road from the south into what is now the state of New Mexico: El Camino Real de Tierra Adentro. Yet its story is rarely featured in history books, although it played a major role in the peopling of the Rio Grande valley.
It began as a Native American footpath, but soon became a well-traversed road connecting Mexico City to Santa Fe thanks to Juan de Onate's 1598 expedition that left fully defined trails behind. For centuries, El Camino operated as the only road into the region, used by Native Americans, Spanish colonizers, soldiers, missionaries, merchants, and settlers. In fact, many of today's New Mexico families can trace their ancestry to individuals who traversed El Camino from Mexico.
El Camino Real de Tierra Adentro was designated as a historic trail in 1993, and inscribed as one of UNESCO's World Heritage cultural sites in 2010. Recognizing the need to illuminate the history of this ancient road, the staff of EDSITEment created the interactive feature "The Road to Santa Fe: A Virtual Excursion." This online tour of the road features stops at San Idelfonso and Taos Pueblo, two Native American Pueblo sites, and the Palace of the Governors, one of the oldest governing structures in the country.
The online itinerary begins at the Native American Pueblo site San Idelfonso, known as Po-Who-Ge-Oweenge ("Where the Water Cuts Through"). At this stop, the text explains that when Spanish explorers arrived in the sixteenth century to settle the region, they called the Native American communities they encountered "Pueblos," which is Spanish for "towns." Some of these Pueblos, such as San Idelfonso, were known for their stunning pottery, made by methods still in use today, while other Pueblos, such as the next stop on the online tour, Taos Pueblo (or Tau-Tah, "The Place of the Red Willows"), became sites of resistance against foreign rule.
The next stop is at El Camino itself, the historic 1500-mile "Royal Road of the Interior Lands," where visitors learn of the ancient road's historical significance and find links to numerous reviewed websites that offer a wealth of information and interactive features.
Finally, the tour ends in Santa Fe at the Palace of the Governors which, throughout its history, has served as a seat of the Spanish crown's government in the American southwest, a storehouse, and even a jail.
Numerous links to relevant lesson plans and EDSITEment-reviewed websites, particularly the NEH-funded website, Southwest Crossroads: Cultures and Histories of the American Southwest, which contains a wealth of primary source materials such as original photos, maps, paintings, oral histories, and more, makes this online tour an invaluable resource for educators and those interested in learning more about the heritage of the people of New Mexico.
To access EDSITEment's virtual tour of the road to Santa Fe, click here.