NEH and Teagle Foundation Announce $1.625 Million in Grants to Revitalize General Education
Under the jointly sponsored Cornerstone: Learning for Living initiative, the latest round of grants will go to 21 colleges and universities across the country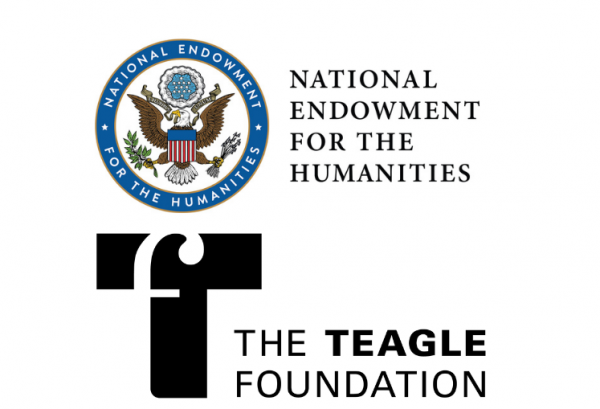 WASHINGTON, D.C. —Today, the Teagle Foundation and the National Endowment for the Humanities (NEH) announced new grants from their jointly sponsored Cornerstone: Learning for Living initiative to 21 colleges and universities across the country, totaling $1,625,000. This announcement includes 14 planning grants and seven implementation grants to ensure students engage with transformative texts that bring enduring questions and diverse perspectives to the challenges facing our society today. The latest cohort of grantees join another nine institutions already participating in the Cornerstone: Learning for Living initiative, bringing the total number of campus partners to date to 30.
As colleges and universities around the country confront declines in the number of students choosing to major in the humanities and in enrollment by non-majors in humanities courses, these new Cornerstone: Learning for Living grants will expose students to the power of the humanities; strengthen the coherence of general education; and increase teaching opportunities for humanities faculty committed to helping students achieve a sense of belonging and community.
"More than ever, we need college graduates who bring both sensitivity and rigor to the problems of our world, who speak with civility, listen with respect, and know the difference between assertion and argument," said Andrew Delbanco, President of the Teagle Foundation. "Through these Cornerstone: Learning for Living grants, students at a range of institutions, from community colleges to research universities, will grapple with core texts and questions that help them understand how the boundaries of race, class, gender, and cultural difference can be crossed, or at least recognized and respected, in a pluralistic democracy."
"Anchored in transformative texts, these new programs will put the humanities back at the center of general education at 21 colleges and universities, giving undergraduates the tools they need to make sense of the world and grow into engaged and informed citizens," said NEH Acting Chairman Adam Wolfson. "The National Endowment for the Humanities is pleased to be part of this effort to create models for liberal arts education that meet the needs of 21st-century students."
The grants will support institutions committed to the kind of general education reform that will revitalize the humanities by reaching students of all backgrounds, majors, and aspirations. The funded projects take different approaches and curricular formats in alignment with their institutional strengths and priorities, but each involve building a common intellectual experience for entering students and coherent pathways through general education that help students connect the humanities to their professional aspirations.
The implementation grants will allow programs to launch, expand and scale-up to serve all incoming students at Stanford University, SUNY Onondaga Community College, Bard College, and Ursinus College, and a significant share of incoming students at American University, University of Nevada-Las Vegas, and University of Notre Dame. The planning grants provide support for laying the groundwork for ambitious general education reform efforts in alignment with the Cornerstone: Learning for Living program model. Planning grants have been awarded to The Catholic University of America; Colorado State University; Florida International University; Linn-Benton Community College; Lorain County Community College; Millsaps College; The Ohio State University; Penn State Berks; Rochester Institute of Technology; Saint Louis University; Thomas Jefferson University; University of Michigan-Flint; University of Wisconsin-Green Bay; and University of Wisconsin-Platteville.
The Cornerstone: Learning for Living advisory council members include:
Russel Berman,

Professor of Comparative Literature and German Studies, Walter A. Haas Professor in the Humanities at Stanford University

Gerald Early,

Merle Kling Professor of Modern Letters in the African and African American studies Department at Washington University in St. Louis

Rachel Hadas,

Board of Governors Professor of English at Rutgers University-Newark

Major Jackson,

Professor of English, Gertrude Conaway Vanderbilt Chair in the Humanities at Vanderbilt University

Roosevelt Montas,

Senior Lecturer of American Studies and English at Columbia University

David Reingold,

Justin S. Morrill Dean of the College of Liberal Arts and Professor of Sociology at Purdue University

Elizabeth D. Samet,

Professor of English at The United States Military Academy at West Point

Melinda Zook,

Professor of History at Purdue University
Cornerstone: Learning for Living is inspired by a successful program model developed at Purdue University, which within four years, has grown from fewer than 100 students to more than 2000.  It has helped students in pre-professional majors strengthen critical thinking and communication skills, reversed the decline in credit hours at Purdue's College of Liberal Arts, and raised morale and teaching opportunities for humanities faculty. The next round of concept papers for the grant program are due December 1, 2021. Learn more here about the initiative here.
###
The Teagle Foundation works to support and strengthen liberal arts education, which we see as fundamental to meaningful work, effective citizenship, and a fulfilling life. Our aim is to serve as a catalyst for the improvement of teaching and learning in the arts and sciences while addressing issues of financial sustainability and accountability in higher education.
The National Endowment for the Humanities (NEH) is an independent federal agency created in 1965. It is one of the largest funders of humanities programs in the United States. NEH serves and strengthens our republic by promoting excellence in the humanities and conveying the lessons of history to all Americans. The Endowment accomplishes this mission by awarding grants for top-rated proposals examined by panels of independent, external reviewers.