Ruth J. Simmons Named the 2023 Jefferson Lecturer in the Humanities
College president and education reformer to speak on September 26 at the Smithsonian National Museum of African American History and Culture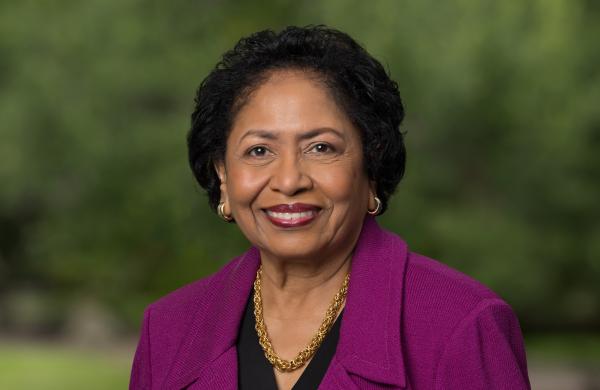 WASHINGTON, D.C.  —Ruth J. Simmons, professor, author, and president emerita of Prairie View A&M, Brown University, and Smith College, will deliver the 2023 Jefferson Lecture in the Humanities.
NEH's Jefferson Lecture is the highest honor the federal government bestows for distinguished intellectual achievement in the humanities.
Simmons will deliver her lecture, "Facing History to Find a Better Future," on September 26 at the Smithsonian National Museum of African American History and Culture at 7 p.m. EDT. The lecture is free and open to the public and will stream online at neh.gov. Simmons will draw on her more than 50 years' experience as a scholar, pioneering academic administrator, and changemaker in higher education to speak about the role of the humanities in fostering socioeconomic mobility and cultural belonging.
"One of our generation's most important innovators in higher education, Ruth Simmons has advanced our understanding of the enduring legacy of enslavement across our most preeminent institutions and lifted up the undertold and underappreciated stories of our country's history," said NEH Chair Shelly C. Lowe (Navajo). "Through her personal journey and her advocacy for diversity and opportunity in education, Dr. Simmons embodies the greatness that can be accomplished when everyone has a seat at the table. We are deeply honored to have this distinguished leader as our 50th Jefferson Lecturer."
The National Endowment for the Humanities (NEH), an independent federal grantmaking agency, selects the lecturer through a formal review process that includes nominations from the public. NEH awards more than $125 million annually in grants that support understanding and appreciation of cultural topics, including art, ethics, history, languages, literature, law, music, philosophy, religion, and others. The Jefferson Lecture in the Humanities is the agency's signature event.
"For one whose life has been so meaningfully defined by the lifelong guidance and steady companionship of the humanities, the invitation to deliver the Jefferson Lecture is the honor of a lifetime" said Simmons. "From the time I first encountered history and literature as a child of poverty, I have been on a path of learning and self-discovery that has empowered my work in every decade of my life.  Persuaded that the humanities can mean everything to young people struggling to understand what their lives can be, I have encouraged students from Smith to Brown to Prairie View A & M to embrace the humanities as a lifeline to happiness and success."
The daughter of sharecroppers, Simmons grew up in segregated Texas in the '40s and '50s as the youngest of 12 children. She went on to earn degrees in Romance languages and literature from Dillard and Harvard universities, eventually becoming the first African American president of an Ivy League institution and a leading figure in mobilizing research on the institutional legacy of slavery while promoting educational opportunity at colleges and universities. Simmons details these experiences in her upcoming memoir Up Home: A Young Girl's Journey.
Simmons is a Distinguished Presidential Fellow at Rice University and Adviser to the President of Harvard University on HBCU Initiatives. From 2017 to 2023, she served as president of the Texas HBCU Prairie View A&M University and was the first woman to hold that position. Under her leadership Prairie View was reclassified as an R-2 Research University. She also oversaw the creation of an African American studies initiative and a "Panther Success Grant" program at Prairie View to ease financial hardships on students at the HBCU. In 2001 Simmons was appointed president of Brown University. During her eleven years in that role, Simmons appointed a university committee to investigate Brown's historical ties to the transatlantic slave trade—which inspired similar initiatives at institutions across the world—and oversaw major investments in Brown's faculty and research capacities, financial support for undergraduate and graduate students, and campus-wide diversity efforts. As president of Smith College from 1995 to 2001, Simmons launched a number of important academic initiatives, including an engineering program, the first at an American women's college, the creation of a poetry center that brought eminent poets to campus, and a student praxis summer internship program.
Simmons holds a bachelor's degree from Dillard University and a Ph.D. from Harvard University. A French professor before entering university administration, Simmons held an appointment as a professor of comparative literature and Africana studies at Brown. She has served in various faculty and administrative roles at the University of Southern California, Princeton University, and Spelman College. Among her first academic positions was serving as the administrative coordinator of a National Endowment for the Humanities (NEH)-supported Liberal Studies Project at California State, Northridge.
Simmons is the recipient of numerous honors, including a Fulbright Fellowship to France, the 2001 President's Award from the United Negro College Fund, the 2002 Fulbright Lifetime Achievement Medal, the 2004 Eleanor Roosevelt Val-Kill Medal, the Foreign Policy Association Medal, the Ellis Island Medal of Honor, and the Centennial Medal from Harvard University. She has received over forty honorary degrees from universities around the world, including Oxford University, Ewha Womans University in South Korea, and the American College of Greece. Simmons is a member of the American Academy of Arts and Sciences, the American Philosophical Society, and the Council on Foreign Relations, and serves on the boards of the Houston Museum of Fine Arts, the Alley Theatre, the MacArthur Foundation, Morehouse College, the Smithsonian National Museum of African American History and Culture, the Holdsworth Center, and Hines Global Income Trust. She received Brown University's highest faculty honor: the Susan Colver Rosenberger Medal in 2011, and was honored by the Prairie View faculty in 2022. In 2012, she was named a Chevalier of the French Legion of Honor.

NEH's Jefferson Lecture is the Endowment's most widely attended public event. Past Jefferson Lecturers include Andrew Delbanco, Father Columba Stewart, Rita Charon, Martha C. Nussbaum, Ken Burns, Walter Isaacson, Wendell Berry, Drew Gilpin Faust, John Updike, Henry Louis Gates Jr., Toni Morrison, Barbara Tuchman, and Robert Penn Warren. The lectureship carries a $10,000 honorarium, set by statute.
Tickets to the lecture are free of charge and distributed on a first-come, first-served basis. Reserve a ticket online to attend NEH's 2023 Jefferson Lecture in the Humanities.
 
National Endowment for the Humanities: Created in 1965 as an independent federal agency, the National Endowment for the Humanities supports research and learning in history, literature, philosophy, and other areas of the humanities by funding selected, peer-reviewed proposals from around the nation. Additional information about the National Endowment for the Humanities and its grant programs is available at neh.gov.